The small vesicular culprits: the investigation of extracellular vesicles as new targets for cancer treatment
Clinical and Translational Medicine
2017
6:45
Received: 4 November 2017
Accepted: 3 December 2017
Published: 13 December 2017
Abstract
Extracellular vesicles (EVs) are membranous vesicles released from almost all type of cells including cancer cells. EVs transfer their components, such as microRNAs (miRNAs), messenger RNAs, lipids and proteins, from one cell to another, affecting the target cells. Emerging evidence suggests that reciprocal interactions between cancer cells and the cells in their microenvironment via EVs drive disease progression and therapy resistance. Therefore, understanding the roles of EVs in cancer biology will provide us with new opportunities to treat patients. EVs are also useful for monitoring disease processes. EVs have been found in many kinds of biological fluids such as blood, urine, saliva and semen. Because of their accessibility, EVs offer ease of collection with minimal discomfort to patients and are preferred for serial collection. In addition, they reflect and carry dynamic changes in disease, allowing us to access crucial molecular information about the disease status. Therefore, EVs hold great possibility as clinically useful biomarkers to provide multiple non-invasive snapshots of primary and metastatic tumors. In this review, we summarize current knowledge of miRNAs in EVs in cancer biology and as biomarkers. Furthermore, we discuss the potential of miRNAs in EVs for clinical application.
Keywords
Extracellular vesiclesmiRNAClinical application
Introduction
Intercellular communication plays an essential role in multicellular organisms and can be mediated through direct cell–cell contact or through the transfer of secretory molecules. Recent studies have shown that as a new intercellular communication mechanism, small lipid bilayer vesicles, termed extracellular vesicles (EVs), play key roles in cancer progression and have great potential in clinical applications.
EVs are heterogeneous populations of vesicles that are secreted by almost all types of cells [
1
]. EVs include exosomes, microvesicles and apoptotic bodies, and these subgroups are categorized according to their origin, size and properties [
2
] (Fig.
1
). Exosomes are small EVs (approximately 100 nm) and are derived from the intra-cellular endosomal compartment. Exosomes are initially formed by a process of inward budding into early endosomes to form multivesicular bodies (MVBs). These MVBs fuse with the limiting plasma membrane to release exosomes into the extracellular space [
3
,
4
]. As exosomal markers, members of the tetraspanin family (CD9, CD63 and CD81), members of the endosomal-sorting complex required for transport (ESCRT) complex (TSG101, Alix), heat shock proteins (Hsp60, Hsp70, Hsp90) and Rab proteins (Rab27A/B) are recognized [
5
,
6
]. Microvesicles are larger than exosomes (100–1000 nm) and are directly shed or bud from the plasma membrane in response to stimulation [
7
]. Microvesicles have been reported to be enriched in phosphatidylserine and have several lipids components [
8
]. Apoptotic bodies are several micrometers in diameter (800–5000 nm) and are released from the cell undergoing programmed cell death. Despite being classified by the origin of these vesicles, we must consider that current techniques cannot clearly distinguish each type of EV separately [
9
]. To avoid confusion, in this review, we use EVs as a general term for all types of vesicles in the extracellular milieu, according to the recommendation of the International Society for Extracellular Vesicles (ISEV) [
10
].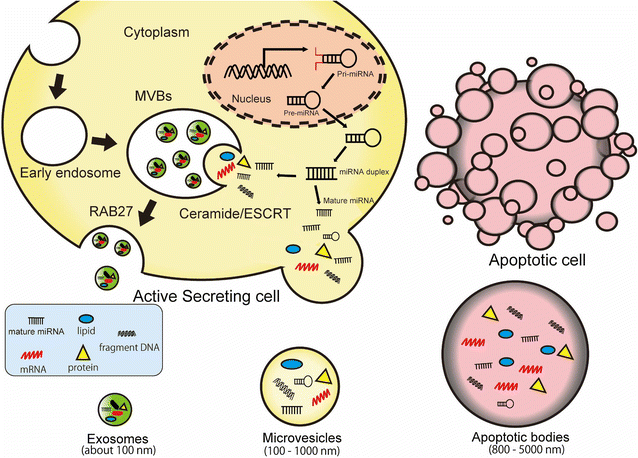 Although EVs have long been considered as disposal vehicles to eliminate unwanted proteins and biomolecules [11], in 2007, Valadi et al. identified miRNA as well as mRNA inside EVs and showed the potential functionality of these nucleic acids in recipient cells [12]. miRNAs are small single-stranded non-coding RNAs that negatively regulate gene expression by binding to the 3′ untranslated region (3′ UTR) of mRNA, leading to mRNA degradation or the inhibition of translation [13]. Through this mechanism, miRNAs are involved in the progression of various diseases including cancer [14]. In 2010, three independent groups published that miRNAs in EVs can be transferred to immune cells [15], cancer cells [16], and endothelial cells [17] and have functions within these cells. Subsequently, many researchers started to focus on miRNAs in EVs, and accumulating evidence has demonstrated that EVs transfer miRNAs from one cell to another and that their components have an effect on cancer progression [18, 19].
In this review, we summarize the potential of miRNAs in EVs in clinical applications. First, we describe the contribution of miRNAs in EVs to cancer biology. Next, we discuss the possibility of EV-targeting therapy. In the second part, we provide an overview of the utility of miRNAs in EVs as biomarkers of several major cancers. We focus on the problem associated with the present tumor biomarkers and discuss the possible uses of miRNAs in EVs as diagnostic and prognostic biomarkers.
The role of EVs in the cancer microenvironment
Conclusion
In this review, we summarize current EV research to discuss the possibility of using the miRNAs in EVs in clinical applications. EVs play a pivotal role in the regulation of multiple systemic pathophysiological processes. Thus, targeting intercellular communication will provide a new therapeutic strategy. In addition, compared with biomarkers detected in conventional specimens such as serum, plasma or urine, EV biomarker provide comparable or higher specificity and sensitivity due to their stability. Furthermore, there has been intense interest in the potential of EVs as delivery vehicles, because EVs have some great characteristics, such as stability in the blood circulation, low side effect, and tropism to some organs [139]. Until now, several articles revealed that administration of exogenous EVs including miRNA or siRNA can be therapeutic strategies [140, 141].
Although further research and development are needed for implementation in the clinical setting, the clinical utility of EVs is promising. EV research is developing quite rapidly, and thus we may be able to use them as therapeutic tools in the near future.
We ardently hope that the advancements in EV research will contribute to the treatment of cancer.
Abbreviations
EV:

extracellular vesicle
miRNA:

microRNA
mRNA:

messenger RNA
MVB:

multivesicular body
ESCRT:

endosomal-sorting complex required for transport
Hsp:

heat shock protein
ISEV:

international society of extracellular vesicles
3′ UTR:

3′ untranslated region
SOCS5:

suppressor of cytokine signaling 5
nSMase2:

neutral sphingomyelinase 2
TIMP-1:

tissue inhibitor of metalliprotease-1
ZO-1:

zonula occludens-1
BBB:

blood brain barrier
PDPK1:

3-phosphoinositide-dependent protein kinase-1
CAF:

cancer-associated fibroblast
EMT:

epithelial–mesenchymal transition
TNBC:

triple negative breast cancer
ECM:

extracellular matrix
MDSC:

myeloid-derived-suppressor cell
TLR:

toll-like receptor
TAM:

tumor-associated macrophage
EOC:

epithelial ovarian cancer
PD-L1:

programmed death-1 ligand
CLL:

chronic lymphocytic leukemia
MET:

mesenchymal-to-epithelial transition
NSCLC:

non-small-cell lung cancer
SOCS3:

suppressor of cytokine signaling 3
BM–MSC:

bone marrow mesenchymal stem cell
MARCKS:

myristoylated alanine-rich C-kinase substrate
SCC:

squamous cell carcinoma
AUC:

area under the receiving operating characteristic curve
CRC:

colorectal cancer
PCa:

prostate cancer
PSA:

prostate-specific antigen
BPH:

benign prostatic hyperplasia
CRPC:

castration-resistant prostate cancer
mCRPC:

metastatic CRPC
AR-V7:

androgen receptor splice variant 7
LDH:

lactate dehydrogenase
RNA-seq:

RNA sequence
HSPG:

heparan sulfate proteoglycan
GBM:

glioblastoma
Declarations
Authors' contributions
FU wrote the manuscript with the help from NK, YY and SE provided helpful discussions. All authors edited and commented on the manuscript. The manuscript was finalized by TO and NK with the assistance of all the authors. All authors read and approved the final manuscript.
Acknowledgements
We are grateful for Dr. Tsukasa Kadota for critical reading of the manuscript.
We thank members of the Molecular and Cellular Medicine laboratory for critical discussion regarding this manuscript.
Competing interests
The authors declare that they have no competing interests.
Availability of data and materials
No applicable.
Consent for publication
No applicable.
Ethics approval and consent to participate
No applicable.
Funding
This work was supported by the Practical Research for Innovative Cancer Control (17ck0106366h0001) from Japan Agency for Medical Research and Development, AMED.
Publisher's Note
Springer Nature remains neutral with regard to jurisdictional claims in published maps and institutional affiliations.
Open AccessThis article is distributed under the terms of the Creative Commons Attribution 4.0 International License (http://creativecommons.org/licenses/by/4.0/), which permits unrestricted use, distribution, and reproduction in any medium, provided you give appropriate credit to the original author(s) and the source, provide a link to the Creative Commons license, and indicate if changes were made.
Authors' Affiliations
(1)
Division of Molecular and Cellular Medicine, National Cancer Center Research Institute, Tokyo, Japan
(2)
Department of Urology, Jikei University School of Medicine, Tokyo, Japan