Heterogeneity in retinoblastoma: a tale of molecules and models
Clinical and Translational Medicine
2017
6:42
Received: 6 September 2017
Accepted: 26 October 2017
Published: 9 November 2017
Abstract
Retinoblastoma, an intraocular pediatric cancer, develops in the embryonic retina following biallelic loss of RB1. However, there is a wide range of genetic and epigenetic changes that can affect RB1 resulting in different clinical outcomes. In addition, other transformations, such as MYCN amplification, generate particularly aggressive tumors, which may or may not be RB1 independent. Recognizing the cellular characteristics required for tumor development, by identifying the elusive cell-of-origin for retinoblastoma, would help us understand the development of these tumors. In this review we summarize the heterogeneity reported in retinoblastoma on a molecular, cellular and tissue level. We also discuss the challenging heterogeneity in current retinoblastoma models and suggest future platforms that could contribute to improved understanding of tumor initiation, progression and metastasis in retinoblastoma, which may ultimately lead to more patient-specific treatments.
Keywords
Cancer
Cell-of-origin
Genetics
Horizontal cells
MYCN
Photoreceptors
OTX2
RB1
Introduction
The term heterogeneity in cancer can be used to describe the diversity in disease behavior between different patients and within a tumor in a single patient. This intrapatient and intratumoral heterogeneity complicates cancer treatment and patient prognoses stands to benefit from deeper understanding of these differences on a molecular, cellular and tissue level [1].
Heterogeneity is also a key element in childhood cancers. Pediatric tumors generally arise after fewer genetic alterations than those in adult patients [1]. Yet, neoplastic growth appears at different times in different patients, displaying both intrapatient and intratumoral disparity in marker expression, making it difficult to identify the cell-of-origin for these tumors. The mechanism for this heterogeneity has intrigued researchers for over two centuries and put retinoblastoma, a rare pediatric cancer of the developing retina, in the spotlight [2]. Retinoblastoma accounts for only ~ 3% of all childhood cancers, has a worldwide incidence of approximately 1 in 20,000 live births, and typically occurs in children younger than 5 years. This cancer was first described in 1809 by the Scottish surgeon James Wardrop, as white brain-like intraocular tumors of retinal origin. Wardrop predicted that the only life-saving option for these patients was enucleation, surgical removal of the eye [3]. The study of retinoblastoma in patients, cell lines and animal models has not only generated better diagnosis and treatment strategies, but also fostered numerous discoveries regarding the basic principles of cancer [4, 5]. The aim of this review is to summarize the heterogeneity present in retinoblastoma at a genetic, cellular and tumor level, and relate this to possible future patient-specific therapies. We will also discuss how different research models may impact experimental results, explain some of the observed heterogeneity, and provide valuable insights into tumor initiation and progression.
Genetic heterogeneity
Retinoblastoma tumors can be hereditary or spontaneous and they display a high degree of genetic heterogeneity. In 1971 Knudson put forward his two-hit hypothesis, postulating that two rate-limiting mutational events in the retinoblastoma susceptibility gene (RB1) were required for tumor formation in retinoblastoma [6]. RB1 plays a central role in cell cycle regulation and its loss makes cells sensitive to neoplastic transformation. Numerous mutations have been described in the RB1 gene but several other genes have also been implicated to play a role in retinoblastoma.
RB1 mutations
As previously mentioned, most retinoblastoma cases are caused by a biallelic loss of function of the tumor suppressor gene RB1. Only 1% of children who carry an RB1 mutation remain unaffected [7]. In the familial, hereditary, form of retinoblastoma (~ 40% of all cases) the first mutational hit occurs in the germline, generating an RB1 +/− genotype, and the second hit occurs sporadically in the somatic cells. The hereditary RB1 mutation is transmitted in an autosomal-dominant fashion [8]. In the non-familial, sporadic retinoblastoma (~ 60% of all cases), two sporadic mutational hits occur in the somatic cells.
The
RB1
tumor suppressor gene encodes for the pRb protein that regulates transcription of cell cycle genes. pRb mainly acts by interacting with the E2F family of transcription factors, thereby restricting expression of genes required for cell proliferation [
9
]. For extensive reviews regarding pRb and the cell cycle see [
10
,
11
]. The
RB1
gene can have a variety of mutations such as point mutations, small indels, large deletions, duplications, or even mutations in the regions that regulate transcription [
12
] (Fig.
1
a). It has also been reported that chromothripsis, a massive genomic rearrangement in a single catastrophic event, at the
RB1
locus may cause gene inactivation [
13
]. Epigenetic changes can also contribute to tumor progression where hypermethylation of promoter regions affect transcription [
14
,
15
].

The
RB1
gene is located on chromosome 13q14, spans 180 kb, and has 27 exons. There is no complete 3D structure for the 928 aa large protein but several binding pockets have been described (Fig.
1
a). Exons 13–21 encode for one such binding site and many mutations causing retinoblastoma are found in this pocket [
16
]. Although mutation hot-spots have been identified they only account for some 40% of the cases. A recent study described the distribution of
RB1
mutations in 1173 patients and classified them as; nonsense (37%), frameshift (20%), splice (21%), large indel (9%), missense (5%), chromosomal deletions (7%), and promoter (1%) (see Fig. 2 in [
17
] for distribution of germline mutations across the RB1 gene).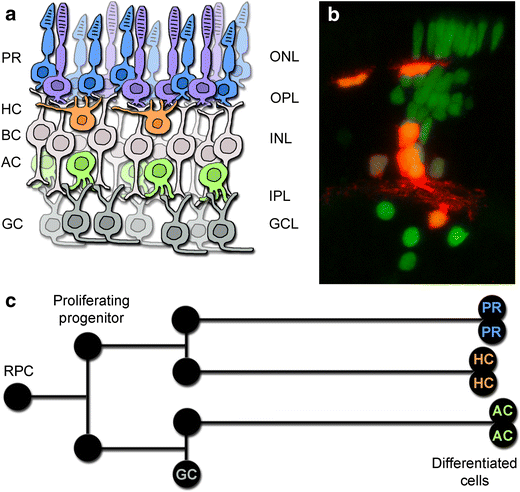 Additional genetic modifications
Human cancers are known to have elaborate mechanistic strategies to evade apoptosis, promote limitless replication, tissue invasion and insensitivity to anti-growth signals [18]. Although mutations in RB1 are often considered a prerequisite for retinoblastoma initiation, further genomic changes may drive malignancy by activating oncogenes and inactivating tumor suppressor genes [19]. Previous studies on tumor samples have identified recurrent genomic gains at 1q32, 2p24, 6p22 and losses at 16q22 [20]. The biallelic loss of RB1 has been suggested to cause retinomas, benign non-proliferative retinal tumors. However, data suggests that the transition into retinoblastoma requires further copy number changes in key genes—gain in KIF14, E2F3, MYCN and loss in DEK and CDH1 [13, 20–25]. Other copy number changes reported in retinoblastoma include gains of DDX1, MDM4 and OTX2, and loss of BCOR and RBL2 [13, 24–26].
RB1+/− and RB1+/+ retinoblastomas
Different approaches can be used to detect around 95% of the RB1 mutations; DNA and RNA sequencing to identify mutations and splice mutations, MLPA (Multiplex ligation-dependent probe amplification) and karyotype or chromosomal microarrays to identify chromosomal rearrangements, and promoter hypermethylation to detect gene silencing [27]. However Rushlow et al. reported tumors with only one mutation in RB1 (RB1+/−) and even cases with two functional alleles (RB1+/+) [22]. There is an on-going debate on whether tumorigenesis can be driven without RB1 loss, for example via a single oncogenic lesion, such as amplification of MYCN [13, 22]. The proto-oncogene MYCN acts as a transcription factor, promoting proliferation by controlling the expression of certain cell cycle genes [28]. In neuroblastoma MYCN amplification (MYCNA) is associated with the classical hallmarks of tumor progression and metastasis, such as adhesion, motility and tissue invasion [29]. MYCNA has been found in retinoblastomas both with mutated or non-mutated RB1 genes [13, 22]. In a study by Kooi et al. it was shown that focal high-level MYCN amplification and RB1 germline mutations were associated with early diagnosis, and that homozygous RB1 loss, chromotripsis of chromosome 13, and alterations of chromosomal arms were associated with late diagnosis [30].
In a cohort of 1068 retinoblastoma patients, Gallie and co-workers identified a subset of 29 patients (2.7%) with no detectable mutation in RB1, where 52% of these had MYCNA. The RB1+/+MYCNA tumors were described as unilateral with distinct histology, earlier onset, and more aggressive behavior than RB1−/− tumors [22]. In another study, Dyer and co-workers implied that identifying retinoblastomas driven exclusively by MYCN amplification is challenging since it requires excluding all other mechanisms of RB1 gene inactivation including somatic nucleotide variations, indels, loss of heterozygosity, deletions, translocations and promoter hypermethylation [13]. In mice, MYCN overexpression alone was insufficient to drive retinoblastoma development, however, tumors formed when overexpression was combined with RB1 deletion [31]. In another recent publication three retinoblastoma subtypes were compared in human tumors based on RB1 and MYCN; RB1−/−MYCNA, RB1+/−MYCNA, and RB1+/+MYCNA [32]. The RB1+/−MYCNA subtype is particularly interesting as this genotype, according to Knudson's two-hit hypothesis, would not give rise to tumors. The explanation provided by Ewens et al. is that the effect of the RB1 gene can be repressed on the protein level via phosphorylation of pRb. The authors argue that the loss of the tumor suppressor function is central for the initiation of retinoblastoma tumorigenesis and that it is independent of MYCNA [32]. Unlike earlier observations of lower frequency of secondary copy number changes in RB1+/+MYCNA tumors [22], Ewens et al. found no significant difference in the number of copies of KIF14, DEK, and CDH11 between MYCNA and MYCN-low tumors. There was however a significant difference in copy number gains in E2F3 where a smaller fraction of MYCNA-tumors showed a gain (21%) compared to MYCN-low (58%) tumors [32]. Interestingly, there is a difference in the amplification of MYCN where classic RB1−/− tumors have 2-9 copies of MYCN while RB1+/+ tumors displayed 28-121 copies, with a much narrower amplicon [22] (Fig. 1b).
The genetic alterations following RB1 loss is highly variable and this heterogeneity affect tumor progression and patient outcome. Combined, these studies reveal the genetic and epigenetic complexity of retinoblastoma. Considering the difference in phenotype between RB1+/+ and RB1+/+MYCNA genotypes, it is possible that it may be a question of different tumors combined under the name "retinoblastoma". Detailed knowledge regarding the mutations allows a more accurate prognosis and a better tailored treatment of patients.
Cellular heterogeneity and the proposed cell-of-origin for retinoblastoma
One important aspect when studying retinoblastoma has been to try to establish the cell-of-origin. It is puzzling why children with heritable RB1 mutations develop tumors in the retina but no other types of cancer at a young age. Childhood tumors are thought to arise after fewer mutations indicating the presence of tumor-like properties within the cell-of-origin. Retinal cells may have a different sensitivity to chromosomal instability, which affects the apoptotic pathways. Identifying the cell-of-origin, studying the developmental programs and cellular context, may help us to understand why certain cells undergo neoplastic transformation as a result of RB1 inactivation. The origins of developmental tumors are also more difficult to study as the internal and external environment constantly changes, affecting epigenetic features, cellular competence and cell cycle regulation.
Cell-of-origin
The neural retina is comprised of five main neural cell types; rod and cone photoreceptors, horizontal cells, bipolar cells, amacrine cells, and retinal ganglion cells as well as the Müller glia cells (Fig. 2a). The retinal progenitor cells (RPCs) of the optic cup are multipotent and give rise to clones of varying size and fate composition in the adult retina (Fig. 2b). It has been suggested that retinoblastoma can arise from four different retinal cell populations; (1) a retinal stem cell, (2) a proliferating progenitor cell, (3) a newly post-mitotic cell, or (4) a differentiated cell that re-enters the cell cycle (Fig. 2c) [33]. One study indicates that it is precursor cells, and not progenitor cells, that are the cell-of-origin in retinoblastoma [34]. A study in mice indicates that there is a limited time window during development where retinoblastoma can develop, and that in adult 3-week-old mice few retinoblastomas emerged when MYCN was overexpressed in retinas lacking RB1 [31]. Based on this study it is more likely that the cell-of-origin is a cycling progenitor cell or a newly post-mitotic cell. Another possibility is that the cell-of-origin varies between patients and between tumors within a single patient. In the familial form of retinoblastoma multifocal tumors can be found suggesting that the tumors arise from several different cells, each with the possibility to carry their own defined sets of mutations. The timing of the mutations and the competence state of the cell will then determine the progression and the molecular footprint we use to define the cell type. It is unlikely that non-cycling cells acquire two RB1 mutations, suggesting both a difference between the familial and the non-hereditary forms and an increased probability to initiate the cancer from a cycling progenitor. However, further studies are needed in order to elucidate when and from what type of cells the tumor arises.
Studies on human samples indicate that the cell-of-origin is likely a cone photoreceptor [35, 36] whereas studies in mouse models suggest a horizontal cell [37], or a Müller glia cell [38]. At single cell level, retinoblastoma cells have been found to have hybrid expression signatures, co-expressing developmental programs of photoreceptors, horizontal and amacrine cells, as well as retinal progenitor cells [39]. It should be noted that Müller cells and retinal progenitor cells have similar expression profiles, with the glia cell retaining some stem cell like properties for regeneration, which may explain the glial component in retinoblastoma. These conflicting expression patterns may suggest that the cell-of-origin is a multipotent progenitor cell of varying competence providing a heterogenic character to the developing tumor. It may therefore be difficult to pinpoint the cell-of-origin for retinoblastoma. However, as the molecular traits of ganglion cells and bipolar cells are never observed in the tumors, it is important to understand the common traits, the molecular pathways and cellular characteristics, of the cells found in retinoblastomas.
As mentioned, the retinal cells are derived from a common, multipotent progenitor cell [40], and the photoreceptors and horizontal cells often share an immediate progenitor (Fig. 2c) [41, 42]. A common photoreceptor and horizontal cell progenitor was found to express the transcription factor Lim1 [43]. Lim1 expression increases in cells that become horizontal cells [44], whereas Lim1 expression is downregulated in photoreceptors [45]. Lim1 may function as a potential oncogene since increased levels of both Lim1 mRNA and protein was found in human renal cell carcinoma, compared to normal tissue [46]. If Lim1 is a potential oncogene and it is expressed in the immediate common progenitor for photoreceptors and horizontal cells then it may be the progenitor that is the cell-of-origin, potentially explaining the presence of genetic markers for both photoreceptors and horizontal cells in retinoblastoma [35, 37]. It would therefore be of interest to investigate a potential correlation between Lim1, pRb and additional genes such as MYCN and OTX2. An additional interesting trait is that both photoreceptors and horizontal cells in the zebrafish retina arise from symmetric division of partly differentiated precursors [42]. This suggests that these cells, against common perception, represent neurons that can proliferate in a differentiated state.
Resistance to apoptosis
A study performed in mouse indicates that retinoblastoma arise from a precursor cell that is naturally death-resistant [34]. Resistance to apoptosis is a hallmark of cancer and increased resistance to apoptosis is a cellular trait that would reduce the number of steps needed for tumor transformation. Cellular stress and excess proliferation result in changes in the phosphorylation of pRb, thereby releasing E2Fs leading to apoptosis [8]. Loss of pRb results in an increased signaling of DNA damage pathways and to increased cell death [47]. In the absence of pRb some retinal cell types, such as ganglion cells, bipolar cells and rod photoreceptors underwent apoptosis while horizontal and amacrine cells did not [34, 48]. There is evidence that the final number of photoreceptors and horizontal cells during development is not regulated by apoptosis, as is the case for the other retinal cell types [49, 50]. In the mature retina, photoreceptor cell death is a common feature in a number of different eye diseases. However, a study performed on a degenerative disease in the dog retina revealed that terminally differentiated photoreceptors have the capacity to proliferate, despite carrying the degenerative mutation [51]. Studies performed on horizontal cells showed that they have the capacity to evade apoptosis and continue dividing in the presence of DNA damage, despite having a functional DNA damage response [52, 53]. The DNA damage response pathway includes activation of the transcription factor and tumor repressor p53, leading to cell cycle arrest [54]. Retinoblastoma cells tend to express wild type levels of p53 [55]. The activity of p53 is regulated by different modulators, such as Zac1 [56], and while overexpression of Zac1 in the chicken embryonic retina triggered apoptosis, the horizontal cells withstood the effect of p53 activation and continued dividing [57]. The discovery of polyploid horizontal cells, with a replicated genome [58], represents an additional trait that could potentially increase the genomic stability and confer a higher resistance towards cell cycle arrest and/or apoptosis. This suggests that horizontal cells have an atypical regulation or execution of their p53 system, which strengthens the notion that they are less sensitive to signals that regulate cell cycle progression [59]. Combined these results may explain the involvement of photoreceptors and horizontal cells in retinoblastoma.
Although both horizontal cells and photoreceptors may have an intrinsic propensity for neoplastic transformation, due to their suggested inability to be cleared via apoptosis, it is possible that the presence of crosstalk and feedback regulatory loops between OTX2 and MYCN pathways may be one of the components that drives the tumorigenesis in cells with photoreceptor-like molecular signature.
Heterogeneity in tumor biology and clinical relevance
The genetic and cellular heterogeneities observed in retinoblastoma affect tumor biology, giving rise to both intrapatient and intratumor variance. A better genotype–phenotype correlation may help us to understand the mechanisms behind tumorigenesis as well as identify relevant drug targets.
Current and future platforms for studying retinoblastoma
Over the years, many different approaches have been used to study retinoblastoma (Fig.
5
). Sporadic development of retinoblastoma in nonhuman species appears almost nonexistent, although, there has been one documented case in a dog [
96
]. Therefore, in order to study retinoblastoma formation, cell-of-origin and the underlying causes, one has to rely on in vivo and in vitro models. Each approach has its own advantages and disadvantages and there is substantial variance in phenotype and biology between different models. The over-all goal with a model should be focused on the ability to follow tumor initiation and progression, how metastases are formed, and provide a useful platform for assessing different therapies.

Concluding remarks
Retinoblastoma is a heterogeneous childhood cancer and the study of its genetic, cellular and clinical variance has aided in the understanding of many important mechanisms in cancer biology. Yet, numerous pieces of the puzzle are still missing in the story about how, when and why the perfectly orchestrated machinery of retinogenesis is disturbed following the loss of RB1 or amplification of MYCN. It is particularly interesting why tumors only form in the retina. The transparency of the eye permits unique visualization of retinoblastoma progression. However, due to the high risk of damaging the eye and the spreading of cancer cells, biopsies are never performed. Therefore, characterization of tumors relies on data from enucleated eyes, which are usually in the late stage of the disease, and has possibly undergone aggressive treatment. New emerging cell and animal models are of great importance for identifying the cell-of-origin for retinoblastoma and for mapping of the early events in tumorigenesis. These should be complemented, if possible, by new in vitro human organoid systems that would avoid the species-specific variation and provide a unique opportunity to mimic the events that normally take place in utero.
The current treatment strategies are gradually shifting from standard tumor management, with the goal to save the patient's life, towards more advanced tailored therapies that could preserve useful vision, and reduce treatment-related additional risks. New molecular targets and drug carriers are currently being explored, as is the genetic mutation—clinical phenotype correlation. Finally, new technology is needed for more accurate diagnosis to detect RB1 vs. MYCN mutations. In all, better understanding of the heterogeneity observed at the molecular, cellular, and tumor level, as well as the model systems used, will pave this new path towards more efficient patient-tailored treatments.
Abbreviations
RB1:

retinoblastoma gene 1
pRb:

retinoblastoma protein
MYCN:

v-myc avian myelocytomatosis viral related oncogene, neuroblastoma derived
MYCNA :

MYCN amplification
OTX2:

Orthodenticle Homeobox 2
Declarations
Authors' contributions
All authors helped to write and revise the manuscript. All authors read and approved the final manuscript.
Acknowledgements
Not applicable.
Competing interests
The authors declare that they have no competing interests.
Availability of data and materials
Not applicable.
Consent for publication
Not applicable.
Ethics approval and consent to participate
Not applicable.
Publisher's Note
Springer Nature remains neutral with regard to jurisdictional claims in published maps and institutional affiliations.
Open AccessThis article is distributed under the terms of the Creative Commons Attribution 4.0 International License (http://creativecommons.org/licenses/by/4.0/), which permits unrestricted use, distribution, and reproduction in any medium, provided you give appropriate credit to the original author(s) and the source, provide a link to the Creative Commons license, and indicate if changes were made.
Authors' Affiliations
(1)
Department of Neuroscience, Uppsala University, Uppsala, Sweden
(2)
S:t Eriks ögonsjukhus, Karolinska Institutet, Stockholm, Sweden