Psoriasis drug development and GWAS interpretation through in silico analysis of transcription factor binding sites
Clinical and Translational Medicine
2015
4:13
Received: 19 November 2014
Accepted: 26 February 2015
Published: 19 March 2015
Abstract
Background
Psoriasis is a cytokine-mediated skin disease that can be treated effectively with immunosuppressive biologic agents. These medications, however, are not equally effective in all patients and are poorly suited for treating mild psoriasis. To develop more targeted therapies, interfering with transcription factor (TF) activity is a promising strategy.
Methods
Meta-analysis was used to identify differentially expressed genes (DEGs) in the lesional skin from psoriasis patients (n = 237). We compiled a dictionary of 2935 binding sites representing empirically-determined binding affinities of TFs and unconventional DNA-binding proteins (uDBPs). This dictionary was screened to identify "psoriasis response elements" (PREs) overrepresented in sequences upstream of psoriasis DEGs.
Results
PREs are recognized by IRF1, ISGF3, NF-kappaB and multiple TFs with helix-turn-helix (homeo) or other all-alpha-helical (high-mobility group) DNA-binding domains. We identified a limited set of DEGs that encode proteins interacting with PRE motifs, including TFs (GATA3, EHF, FOXM1, SOX5) and uDBPs (AVEN, RBM8A, GPAM, WISP2). PREs were prominent within enhancer regions near cytokine-encoding DEGs (IL17A, IL19 and IL1B), suggesting that PREs might be incorporated into complex decoy oligonucleotides (cdODNs). To illustrate this idea, we designed a cdODN to concomitantly target psoriasis-activated TFs (i.e., FOXM1, ISGF3, IRF1 and NF-kappaB). Finally, we screened psoriasis-associated SNPs to identify risk alleles that disrupt or engender PRE motifs. This identified possible sites of allele-specific TF/uDBP binding and showed that PREs are disproportionately disrupted by psoriasis risk alleles.
Conclusions
We identified new TF/uDBP candidates and developed an approach that (i) connects transcriptome informatics to cdODN drug development and (ii) enhances our ability to interpret GWAS findings. Disruption of PRE motifs by psoriasis risk alleles may contribute to disease susceptibility.
Keywords
AP-1
Decoy oligonucleotide
IRF
Motif
NF-kappaB
ODN
Position weight matrix
STAT
Background
Psoriasis is a chronic condition characterized by sharply demarcated skin lesions and increased risk of arthritis and cardiovascular disease. Lesion development is associated with excessive keratinocyte (KC) proliferation, altered KC differentiation, and an inflammatory infiltrate that includes innate and adaptive immune cells (e.g., neutrophils and T-cells) [1,2]. For moderate-to-severe psoriasis, effective biologic therapies have been developed to block specific cytokines (e.g., etanercept) or interfere with T-cell activation (e.g., efalizumab). The majority of patients, however, present with mild-to-moderate psoriasis, and for such patients biologic therapies do not provide a suitable first-line treatment. Even for those with moderate-to-severe psoriasis, biologic therapies are expensive [3], are not equally effective in all patients [4], and the long-term safety profile (>5 years) of immunosuppressive biologics is not fully established [5]. Development of new psoriasis treatments targeting more specific disease mechanisms has therefore remained a research priority [6]. Along these lines, transcription factors (TFs) are appealing as drug targets because they function as upstream regulators that can be inhibited locally, without necessarily targeting upstream cytokines or inflammatory processes [7]. Ideally, for instance, mild-to-moderate psoriasis could be controlled by effective topical agents, which rapidly resolve lesions by directly interfering with TFs and cellular pathways that promote excessive KC proliferation [8,9].
TFs contribute to immune cell activation in psoriasis as well as aberrant KC activity within lesions [10,11]. Genome-wide association studies (GWAS), for example, have identified variants near TF-encoding genes with significantly elevated frequency in psoriasis patients (e.g., ETS1, IRF4, KLF4, RUNX3, STAT3, STAT5A and STAT5B) [12]. Other TFs likely participate in lesion development through their role in KC proliferation (e.g., E2F and FOXM1), KC differentiation (e.g., TP63, KLF4 and AP-1), or immune cell activation (e.g., NF-κB). Topical agents may interfere with activation of these TFs in psoriasis, but may also have off-target effects limiting their efficacy (e.g., corticosteroids) [8,9]. To more specifically target one or multiple TFs, a promising approach may be to employ cis-element double-stranded decoy oligonucleotides (dODN), which mimic the DNA recognition site for a TF and thus attenuate its cellular activity [13,14]. In 1996, the first ODN-based therapy directed against E2F was approved by the Food and Drug Administration for treatment of neointimal hyperplasia in vein bypass grafts [13]. Since then, dODNs were shown to be effective for topical treatment of skin diseases, such as allergic contact dermatitis and wound fibrosis [15,16]. Indeed, a STAT3 dODN has already been demonstrated to resolve lesions in a psoriasis mouse model [17]. To design new dODN molecules for psoriasis, it is essential to have knowledge of the cis-element(s) recognized by TFs central to the disease process. For this purpose, studies that have compared gene expression in lesions and uninvolved (normal) skin from psoriasis patients are a valuable resource [18-24]. In such studies, genes with significantly altered expression in lesions can be identified (i.e., DEGs) and statistical approaches can be used to identify cis-regulatory elements overrepresented in upstream sequences of such genes [25]. These elements may then provide starting points for rational dODN design, essentially providing a direct pathway connecting bioinformatics to drug development.
Identifying TFs and cis-regulatory elements that drive psoriasis plaque formation should also illuminate our interpretation of GWAS findings [26]. GWASs have helped establish the immunological basis of psoriasis and have been valuable for identifying candidate disease mechanisms [27]. Despite this progress, most psoriasis susceptibility variants have been located in intergenic or intronic regions, suggesting that such variants confer increased disease risk through their effects on gene regulation [26,28]. To better characterize such mechanisms, it will ultimately be necessary to understand how TF-DNA interactions mediate psoriasis plaque development. By identifying DNA elements involved in these sequence-specific interactions, it will be possible to scan hits from psoriasis GWASs to identify variants that disrupt or engender such elements, potentially identifying sites at which allele-specific TF binding takes place to influence psoriasis risk [29,30]. This information could be further integrated with chromatin feature data for key cell types from the Human Encyclopedia of DNA Elements (ENCODE) project [31], with the ultimate goal of prioritizing non-coding risk variants for functional testing (e.g., by genome editing using CRISPR/Cas systems) [28,32].
The goals of this study are to use expression profiling data from psoriasis lesions to identify TFs and cis-regulatory elements mediating psoriasis plaque development. We identify differentially expressed genes (DEGs) by comparing lesional and uninvolved skin from a large meta-cohort of psoriasis patients (n = 237) [18-24]. To analyze DEGs, we assembled a dictionary of binding sites for human TFs and unconventional DNA-binding proteins (uDBPs) [33]. By screening this dictionary, we identified "psoriasis response elements" (PREs) overrepresented in sequences upstream of psoriasis DEGs. We show that only a fraction of DEGs encode proteins that recognize PREs, suggesting strong candidates for further study. We also demonstrate how PREs can be incorporated into complex dODN molecules as candidate psoriasis therapies, and we screen non-coding hits from psoriasis GWASs to identify PREs altered by risk alleles within enhancer regions. These findings provide novel and important steps forward in psoriasis drug development and the interpretation of GWAS hits at non-coding loci. The informatics pipeline developed in this study, moreover, could be applied to other diseases to similarly facilitate dODN design and GWAS interpretation.
Discussion
Psoriasis is debilitating for many patients with direct and indirect costs that exceed one billion dollars annually within the United States alone [3]. To identify TFs contributing to aberrant KC activity, including abnormal differentiation and excessive proliferation, we evaluated gene expression in psoriasis lesions from a meta-cohort of 237 patients. Through in silico screening of known DNA binding sites, our findings highlight proteins not yet well studied in psoriasis, including TFs (FOXM1, EHF, SOX5) and uDBPs (AVEN, RBM8A, GPAM, WISP2). We also uncovered "psoriasis response elements" (PREs) overrepresented in psoriasis DEG promoter regions, which are present within enhancers near cytokine-encoding genes (e.g., IL17A, IL19 and IL1B). We show that PREs can be strategically combined to create a cdODN concomitantly targeting psoriasis-activated TFs (FOXM1, ISGF3, IRF1 and NF-κB), illustrating how transcriptome informatics can be directly connected to dODN development. Finally, our findings address the challenge of how to interpret GWAS hits within non-coding regions [26], and we have identified disease-associated SNPs within non-coding NHEK enhancers that disrupt or engender PRE motifs. As possible sites of allele-specific TF/uDBP binding, such SNPs represent priority candidates for functional studies. These findings offer new insights into the underlying transcriptional circuitry of psoriasis lesions, and demonstrate how sequence-specific TF/uDBP-DNA interactions can be exploited to support dODN drug development and enhance interpretation of non-coding GWAS signals.
Psoriasis lesions develop in response to interplay between lesion-infiltrating inflammatory cells and local KCs, which respond to cytokine signals by failing to differentiate completely and adopting a phenotype resembling that of proliferating basal-layer KCs [
1
,
2
]. This pathological KC activity proceeds in coordination with an underlying TF regulatory network. Previous studies have identified DEGs showing altered expression in psoriasis lesions, but many DEGs may play only a passive role in lesion development, without active participation in the disease process [
18
-
24
]. In our analyses, we first identified psoriasis DEGs, but then filtered these to define a more exclusive set of DEGs for which encoded proteins interact with PRE motifs (Figure
1
). By combining information in this way, we narrowed the focus considerably, highlighting those DEGs with an extra layer of evidence for active participation in the psoriasis transcription network. In agreement with prior work, our findings lend support to AP-1, IRF1, NF-κB, STAT3, GATA3 and the ISGF3 complex (STAT1, STAT2 and IRF9) as "hubs" within this network (Figure
8
A) [
10
,
56
,
60
]. Additionally, however, we uncovered TFs not extensively studied in psoriasis, but which may nonetheless have important roles in KC differentiation, KC proliferation, apoptosis, inflammation, WNT signaling and lipid synthesis (e.g., FOXM1 and EHF; Figure
8
A) [
67
-
69
,
80
]. Our findings also suggest the possibility that repression of gene expression in lesions is driven, at least in part, by decreased abundance of TFs with helix-turn-helix (homeo) and other all-alpha-helical (high-mobility group) DNA-binding domains (i.e., MEOX2, EN1, NANOG, SOX5, SOX8, SOX6). Such TFs prefer 5-TAA/TTA-3 elements (overrepresented in promoters of psoriasis-decreased DEGs), and their decreased expression in psoriasis may contribute to incomplete KC differentiation, thereby favoring KC proliferation [
83
,
84
].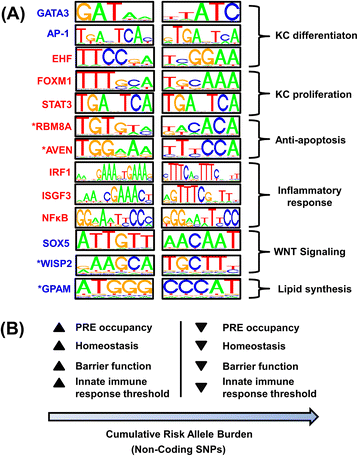 Unconventional DNA-binding proteins (uDBPs) participate in sequence-specific DNA interactions and cellular cytokine responses [33,43]. We identified two uDBPs encoded by PP-increased DEGs that recognize PRE motifs and have anti-apoptotic functions (AVEN, RBM8A). Within lesions, KCs from the basal layer are resistant to apoptosis [85-87], while those in the suprabasal differentiated epidermis appear susceptible [86], and this may alter the differentiation/proliferation balance maintaining homeostasis in normal skin. AVEN interferes with apoptosome assembly by interacting with the adaptor protein Apaf-1, but this activity requires proteolytic removal of the N-terminal domain [70]. The cleavage reaction is mediated by Cathepsin D (CDSD) [70], which also shows elevated expression in psoriasis lesions (FC = 1.56; P = 4.61 × 10−38). Expression of RNA-binding protein 8A (RBM8A) appears necessary to prevent apoptosis, since RBM8A deficiency triggers apoptosis and disrupts cell cycle progression [88,89]. Beyond this, RBM8A binds STAT3 to modulate its activity in cells stimulated by IL-6 or TNF [90,91]. Finally, expression of glycerol-3-phosphate acyltransferase (GPAM) was significantly decreased in psoriasis lesions and our analysis revealed that GPAM recognizes PRE motifs enriched in sequences upstream of PP-decreased DEGs (Figure 1). Since GPAM is required for triacylglycerol and phospholipid biosynthesis [92], decreased GPAM activity may contribute to defects in epidermal barrier and cornified envelope formation, which is hypothesized to be a factor triggering innate immune responses at initial stages of lesion development [93].
TF decoys have become an established approach for nucleic acid-based treatment of human disease and skin conditions [14-16]. We have here introduced a bioinformatic pipeline for data-driven cdODN design, in which we (i) screen binding sites of known TFs and uDBPs to identify cis-regulatory elements associated with a disease phenotype, (ii) select a small set of the enriched regulatory elements as cdODN "building blocks", and (iii) enumerate and screen all possible cdODN conformations to select the one that best matches motifs overrepresented in promoters of disease-associated genes. Applying this approach, we designed a cdODN (cdODN199) targeting TFs whose activation in lesions is likely to augment KC proliferation and cytokine-trigged inflammatory cascades (i.e., FOXM1, ISGF3, IRF1 and NF-κB). We expect that, by testing the in vivo activity of cdODN199, it will be possible to introduce refinements, including the addition or removal of certain PRE elements. Our main innovation in the current study is development of a bioinformatic analysis protocol for designing a cdODN matched to the differential expression profile of psoriasis lesions. Computational screens of this type have not been previously used to ensure such a "lock-and-key" type relationship between cdODN sequence and disease phenotype. The importance of specificity is, however, clearly demonstrated by the clinical failure of Edifoligide, an E2F dODN developed to prevent neointimal hyperplasia in vein bypass grafts [94]. After many years and considerable development costs, Edifoligide was ineffective for its intended purpose, possibly because the dODN sequence was not sufficiently specific for the targeted E2F factor [94]. For most dODN molecules, such non-specificity may be the rule, rather than the exception, since we have shown that dODNs generally match PWMs associated with multiple TFs (Figure 5). By matching dODN sequence to the disease phenotype's expression profile, however, we have outlined a computationally-driven approach for improving specificity. In particular, this provides a practical strategy for psoriasis and other skin diseases, since lesions can be readily sampled and analyzed by expression profiling.
GWAS findings have been instrumental for identifying the genes and pathways serving as genetic trigger points that predispose to psoriasis [12,20,93]. Similar to other complex diseases, however, most psoriasis GWAS signals have been identified in non-coding regions (intronic or intergenic), suggesting that their effects on gene regulation, rather than protein function, may explain their contribution to susceptibility [28,30,95]. This has challenged our interpretation of GWAS findings, in part because we lack a complete understanding of which sequence-specific TF-DNA or uDBP-DNA interactions coordinate plaque development. To bridge this gap, we characterized the core set of PRE cis-regulatory motifs enriched in psoriasis DEG promoters. This allowed us to identify SNPs at which risk alleles create or engender PREs recognized by DEG-associated TFs/uDBPs (e.g., AVEN, RBM8A, FOXM1, WISP2, TCEAL2, MEOX2, LHX2, SOX10, GATA3 and MYLK; Figure 7C and D). Potentially, such SNPs may represent sites at which risk alleles have major impacts on TF/uDBP-PRE interaction, with important downstream consequences that predispose to psoriasis, or genetically-related autoimmune diseases [96].
An alternative model, however, is that an accumulation of risk alleles at non-coding loci, each with minor effects on TF/uDBP-PRE interaction, has an aggregate effect promoting susceptibility in those individuals with the greatest cumulative risk allele burden (Figure 8B). This latter view is consistent with an "analog" view of transcription [97], in which expression of genes ensuring homeostasis and normal epidermal barrier function gradually increases in proportion to noncooperative PRE-TF/uDBP interactions in key genome regions. Supporting this idea, risk alleles tended to decrease match scores between PRE motifs and genomic loci, often to a limited degree but nonetheless consistently across non-coding psoriasis-associated SNPs (Figure 6A – 6D). A consistent effect of non-coding risk alleles, moreover, was to degrade matches to PREs recognized by TFs supporting normal barrier function and KC differentiation (e.g., AP-1; Figure 6E). Such a pattern may be driven by haplotypes of linked non-coding risk alleles, where each individual allele may have only a minor effect on PRE occupancy at a given locus. Cumulatively, however, such minor effects may engender disease-associated haplotypes that contribute to population-level variation in PRE occupancy (e.g., by AP-1), which is in turn connected to susceptibility through its influence on the expression of genes promoting normal KC differentiation and barrier function (Figure 8B). Such effects may parallel those of some coding variants (e.g., TRAF3IP2 and/or TNFAIP3), which may not increase risk by amplifying inflammatory responses directly, but instead increase risk by disrupting epidermal homeostasis under non-inflammatory conditions, thereby lowering immune response thresholds [98,99].
Cellular function depends upon a dynamic protein-DNA interactome, where disease states may correspond to aberrant connections or missing links within this network [100]. To better understand such network abnormalities, in silico screening of TF/uDBP binding sites offers a valuable approach, and we have shown that this can facilitate discovery of cis-regulatory modules, design of targeted dODN therapies, and interpretation of GWAS hits at non-coding loci. In coming years, this informatics strategy can be applied on a larger scale, as we develop a more complete empirical database of DNA sequence preferences for human TFs and uDBPs. We were, for instance, able to identify 447 known TFs for which no known binding site model is available in an existing database [43,45-49]. Our understanding of TF-DNA interactions may therefore be, at best, 70% complete, notwithstanding that many TFs have context-specific binding affinities dependent upon co-factors, cell type, cellular activation status, and/or genetic background [101,102]. Beyond this, we have only a partial catalogue of uDBP recognition sites, and although we now have foundational in vitro chromatin feature data for key cell types, the in vivo relevance of these features and their consistency across genetic backgrounds is not fully established [103]. Addressing these gaps will require continued systematic data aggregation with complementary development of statistical methods, such as improved approaches for modeling TF sequence specificity [104]. Despite these challenges, targeted analysis of the protein-DNA interactome can guide hypothesis-driven studies of human disease, while illuminating a data-driven pathway towards development of nucleic acid-based therapies.
Conclusions
The psoriasis transcriptome points towards previously unknown "psoriasis response elements" (PREs) enriched in DEG upstream sequences. We show that PREs are located within TSS-proximal regulatory regions near key cytokine genes (e.g., IL17A, IL19 and IL1B). Although 106 TFs are encoded by psoriasis DEGs, only a fraction interacts with PREs (26/106), and several of these have not yet been examined in psoriasis studies (e.g., FOXM1, EHF, SOX5). Similarly, we identified DEG-encoded uDBPs that interact with PREs, whose function in psoriasis is presently unknown (e.g., AVEN, RBM8A, GPAM, WISP2). Having identified diverse PRE motifs, we demonstrate two applications for this information, including (i) informatics-guided design of cdODN molecules with a lock-and-key relationship to the disease phenotype expression profile and (ii) identification of non-coding enhancer-associated SNPs that disrupt/engender PREs (i.e., allele-specific TF/uDBP binding). Our findings illustrate the strong potential of our in silico strategy with respect to both applications. These results can help guide development of psoriasis therapies, including first-line treatments for mild-to-moderate psoriasis and adjuvant medications for immunosuppressive therapy. We envision that data resources and the informatics pipeline developed here can be extended to other complex genetic diseases, as a general strategy to facilitate dODN design and enhance interpretation of GWAS findings.
Abbreviations
cdODN:

Complex decoy oligonucleotide
DEG:

Differentially expressed gene
dODN:

Decoy oligonucleotide
GWAS:

Genome-wide association study
IHC:

Immunohistochemistry
KC:

Keratinocyte
NHEK:

Normal human epidermal keratinocytes
PRE:

Psoriasis response element
PWM:

Position weight matrix
TF:

Transcription factor
TSS:

Transcription start site
uDBP:

Unconventional DNA-binding protein
Declarations
Acknowledgements
This work was supported by NIH grants AR042742 (JTE), AR050511 (JTE), AR062382 (JTE), AR065183 (JTE), AR054966 (JTE) and AR060802 (JEG). Additional support was provided by the Babcock Endowment Fund (AJ), Dermatology Foundation (AJ), American Skin Association (AJ and WRS), the A. Alfred Taubman Medical Research Institute Kenneth and Frances Eisenberg Emerging Scholar Award (JEG), and the Doris Duke Foundation (JEG). JTE is supported by the Ann Arbor VA Hospital. WRS is funded in part by the American Skin Association Carson Family Research Scholar Award in Psoriasis.
Authors' Affiliations
(1)
Department of Dermatology, University of Michigan School of Medicine, Ann Arbor, USA
Copyright
© Swindell et al.; licensee Springer. 2015
This is an Open Access article distributed under the terms of the Creative Commons Attribution License (http://creativecommons.org/licenses/by/4.0), which permits unrestricted use, distribution, and reproduction in any medium, provided the original work is properly credited.