Clinical proteomic biomarkers: relevant issues on study design & technical considerations in biomarker development
Clinical and Translational Medicine
2014
3:7
Received: 20 November 2013
Accepted: 6 March 2014
Published: 29 March 2014
Abstract
Biomarker research is continuously expanding in the field of clinical proteomics. A combination of different proteomic–based methodologies can be applied depending on the specific clinical context of use. Moreover, current advancements in proteomic analytical platforms are leading to an expansion of biomarker candidates that can be identified. Specifically, mass spectrometric techniques could provide highly valuable tools for biomarker research. Ideally, these advances could provide with biomarkers that are clinically applicable for disease diagnosis and/ or prognosis. Unfortunately, in general the biomarker candidates fail to be implemented in clinical decision making. To improve on this current situation, a well-defined study design has to be established driven by a clear clinical need, while several checkpoints between the different phases of discovery, verification and validation have to be passed in order to increase the probability of establishing valid biomarkers. In this review, we summarize the technical proteomic platforms that are available along the different stages in the biomarker discovery pipeline, exemplified by clinical applications in the field of bladder cancer biomarker research.
Keywords
Clinical proteomicsBiomarkersVerificationValidationMass spectrometry
Introduction
Diseases with high complexity such as cancer are associated with increased incidence rates worldwide. Recent data reveal that approximately 7.6 million deaths caused by cancer occurred in 2008, with this number corresponding to 13% of all deaths [1]. Based on these numbers, there is substantial room for improvement in the current strategies for development of biomarkers capable of being introduced into clinical practice. According to the National Cancer Institute (http://www.cancer.gov/), a biomarker is defined as "a molecule detected in body fluids or tissues that are associated with a special process (normal or abnormal), a condition or disease". Depending on the intended use, biomarkers can be distinguished on the following categories; diagnostic biomarkers which incorporate disease detection, prognostic that represent prediction of the course of a particular disease (e.g. recurrence, progression and survival) and predictive that would allow for prediction of the response to treatment which could be subsequently applied in patient assessment [2–5]. In reference to malignant diseases, diagnosis at late stages generally results in poor clinical outcome [6, 7]. The intended use of a cancer biomarker would hence be early stage diagnosis and/or prognosis. Thus, biomarkers that would enable early disease diagnosis are required, together with those that would provide prognostic values in disease status and predict an outcome of an illness prior to any treatment designed. Novel prognostic biomarkers may also help clinicians select an optimal therapeutic strategy for individuals, facilitating determination of the response to a specific treatment type. Successful introduction of biomarkers into routine clinical practice becomes the current motive in this research area and is expected to be beneficial to the patients and in health care systems. Discovering biomarkers is a multi-parameter process [8–10] and applying them to routine practice needs a proper consideration of multiple issues [11]. Additionally, since clinical needs differ among various diseases, biomarker development including discovery, verification and validation cannot be restricted to a single methodology. In this article, we summarize the several challenges related to the biomarker research, as well as the available analytical platforms in the field of proteomics.
Technical considerations regarding the analytical set up for biomarker development
The complexity of the biological fluid may generate a need for a combination of different techniques such as fractionation approaches. In general, the basic requirements of the methodology that is selected are: simplicity of use, robustness, high accuracy and performance [
47
]. The biomarker workflow can be divided into 3 main parts: discovery, verification and validation. Depending on the specific aim of the study, various proteomic platforms can be applied from the unbiased discovery setting to the targeted quantification in the verification and validation stages. The basic characteristics of the objectives and platforms that can be employed at the different stages are summarized in the Figure 
3
. Below, a technical description of the available proteomic technologies for discovery, verification and validation stages is presented, together with certain recent applications particularly in the field of clinical proteomics in the quest of bladder cancer biomarker research.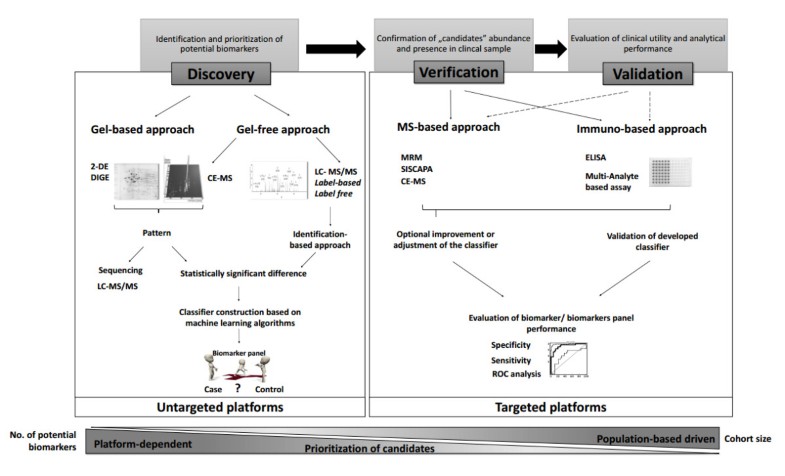 Application of proteomics approaches in BCa biomarker discovery
Proteomic approaches have been applied at all stages of biomarker discovery workflow. This includes untargeted platforms for biomarker identification (gel-based and gel-free) [
70
,
71
,
178
–
182
] and targeted platforms for further verification and validation of biomarker candidates (MRM, multi-analyte assays) [
106
,
108
,
115
,
183
,
184
]. Additionally, to improve proteome coverage and identify low abundance protein, enrichment strategies have been also applied e.g. immobilized metal affinity (IMAC) [
179
,
182
] dual-lectin chromatography [
185
], or peptidomics approaches [
92
,
93
]. Bladder cancer is the second in incidence and mortality malignancy of the genitourinary system. At initial diagnosis, the majority of patients (75%) exhibit non-muscle invasive cancer (pTa, pT1, pTis), whereas the rest belongs to muscle invasive disease (pT2, pT3, pT4) [
22
]. The invasive phenotype results in significant decrease of the survival rate [
22
]. Additionally, high recurrence rate and cancer progression impose the requirement for lifelong monitoring of patients after treatment. Up to date, the gold standard for clinical diagnosis includes invasive cystoscopy and non-invasive voided urine cytology with limited sensitivity for detection of low grade tumors [
186
]. Although some tests have been approved by FDA (e.g. NMP-22, BTA-TRAK, uCyt+), they seem to have no clinical utility [
187
–
189
]. Therefore, there is an urgent clinical need for application of novel non-invasive tests for early detection, patient monitoring and stratification. A vast number of potential biomarkers have been discovered using proteomics as well as genomics approaches. The detailed description of currently available bladder cancer biomarker candidates is beyond the scope of the manuscript and this topic was recently reviewed [
190
,
191
]. To give an overview on the current status of BCa proteomic biomarkers, the representative examples along with study design and potential clinical utility are described below and summarized in Table 
3
.
Table 3
Representative examples of BCa biomarker candidates identified by proteomic approaches
Biomarker identification; Biomarker candidate/panels

Verification/Validation

Regulation

Potential clinical value; Biomarker performance

Ref.

Gel-based approaches

2DE , n=24

[178]

Tissue:

Western Blot

↑ in both NMIBC and MIBC;

Predict cancer progression

6 normal urothelium, 9 NMIBC, 9 MIBC

Immunohistochemistry, n=24

↑ phosphorylation level of cofilin in BCa tissue samples (most prominent in MIBC).

Lack of evaluation of biomarker performance.

Cofilin

For both experiments, the same material was used as in the discovery phase.

IMAC, 1-SDS-PAGE , n=35

Western Blot

[182]

Urine:

Aminopeptidase N, n=108

Aminopeptidase N

Biomarker for cancer aggressiveness

Two pools from NMIBC, n1=9, n2=7

Myeloblastin, n=97

↑ in MIBC

Two pools from MIBC, n3 = 9, n4=10

ELISA

Myeloblastin, Profilin 1

Lack of evaluation of biomarker performance.

Aminopeptidase N, Myeloblastin,

Profilin-1, n=82

↓ in MIBC

Profilin-1

Western Blot, 8 BCa cell line models

↑ in BCa cases, association with stage

[181]

DIGE , n=14

Tissue microarray, n=292

Diagnosis, staging, outcome prognosis

Urine:

Primary urothelial cell carcinoma

Detection of BCa:

7 BCa (positive cytology), 7 controls (negative cytology)

ELISA, n=80

Reg- 1

Urine:

81.3% sensitivity

32 BCa (positive cytology), 48 Controls

81.2% specificity

(negative cytology)

Gel-free approaches

ELISA, n = 166

[179]

Urine,

LC-MS/MS , n=20

Urine:

For H2B: n=147,

↑ level of H2B with cancer stage in urine and tissue samples

Prediction of disease progression, discrimination of tumor stages

Benign (n=5), pTa, pT1 (n=10), pT2+ (n=5)

For NIF-1: n = 158

In both groups urine from benign, NIMB (Ta, Ta) and MIBC (T2+) were included.

histone H2B, NIF-1

↓ level of NIF-1 with cancer stages (not agreement with urinary level)

Lack of evaluation of biomarker performance.

Immunohistochemistry, n=32

pTa, pT1, n=23, pT2+ n=9

iTRAQ , n=12

Immunohistochemistry, n=303

↑ in 4/6 BCa samples in comparison to control (iTRAQ);

Prediction of disease progression

[180]

Tissue:

6 bladder cancer tissues (4 NMIBC, 2 MIBC) and paired normal tissues;

Inverse correlation to stage and histological grade progression (immunohistochemistry)

Lack of evaluation of biomarker performance.

DDX39

CE-MS , n=248

CE-MS, n=130

↓ regulated in MIBC in comparison to NMIBC

Prediction of MIBC:

[92]

Urine:

Urine,

81% sensitivity

127 BCa patients, 121 Controls

Test set: 68 NMIBC and 62 MIBC

57% specificity

4 polypeptide panel

CE-MS , n=79

CE-MS, n=366

Varied; 10 peptides ↑ in BCa;

[93]

Urine:

Urine,

12 ↓ in BCa in comparison to control

Detection of BCa:

46 BCa patients, 33 Controls

(Test set includes healthy controls, patients with non-malignant and malignant urological disorders)

100 % sensitivity

22 polypeptides panel

73% specificity
Gel-based proteomics
Chung et al. detected by 2-DE elevated levels of cofilin in BCa tissues vs. control urothelium. In total, 24 samples were analyzed resulting in identification of 12 differentially expressed proteins. The up-regulation of cofilin in BCa tissue specimens was confirmed by Western Blot and immunohistochemistry. Additionally, an antibody specific for phosphoylated Ser-3 of cofilin revealed elevated phosphorylation in BCa samples, especially in muscle-invasive BCa. In parallel, in vitro studies showed decreased EGF-induced migration in cofilin knock-down T24 cells. Collectively, both expression and phosphorylation of cofilin may be involved in BCa aggressiveness [178]. In another study, the urinary proteome was investigated in order to detect biomarkers for aggressive BCa. Zoidakis et al. analyzed urine samples from NMIBC and MIBC patients using enrichment by IMAC [182]. Collected enriched fractions were separated using 1D-SDS PAGE followed by in-gel digestion. Protein identification was performed using LC-MS/MS analysis. The study revealed aminopeptidase N, profilin-1 and myeloblastin as potential biomarker candidates. Further confirmation by Western blot or ELISA was conducted for selected proteins. Aminopeptidase N found to be down-regulated in MIBC, whereas Profilin-1 and myeloblastin were up-regulated in invasive cancer [182]. Orenes-Pinero has applied differential gel electrophoresis to investigate the urinary proteome of BCa patients (n?=?7, positive cytology) and controls (n?=?7, negative cytology) [181]. Differentially expressed proteins were identified by peptide mass fingerprinting using MALDI-TOF MS, including Regenerative protein (Reg-1), cytokeratins 1, 2 and 10, T-cell surface protein CD5 and prefoldin. Among these, only cytokeratin 1 was down-regulated in urine from BCa patients. Western blot analysis of eight bladder cancer cell line models (from non-invasive to metastatic) indicated the correlation between the levels of the proteins identified by proteomics and cancer progression. Quantitative analysis of urinary Reg-1 was evaluated by ELISA (n?=?80) and used for evaluation of diagnostic accuracy. Sensitivity and specificity at the level of 0.0038 ng/mL were 81.3% and 81.2%, respectively.
Gel-free proteomics
The shotgun approach followed by labeling or label-free quantification has also been widely implemented in biomarker discovery research. Frantzi et al. described urinary histone H2B and Zinc-finger 335 (NIF-1) as a potential progression marker for BCa. Urine from benign (n?=?5), non-invasive (n?=?10) and invasive cases (n?=?5) was enriched by IMAC and native peptides were analyzed by LC-MS/MS. It total, 1845 peptides were detected (638 precursor proteins). Differential regulation of histone H2B and NIF-1 were verified further by ELISA (urine, n?=?166) and immunohistochemistry (tissue samples, n?=?32) [179]. Apart from the label-free approach, labeling techniques have been also employed to discover biomarkers for BCa. Kato et al. used iTRAQ labeling to compare the proteome from bladder carcinoma urothelium (n?=?6) with paired normal tissues (n?=?6) [180]. 493 proteins were identified including 15 up-regulated proteins in cancer cases in comparison to adjacent normal samples (e.g. DDX39, B-cell receptor-associated protein 31, chaperonin containing TCP1, FK506 binding protein 4, S100 calcium binding protein A1). Immunohistochemistry (n?=?303) was used to verify the findings for protein which have not been previously evaluated. However, actin-related protein 3 homolog B was not verified, since the antibodies were not commercially available. This example indicates one of the drawbacks for application immune-based assays for protein verification: lack of specific antibodies. Authors found decreased expression of DDX39 with higher cancer stage and grade. In addition, low expression level of DDX39 significantly correlates with disease progression. Further functional analysis using siRNA assay was performed in bladder cancer cell line (T24). As a result, an increased invasion ability of cells transfected with si-DDX39 compared to control was observed. Therefore, reduced expression of this protein may serve as a biomarker to predict disease progression [180].
The search of potential biomarker candidates can be performed also at the peptide level. Briefly, peptidomic profiling was used for detection of urothelial carcinoma [93] as well as for prediction of MIBC [92]. In all these cases, biomarker panels were developed after analysis of a training set and further validated in independent test sets. CE-MS analysis was conducted for the discovery and initial validation phase. In a first study, Theodorescu et al. developed a 22 polypeptides panel for diagnosis of urothelial carcinoma [93]. The limited specificity (73%) was obtained in the test set (varied genitourinary disorders), whereas the sensitivity remained high (100%). Moreover, authors also advocated the application of additional discriminatory panels (e.g. non-malignant disease vs. urothelial carcinoma) can increase the specificity level [93]. In a second study, a 4 polypeptides panel (fragments of membrane associated progesterone receptor component I, uromodulin, collagen α-1 (I), Collagen α-1 (III)) was reported by Schiffer et al. and enabled detection of MIBC with sensitivity of 81%. However, limited specificity was obtained (57%) [92]. Along the same avenue of research, reanalysis of existing and newly collected BCa peptidomics data is currently under investigation in our lab (n?=?608 samples, 304 controls and 304 BCa patients). Several of previously detected peptides were confirmed as well as novel potential biomarkers were reported [95]. These data are currently rigorously verified in large, prospectively collected cohorts in the EU-funded BCMolMed (http://www.bcmolmed.org) project.
To summarize, the number of detected biomarker candidates depends on utilized analytical platform at biomarker discovery stage e.g. 2-DE enables identification of over a dozen candidates, whereas this values can increased up to hundreds for MS-based approaches. In most cases immune-based assays were used to verify presence of selected protein. Only for the peptidomics markers, CE-MS was applied for all phases. However, in most cases only initial verification of detected biomarkers was conducted, but appropriate vigorous validation in a sufficiently large population is still outstanding. Therefore, in order to establish robust and accurate biomarker/panel of biomarkers, further validation has to be performed, driven by the clearly defined context of use and cohorts representing the targeted population. Also, apart from the peptidomics studies, only single proteins were used to evaluate the diagnostic accuracy, whereas a combination of biomarkers candidates may lead to substantial improvement of biomarker performance.
Conclusions
Cancer is considered as a disease with high heterogeneity, increased incidence and mortality rates with a serious social and economic burden. The benefits from application of robust and accurate biomarkers in cancer management might result in significant improvement of clinical outcome via detection of cancer at early stages. An improvement in the therapeutic strategies based on the prognosis of the treatment response is also anticipated [192]. Multiple advances have been achieved regarding the proteomic technology that can be applied in major parts of the biomarker development: identification, verification and validation. Along the way of recent achievements in untargeted MS-based proteomic approaches, as well as targeted quantification proteomic strategies, the number of potential proteomic biomarkers has rapidly increased, as also indicated by the biomarkers candidates related to BCa summarized in this article [193–196]. However, this apparent progress has not triggered successful implementation of novel biomarkers into clinical practice. Therefore, as pinpointed above, critical issues related to biomarker development should be taken into account to raise the awareness about difficulties encountered in the process. Shortcomings hampering the biomarker implementation include difficulties related to the definition of context of use, proper study design (selection of patients, statistical design), samples availability along with poor clinical characteristics, high sampling variability due to the lack of application of standardized protocol as well as the application of inappropriate statistics. Clinical implementation of biomarkers is complex and requires collaborative efforts between researchers from different fields and clinicians. In order to facilitate the translation into clinical utility and benefit for patients, various guidelines have been established to guide scientists in this endeavor [11, 197].
Based on the literature published, it appears that numerous proteomic biomarkers do exist that will likely result in a substantial improvement of the current clinical situation [193, 194, 198].
Regarding Chronic Kidney Disease (CKD), a urinary biomarker model based on a panel of 273 peptides, as established after CE-MS analysis has been already well investigated in the context of early diagnosis of CKD. Good et al. [199] first proposed the above 273 biomarker model, reporting an AUC (area under the curve) value of 0.96 upon independent validation in an independent blinded cohort of 109 CKD samples and 34 urine samples from normal individuals [199]. The same performance (AUC of 0.96) was presented in a follow up study for the same model, using a multicentric validation approach including 137 urine samples (62 CKD patients and 75 normal controls) [200]. Importantly, Zurbig et al. [201] further evaluated the CKD273 peptide marker model for its diagnostic utility in a longitudinal study, where 316 urine samples were employed, including patients with diabetes type 1 and 2 [201]. In this study, the above model was able to predict the progression of normoalbuminuria to macroalbuminuria 5 years before onset, while the AUC value was estimated at 0.93, increased compared to the routinely used urinary albumin whose reported performance is 0.67 [201]. Finally, Andersen et al. [202] applied the CKD273 for characterization of the renoprotective treatment outcome in hypertensive type 2 diabetic patients treated with Ibersartan. In this study, urine samples were collected from patients undergoing Ibersartan treatment in two timepoints before and two years after treatment [202]. The changes in the peptide pattern of the treated patients are indicative of the possible utility of this model -and such proteomic biomarker approaches in general-, in the monitoring of the patients response to drug treatment [202]. The CKD273 classifier is currently been implemented in a Multicentric European Trial, called PRIORITY where 3280 patients with diabetes type 2 are employed.
Another CE-MS derived peptide biomarker approach with increased potential to be implemented as a routine test for diagnosis of cholangiocarcinoma (CC) has been also described [203]. Due to the demanding clinical need for early detection of cholangiocarcinoma that increases the curative potential of a therapeutic treatment, Lankisch et al. [203] first proposed a peptide classifier as established by interpretation of CE-MS data derived from bile proteomic analysis [203]. Two models were presented enable to distinquish between patients with choledocholithiasis and malignant lesions as well as between cholangiocarcinoma and primary sclerosing cholangitis (PSC), a risk factor for cholangiocarcinoma. After independent validation, the first model was found able to distinguish between patients with gallstones and malignant lesions with sensitivity of 93% and specificity of 86%, while the second model classified PSC cases and CC cases with a sensitivity of 84% and specificity of 78%. Following a similar approach, Metzger et al. [204] introduced a urinary based peptide classifier in a follow up study, where the specific aim was the investigation of a non-invasive urinary test for early diagnosis of cholangiocarcinoma. In this case, an AUC value of 0,87 was reported with 83% sensitivity and 79% specificity, after validation in a cohort of 123 patients [204].
Based on the literature available, it appears that clinically useful proteomic biomarkers can be identified, and also validated, employing the technologies available today. Hence, unravelling this potential benefit would "only" require analysis of a sufficient number of samples using appropriate technologies. Assuming the availability of the required funds, the only limitation is the availability of samples. This major problem has not successfully been tackled by the generation of biobanks, these generally do not proved the support anticipated [197].
However, as recently also suggested Vlahou [17], combining efforts and testing multiple biomarkers in the same samples may be the most promising approach. Another hurdle in bringing the benefits to the patients apparently are the requirements by regulatory agencies, and cost as well as the reluctance of the public health systems to accept novel and beneficial approaches in medicine. Here, initiative from the relevant clinical professional societies and patients groups may be needed in combination with simplification and improvements of regulatory requirements, to enable timely implementation of highly beneficial developments to improve medicine and patient care.
Authors' information
All the authors namely MF, AB, AL are a PhD students involved in the European BCMolMed program (http://www.bcmolmed.org). The major goals of the project are identification of novel biomarkers related to bladder cancer invasion, verification of existing biomarkers as well as integration of data using system biology approach.
Abbreviations
2-DE:

Two dimensional gel electrophoresis
ACM:

Antibody colocalization microarray
AUC:

Area under the curve
BCa:

Bladder Cancer
CC:

Cholangiocarcinoma
CE:

Capillary Electrophoresis
CKD:

Chronic kidney disease
CV:

Coefficient of variation
DIGE:

Difference gel electrophoresis
ELISA:

Enzymed- linked Immunosorbent assay
ESI:

Electrospray ionization
FDA:

U.S. Food and Drug Administration
iCAT:

Isotope- coded affinity tag
IEF:

Isoelectric focusing
IMAC:

Immobilized metal affinity chromatography
IPG:

Immobilized pH gradient
iTRAQ:

Isobaric Tag for relative and absolute quantification
LC:

Liquid chromatography
LIMS:

Laboratory informatics management applications
LOQ:

Limit of quantification
MALDI:

Matrix-assisted laser/desorption ionization
MIBC:

Muscle invasive bladder cancer
MS:

Mass spectrometry
MS/MS:

Tandem mass spectrometry
NMIBC:

Non-muscle invasive bladder cancer
NPV:

Negative predictive value
PPV:

Positive predictive value
PSC:

Primary sclerosing cholangitis
QTOF:

Quadrupole time-of-flight mass spectrometer
SILAC:

Stable isotope labeling by amino acids in cell culture
SID:

Stable isotope dilution
SISCAPA:

Stable Isotope Standards and Capture by Anti-Peptide Antibodies
SRM/MRM:

Single/Multiple reaction Monitoring.
Declarations
Acknowledgements
The work was supported by grant 317450 PITN-GA-2012-31750 BCMolMed (Molecular Medicine for Bladder Cancer) from the FP7 – PEOPLE – 2012 – ITN program.
Authors' Affiliations
(1)
Mosaiques Diagnostics GmbH, Hannover, Germany
(2)
Biotechnology Division, Biomedical Research Foundation Academy of Athens, Athens, Greece
(3)
Charité-Universitätsmedizin Berlin, Germany
Copyright
© Frantzi et al.; licensee Springer. 2014
This article is published under license to BioMed Central Ltd. This is an Open Access article distributed under the terms of the Creative Commons Attribution License (http://creativecommons.org/licenses/by/2.0), which permits unrestricted use, distribution, and reproduction in any medium, provided the original work is properly credited.