SOX2 and cancer: current research and its implications in the clinic
Clinical and Translational Medicine
2014
3:19
Received: 11 March 2014
Accepted: 6 June 2014
Published: 4 July 2014
Abstract
SOX2 is a gene that encodes for a transcription factor belonging to the SOX gene family and contains a high-mobility group (HMG) domain, which permits highly specific DNA binding. Consequently, SOX2 functions as an activator or suppressor of gene transcription. SOX2 has been described as an essential embryonic stem cell gene and moreover, a necessary factor for induced cellular reprogramming. SOX2 research has only recently switched focus from embryogenesis and development to SOX2's function in disease. Particularly, the role of SOX2 in cancer pathogenesis has become of interest in the field. To date, studies have shown SOX2 to be amplified in various cancer types and affect cancer cell physiology via involvement in complicated cell signaling and protein-protein interactions. Recent reviews in this field have highlighted SOX2 in mammalian physiology, development and pathology. In this review, we comprehensively compile what is known to date about SOX2's involvement in cancer biology, focusing on the most recent findings in the fields of cellular signaling and cancer stem cells. Lastly, we underscore the role of SOX2 in the clinic and highlight new findings, which may provide novel clinical applications for SOX2 as a prognostic marker, indicator of metastasis, biomarker or potential therapeutic target in some cancer types.
Keywords
SOX2 Stem cell markerReprogrammingCancerCancer stem cellsBiomarkerPrognosis
Introduction
The SOX family is a group of related transcription factors that have demonstrated their importance in developmental and stem cell biology. In 1990, pioneering research discovered the mammalian testis-determining factor and the gene was termed Sry due to its corresponding location in the sex-determining region on the Y-chromosome [1, 2]. Sry contains a distinctive high-mobility group (HMG) domain, which permits precise DNA recognition and binding. Proteins that contain the HMG domain with amino acid similarity of 50% or higher to the HMG domain of Sry are termed SOX (abbreviation for Sry-related HMG box) proteins [3–5]. Known functions of these proteins range from regulation of embryonic development and stem cell maintenance to homeostasis in adult tissues [6].
In 1994, the
SOX2
gene, one of the
SOX
family members, was discovered and characterized in humans [
7
]. The
SOX2
gene is located on chromosome 3q26.3–q27, belongs to the SOXB1 group and encodes for a protein consisting of 317 amino acids (Figure
1
A) [
7
,
8
]. SOX2 is comprised of three main domains: N-terminal, HMG and transactivation domain (Figure
1
B). SOX2 research thus far has heavily emphasized its crucial role in stem cell maintenance, lineage fate determinant and a necessary factor to reprogram somatic cells back towards pluripotency [
5
,
9
,
10
]. In disease,
SOX2
alterations have been associated with developmental maladies, such as anophthalmia-esophageal-genital (AEG) syndrome, which occurs when there is a heterozygous mutation of
SOX2
that leads to abnormal development of ectodermal and endodermal tissues [
11
]. Aside from developmental diseases, accruing research has strongly associated SOX2 with cancer.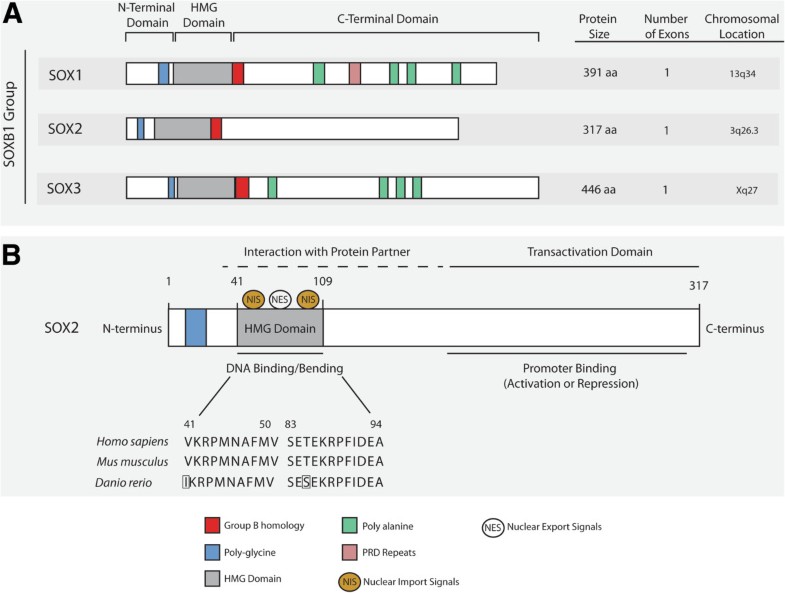 Here, we consolidate SOX2's role in cancer and provide a comprehensive overview of the field, focusing on the latest research that has implicated SOX2 in cancer biology and in the clinic. SOX2 has been shown to be associated with numerous cancer types, even described in some cases as an oncogene, and controls cancer cell physiology via promoting oncogenic signaling and maintaining cancer stem cells. Lastly, we investigate recent work that has highlighted the role of SOX2 in the clinic, particularly its influence on prognosis, therapy resistance and potential therapeutic interventions.
Review
SOX2 and cancer biology: current research
Correlations between SOX2 and clinical outcome: current research
SOX2 has proven its functional role in various aspects of cancer biology. Research on SOX2 has also investigated its importance in the clinic in respect to disease prognosis, relapse, therapy resistance, comprehensive summary in Table
2
. The ability to improve reliability of diagnosis or prognosis of a cancer patient can have immense impact on survival and better understanding of the disease. For example, 162 esophageal squamous cancer patients were analyzed for SOX2 and OCT3/4 expression and high expression of both markers was associated with higher histological grade or TNM stage (p < 0.001 for both factors), demonstrating their link to dedifferentiation in these tumors (Table
2
) [
84
]. Furthermore, a significant correlation between high SOX2 levels and decreasing patient survival was shown (p < 0.001) [
84
]. Recently, Forghanifard and colleagues revealed that stemness state regulators SALL4 and SOX2 are overexpressed in 64 esophageal cancer samples and co-overexpression correlated with depth of tumor invasion and metastasis [
85
]. Again, contrasting results for SOX2's role in the clinic were highlighted in lung cancer (including NSCLC and SCLC), where SOX2 was correlated to improved survival and better patient outcome [
62
,
67
,
68
,
86
–
88
]. These opposing outcomes in the clinic further underscore the differing role of SOX2 in varying cancer types.
Table 2
Clinical relevance of SOX2
Cancer type

Function in the clinic

References

Breast

Promotes Tamoxifen resistance via WNT signaling activation in CSCs

ZF-based ATF therapy effective for downregulation of SOX2

Expression correlates with TNM stage and histological grade

Colorectal

Prognostic marker for metastasis

Associated with poor patient prognosis

Associated with distant metastasis and lymph-node metastasis

Esophageal

Co-expression with OCT3/4 significantly associated with higher histological stage

Co-expression with OCT3/4 correlated to poorer survival

Co-expression with SALL4 correlates to depth of tumor invasion and metastasis

CD44 and SOX2 is correlated to poor survival

Gastric

Associated with poor prognosis

SOX2 methylation correlates to significantly shorter survival time

Predicts immunotherapy response

Hepatocellular carcinoma

Expression correlates with metastasis

[47]

Expression correlates with low survival rate

Lung, NSCLC, Squamous cell lung cancer

Associated with better survival independent of histological subtype

Expression is a positive prognostic marker

SOX2 amplification and upregulation are frequent events linked to favorable prognosis

Important tumor-associated antigen

Associates SOX2-positive T-cells to patient response to immunotherapy

Increases resistance to EGFR inhibitors

Melanoma

Novel biomarker for normal skin subpopulation responsible for tumorigenesis

SOX2 and Nestin differentiate between nevi and melanoma metastasis

SOX2 and Nestin powerful diagnostic tools

Ovarian

Expression directly proportional to higher degree of malignancy

Responsible for CSC therapy resistance

Rectal

Predicts poor distance recurrence for preoperative CRT patients

[91]

Predicts poor prognosis for preoperative CRT patients

Sinonasal

SOX2 amplification identifies carcinomas more likely to relapse

[71]
SOX2's influence on therapy resistance
Drug resistance has been associated with expression of various pluripotency markers, including NANOG, OCT4 and SOX2, since these genes typically lead to a decrease in differentiation status [68]. In breast cancer, silencing SOX2 not only reduced the size of the CSC population but also restored tamoxifen sensitivity, suggesting tamoxifen resistance is primarily driven by SOX2 in breast CSCs [89]. Recently, Dogan and colleagues investigated SOX2 and EGFR inhibitors in lung adenocarcinoma cell lines [68]. When a SOX2 knockdown using shRNA was performed in HCC827 cells, decreased proliferation was observed along with increased sensitivity to erlotinib. Furthermore, upon the treatment with PI3K/AKT inhibitors, SOX2 expression decreased [68]. Therefore, targeting SOX2 in EGFR-mutant tumors may be therapeutically beneficial; however more direct targeting strategies need to be further developed.
SOX2 and therapy options
Improving cancer therapy options in the clinic remains a priority. SOX2 has shown its potential to become a useful biomarker in the clinic for some cancer types, for both staging tumors and identification of the CSC subpopulations (Table 2). Utilizing SOX2 for cancer therapy may open a window to new therapeutic opportunities. SOX2 does not lend itself for direct therapeutic intervention due to its importance in transcriptional cellular function and targeting SOX2 may have dozens of unwanted complications. However, targeting signals upstream or downstream of SOX2 may prove beneficial in cancer therapy. For example, as mentioned above in NSCLC and prostate CSCs, SOX2 relies heavily on EGFR signaling for mediating self-renewal in CSCs. Currently, anticancer drugs are on the market targeting EGFR, such as gefitinib and erlotinib, and may be useful in inhibiting SOX2's downstream self-renewal effects, however resistance to these therapies is nearly inevitable and needs to be overcome. Therefore, further targeting SOX2 in EGFR-mutant cancer with PI3K/AKT inhibitors, as shown above in lung adenocarcinoma cell lines, may yield better results [68].
Recently published studies have attempted to tackle SOX2 therapy and its implications. Favaro and colleagues, who performed the oligodenroglioma studies in mice, further examined SOX2 peptides for immunotherapy treatment in mice [43]. The C57BL/6 N mice were injected with wild-type oligodendroglioma cells from established mouse model and upon vaccination with SOX2 peptides, significant delay in tumor growth was observed [43]. Similarly, Polakova and colleagues developed an experimental DNA vaccine against SOX2 [92]. In this study, C57BL/6 and BALB/c mice were immunized with DNA vaccine and found a significant SOX2-specific activation of lymphocytes. However, when the antitumor effects were examined using TC-1/B7 (derived from lung cancer cell line TC-1) cells the DNA vaccination did not prevent tumor development even though it was able to significantly reduce tumor growth [92].
Conclusion: SOX2 in the future
SOX2 has proven not only to be an essential embryonic, reprogramming and development-associated gene but has begun to leave its footprint in the field of oncology. SOX2 is intricately involved in many cancer-associated processes such as cell proliferation, evading cellular apoptosis and metastasis via interactions with EGFR signaling and several other oncogenic pathways and processes. Moreover, current and ongoing SOX2 CSC research has emphasized the importance of investigating early developmental genes, since they may be responsible for self-renewal of CSCs. Lastly, in clinical settings, SOX2 has shown a heavy influence on patient survival and prognosis. In summary, SOX2 function in cancer has been accentuated in numerous cancer types in and out of the clinic and investigating SOX2's oncogenic course is important for future prognosis, survival of cancer patients and possible therapeutic interventions.
Abbreviations
CCND3:

CyclinD3
CDH1:

E-Cadherin
ChIP:

Chromatin immunoprecipitation
CRT:

Chemoradiotherapy
CSCs:

Cancer stem cells
CTNNB1:

β-Catenin
EGFR:

Epidermal growth factor receptor
EMT:

Epithelial-mesenchymal-transition
GBM:

Glioblastoma multiforme
HH:

Hedgehog
LSCC:

Lung squamous cell carcinoma
mTOR:

Mammalian target of rapamycin
MET:

Mesenchymal-epithelial-transition
MMP:

Matrix metalloproteinase
NOD/SCID:

Non-obese diabetic-severe combined immunodeficiency
NSCLC:

Non-small-cell lung cancer
PI3K:

Phosphatidylinositol 3-kinase
PCSC:

Prostate cancer stem cell
SCC:

Squamous cell carcinoma
SCLC:

Small-cell lung cancer
ZF-based ATF:

Zinc finger-based artificial transcription factor.
Declarations
Acknowledgements
This work was performed under the Max-Eder research grant from the German Cancer Aid. We are grateful to Janet Lei, Nathalie Schoeler and Dr. Daniel Novak for critically reading the manuscript and giving invaluable suggestions and feedback on both the text and the figures.
Authors' Affiliations
(1)
Skin Cancer Unit, German Cancer Research Center (DKFZ), Heidelberg, Germany
(2)
Department of Dermatology, Venereology and Allergology, University Medical Center Mannheim, Ruprecht-Karls-Universität Heidelberg, Mannheim, Germany
Copyright
© Weina and Utikal; licensee Springer. 2014
This article is published under license to BioMed Central Ltd. This is an Open Access article distributed under the terms of the Creative Commons Attribution License (http://creativecommons.org/licenses/by/4.0), which permits unrestricted use, distribution, and reproduction in any medium, provided the original work is properly credited.