Cancer nanomedicine: a review of recent success in drug delivery
Clinical and Translational Medicine
2017
6:44
Received: 28 August 2017
Accepted: 22 November 2017
Published: 11 December 2017
Abstract
Cancer continues to be one of the most difficult global healthcare problems. Although there is a large library of drugs that can be used in cancer treatment, the problem is selectively killing all the cancer cells while reducing collateral toxicity to healthy cells. There are several biological barriers to effective drug delivery in cancer such as renal, hepatic, or immune clearance. Nanoparticles loaded with drugs can be designed to overcome these biological barriers to improve efficacy while reducing morbidity. Nanomedicine has ushered in a new era for drug delivery by improving the therapeutic indices of the active pharmaceutical ingredients engineered within nanoparticles. First generation nanomedicines have received widespread clinical approval over the past two decades, from Doxil® (liposomal doxorubicin) in 1995 to Onivyde® (liposomal irinotecan) in 2015. This review highlights the biological barriers to effective drug delivery in cancer, emphasizing the need for nanoparticles for improving therapeutic outcomes. A summary of different nanoparticles used for drug delivery applications in cancer are presented. The review summarizes recent successes in cancer nanomedicine in the clinic. The clinical trials of Onivyde leading to its approval in 2015 by the Food and Drug Adminstration are highlighted as a case study in the recent clinical success of nanomedicine against cancer. Next generation nanomedicines need to be better targeted to specifically destroy cancerous tissue, but face several obstacles in their clinical development, including identification of appropriate biomarkers to target, scale-up of synthesis, and reproducible characterization. These hurdles need to be overcome through multidisciplinary collaborations across academia, pharmaceutical industry, and regulatory agencies in order to achieve the goal of eradicating cancer. This review discusses the current use of clinically approved nanomedicines, the investigation of nanomedicines in clinical trials, and the challenges that may hinder development of the nanomedicines for cancer treatment.
Keywords
NanoparticlesOncologyClinical trialsTherapeuticsCombination treatmentTheranosticsMM-398
Background
Cancer is currently among one of the leading causes of deaths worldwide, with 1,688,780 new cases and 600,920 cancer deaths projected for 2017. Over the next 20 years, the number of new cases is projected to increase by about 70% [1]. Current treatments may include chemotherapy, radiation, and surgery, but the effects of these procedures may damage not only the tumor tissue but also normal tissue. Weinberg and Hanahan have described a set of six hallmarks of cancer, which may help distinguish characteristics between the normal and tumor tissue and perhaps provide better alternative treatments. These hallmarks include sustaining proliferative signaling, evading growth suppressors, activating invasion and metastasis, enabling replicative immortality, inducing angiogenesis, and resisting cell death [2]. Even in the absence of injury or development, cancer cells can maintain growth signals and continue proliferation. Normal regulators of cell growth and apoptosis are often inhibited. High levels of telomerase may help cancer cells maintain the integrity of their DNA and thus allow them to replicate infinitely. The formation of new blood vessels, or angiogenesis, is a method for cancer cells to obtain nutrients and remove waste. Cancer cells can also migrate to new sites and form new, secondary tumors. Two emerging hallmarks of cancer include reprogramming energy metabolism and evading immune destruction. Cancer cells have upregulated glucose transporter expression, and they tend to reprogram their metabolic pathway to "aerobic glycolysis". This metabolic switch may allow the generation of nucleosides and amino acids, which facilitate additional growth and proliferation. Markers that T-lymphocytes use to recognize and destroy foreign or abnormal cells are not well-expressed by cancer cells, thus allowing them to avoid elimination by the immune system [2].
Since the characterization of cancer via these hallmarks of cancer, new methods for treatment have been investigated. Nanomedicine can be defined as nanotechnology, or the use of materials between 1 and 100 nm, applied to health and medicine [
3
]. Nanomedicine is an emerging method for treating cancer. Current problems in treating cancer include low specificity, rapid drug clearance and biodegradation, and limited targeting [
4
]. The properties of nanocarriers, including their nanoscale sizes, high surface-to-volume ratios, favorable drug release profiles, and targeting modifications, can allow them to better reach target tumor tissue and release drugs in a stable, controlled manner [
3
]. Nanocarriers can accumulate in leaky vasculature, which is a characteristic of tumor tissue, in an effect known as the enhanced permeability and retention effect (EPR) effect [
5
]. Use of internal and external stimuli as well as targeting modifications may assist in the controlled release of the drug to ensure specific toxicity to the tumor tissue, while sparing normal tissue. The poor solubility of small molecule drugs often restricts their delivery to the tumor, and therefore encapsulating the drugs in nanocarriers may facilitate travel through the bloodstream, thus preventing rapid clearance and improving bioavailability. The potential of nanomedicines can be further extended to early detection of cancers as well as combination therapies that can start treating tumors earlier and more effectively. Currently, a wide variety of platforms are being investigated as nanocarriers for cancer treatment, including lipid-based, polymer-based, inorganic, viral, and drug-conjugated nanoparticles (Fig.
1
). Several of these same platforms have also been approved for use in the clinic (Table
1
).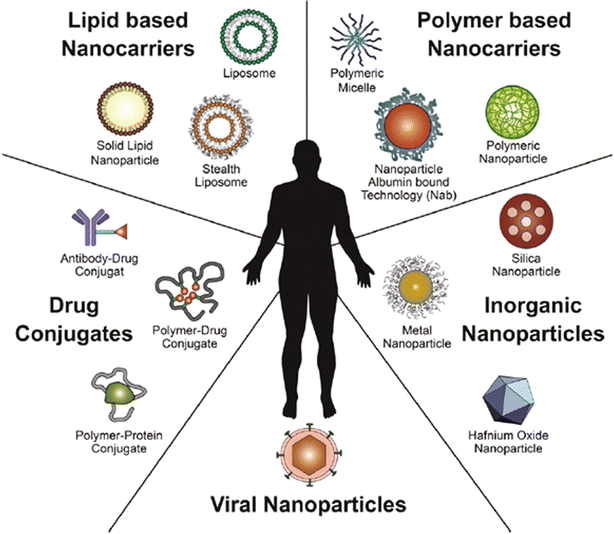 Table 1
Currently approved nanomedicines in the clinic
Year approved

Name

Type

Active drug

Diameter (references)

Type of cancer

Japan (1994)

Zinostatin stimalamer

Polymer protein conjugate

Styrene maleic anhydride neocarzinostatin (SMANCS)

*

Renal cancer

FDA (1995)

EMA (1996)

Doxil/caelyx

Liposome (PEGylated)

Doxorubicin

80–90 nm [82]

HIV-associated Kaposi's sarcoma, ovarian cancer, metastatic breast cancer, multiple myeloma

FDA (1996)

DaunoXome

Liposome (non-PEGylated)

Daunorubicin

45 nm [83]

HIV-associated Kaposi's sarcoma

Taiwan (1998)

Lipo-Dox

Liposome

Doxorubicin

180 nm [84]

Kaposi's sarcoma, breast and ovarian cancer

FDA (1999)

DepoCyt

Liposome

Cytosine arabinoside (cytarabine)

10–20 µm [84]

Neoplastic meningitis

EMA (2000)

Myocet

Liposome

Doxorubicin

190 nm [84]

Breast cancer

FDA (2005)

EMA (2008)

Abraxane

Nanoparticle albumin bound

Paclitaxel

130 nm [27]

Advanced non-small-cell lung cancer, metastatic pancreatic cancer, metastatic breast cancer

FDA (2006)

Oncaspar

PEG protein conjugate

l-Asparaginase

50–200 nm [84]

Leukemia

South Korea (2007)

Genexol-PM

PEG-PLA polymeric micelle

Paclitaxel

20–50 nm [85]

Breast cancer, Lung cancer, Ovarian cancer [126]

EMA (2009)

MEPACT

Liposome (non-PEGylated)

Mifamurtide

*

Osteosarcoma

EMA (2010)

NanoTherm

Iron oxide nanoparticle

–

20 nm [86]

Thermal ablation glioblastoma

FDA (2012)

Marqibo

Liposome (non-PEGylated)

Vincristine

100 nm [87]

Philadelphia chromosome negative acute lymphoblastic leukemia

FDA (2015)

MM-398 (Onivyde)

Liposome (PEGylated)

Irinotecan

80–140 nm [88]

Metastatic pancreatic cancer (2nd line)
This review will discuss the current use of clinically approved nanomedicines, the investigation of nanomedicines in clinical trials, and the challenges that may hinder development of the nanomedicines for cancer treatment. Several properties of nanocarriers make them suitable for delivering chemotherapeutic drugs to the target tumor tissue. Small molecule drugs like most chemotherapies have very short circulation half lives inside the body and nanoparticles can be made long-circulating thereby improving the bioavailability of these drugs and thus improving efficacy without the need for higher doses [4–6]. Nanoparticles also offer the opportunity to control the release of the encapsulated payload such that a high percentage of the trapped drug is released after the particles have reached their target tissue. This property of controlled release from nanoparticles can improve efficacy of the drugs while reducing off-target toxic effects [4–6]. Several of these virtues of nanoparticle-based drug delivery are discussed next.
Biological barriers to effective drug delivery
Case study: MM-398 clinical trials
First approved in 1996, irinotecan (formerly known as CPT-11) is a semisynthetic analog of the cytotoxic alkaloid camptothecin. It is isolated from Camptotheca acuminata (family Nyssaceae), a tree indigenous to China. Camptothecin is known to have strong anti-tumor properties, and its analog irinotecan is typically used to combat colon and pancreatic cancers. Irinotecan is thought to have cytotoxic effects on cells in S phase, inserting itself into the DNA replication fork and effectively halting mammalian DNA topoisomerase I in its place, as seen in Fig.
4
. This effect blocks DNA replication, inhibiting nucleic acid synthesis and inducing the DNA strands to break apart, ultimately causing cell death in proliferating cells [
62
,
63
]. The active metabolite of irinotecan, SN-38, is in constant equilibrium with irinotecan (Fig.
5
). Both substances have a pH-dependent equilibrium between their active lactone and inactive carboxylate forms. Although irinotecan and SN-38 both have the same DNA damaging ability, SN-38 is known to be roughly 100–1000 times more potent than irinotecan. Using unencapsulated irinotecan can thus lead to issues in toxicity and efficacy. Containing the irinotecan drug particles in liposomes may be a solution. Separation of the drug molecules from the inside of the body results in a lower plasma concentration (C
max
) and lower circulation time of the drug, both of these leading to a lower toxicity. A higher concentration of the drug is able to accumulate in the tumor tissues, possibly due to large and leaky vasculature in the tumor tissue [
64
]. Because of the pH equilibrium between the active and inactive forms of these drugs, a large amount of active SN-38 and irinotecan be delivered to the tumor site thanks to the acidic microenvironment of the tumor [
65
]. For these reasons, liposomal irinotecan (MM-398, formerly known as PEP02) has undergone preclinical and phase I–III testing and was recently approved for use as a second-line treatment for metastatic pancreatic cancer. These trials are outlined in the following sections.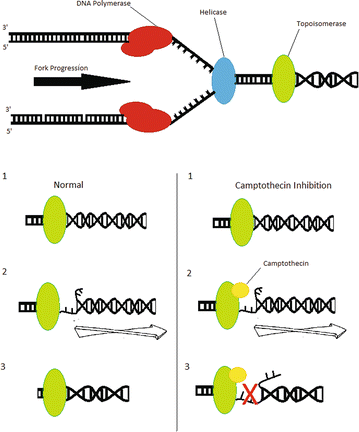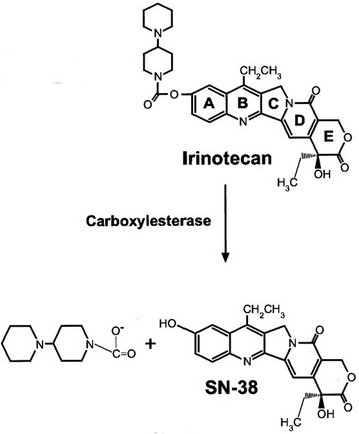 Conclusions and future directions
The advent of nanomedicines represents significant advances in the field of drug delivery. The options for nanoparticle design and function are extremely varied and the list of potential applications continues to grow, to the point where the drug delivery system can be tailor-made to best suit the selected drug. However, it is important to remember that nanoparticle-based treatments are not miracle cures. They have both flaws and challenges to overcome. Selective targeting, while heralded as an improvement over non-encapsulated drugs, is a challenge unto itself. While many cancers overexpress surface proteins common in normal cells, overabundance of a specific surface protein is not enough to guarantee selectivity using targeted treatment. Ultimately, some of the drug will end up off-target, affecting non-cancerous cells. Choosing the right surface marker is critical for a targeted treatment to work. For liposomal irinotecan (MM-398), selectivity is achieved through the acidic tumor microenvironment. Irinotecan turns into its more active form, SN-38, in acidic environments. SN-38, then, disrupts the molecular machinery responsible for DNA replication. One could consider this a form of focused targeting: targeting only dividing cells in an acidic environment, such as those found in a tumor. However, tumor cells are not the only actively dividing cells in an acidic environment the body. Stomach epithelial cells are one such example. This may explain why most of the side-effects of MM-398 are digestive-related. Further, the tumor microenvironment is both heterogeneous and complex. The tumor is an amalgamation of both cancer and normal cells. Tumor cells invoke wound-repair pathways, recruiting basal laminal cells, blood vessel cells, and tumor-assisting macrophages (TAMs) to assist with growth and survival [2]. Due to cancer cells having a preference towards anaerobic metabolic pathways as well as the partial hypoxia of the tumor environment, pH gradients moving from extracellular to intracellular spaces tend to be reversed in tumor tissue when compared to normal tissue [78]. Differentiation between cancer cells within the same tumor can also occur. Due to genome instability, populations of different cancer cells can arise within a single tumor. As many as 20 driver mutations, and anywhere between 1000 and 100,000 point mutations can be found within individual cancers. Treatment may further increase the number of these mutations. "For example, gliomas that recur after treatment with the DNA alkylating agent temozolomide have been shown to carry huge numbers of mutations with a signature typical of such agents" [79].
There is also a reproducibility issue with nanoparticle production. Reproducible, large-scale synthesis of nanomedicines is still a challenge for the distribution of a homogeneous batch of nanomedicines, especially when considering that these nano-platforms often require specific conditions for production via self-assembly. Thorough characterization of these nanomedicines, at every stage of the production process must be enforced to ensure both reproducibility of synthesis and efficacy. Storage of these nanomedicines under appropriate conditions is also critical since colloidal instability can dramatically alter their performance in vivo. Ideal nanomedicines will have a modular design that can be easily scaled up for cGMP manufacturing and stored for a long time prior to use in patients.
Furthermore, the changes in legislation often occur at a rate different than the development of medicines in the laboratory. One organization, the Nanotechnology Characterization Laboratory, works with the FDA as bridge between scientists and regulatory committees to aid the review of nanomedicines [80] and has helped translation of some nanoplatforms.
Overcoming these challenges may seem like a herculean effort, but it is not impossible. There has been an overall shift in cancer research, from individual-based to a more collaborative approach that has helped achieve success. A complex problem requires a complex solution, and a multidisciplinary approach seems like the best option. Cross collaborations between theoretical and experimental scientists across academia, with the pharmaceutical industry, medical doctors and the regulatory agencies will help translate more findings from the lab to the clinic and usher in the next era of clinical cancer nanomedicines.
Abbreviations
EPR:

enhanced permeability and retention effect
PEG:

polyethylene glycol
RES:

reticulo-endothelial system
MPS:

mononuclear phagocyte system
BPD:

verteporfin
ROS:

reactive oxygen species
PLGA:

poly(d,l-lactide-co-glycolide)
BBB:

blood–brain barrier
PRINT:

particle replication in nonwetting templates
SWCNT:

single walled carbon nanotube
VEGF:

vascular endothelial growth factor
Cmax :

plasma concentration
MM-398:

liposomal irinotecan
SOS:

sucrose octasulfate
Pn:

linear poly(phosphate)
TEA:

triethylammonium
MTD:

maximum tolerated dose
DLT:

dose-limiting toxicity
PK:

pharmacokinetics
AE:

adverse effects
5-FU:

5-fluorouracil
LV:

leucovorin
ORR:

objective response rate
OG:

oesophago-gastric cancer
HR:

hazard ratio
TAM:

tumor-assisting macrophages
MDR:

multi-drug resistance
Declarations
Authors' contributions
All authors contributed to the design, research, writing, and reviewing of this manuscript. All authors read and approved the final manuscript.
Acknowledgements
Not applicable.
Competing interests
The authors declare that they have no competing interests.
Availability of data and materials
Not applicable.
Consent for publication
Not applicable.
Ethics approval and consent to participate
Not applicable since no clinical trials were conducted as part of this review manuscript.
Funding
The authors acknowledge funding from the National Cancer Institute, a part of the National Institutes of Health (Award # K99CA153948 and R00CA153948).
Publisher's Note
Springer Nature remains neutral with regard to jurisdictional claims in published maps and institutional affiliations.
Open AccessThis article is distributed under the terms of the Creative Commons Attribution 4.0 International License (http://creativecommons.org/licenses/by/4.0/), which permits unrestricted use, distribution, and reproduction in any medium, provided you give appropriate credit to the original author(s) and the source, provide a link to the Creative Commons license, and indicate if changes were made.
Authors' Affiliations
(1)
Department of Biological Sciences, University of Massachusetts, Lowell, USA
(2)
Department of Chemical Engineering, University of Massachusetts, Lowell, USA