The translational significance of epithelial-mesenchymal transition in head and neck cancer
Clinical and Translational Medicine
2014
3:39
Received: 20 September 2014
Accepted: 29 October 2014
Published: 30 November 2014
Abstract
Positive markers of epithelial-mesenchymal transition (EMT) in head and neck cancers complicate clinical management and are associated with reduced survival. We discuss recent translational discoveries in EMT and suggest additional actionable molecular pathways, biomarkers, and clinical agents.
Keywords
EMT head and Neck cancerSnailSlugBiomarkersTGF beta and Head and Neck cancerEMT and HPVClinical trials in HNSC
Introduction
Squamous Cell Carcinoma of the head and neck (HNC) is a complex neoplastic disease that affects the face, cranium, and neck. Clinically, HNC has usually invaded vital aerodigestive tract anatomy at presentation, and often affects key sensory nerves in the peripheral nervous system. The worldwide incidence of HNC is estimated at greater than 550,000 new diagnoses per year accounting for 15–20 new cases per 100,000 individuals [1]. Despite extensive well-powered studies and the emergence of targeted therapy, 5-year survival rates in HNC remain at approximately 50% [2]. This poor survival is likely due to the fact that local invasion, lymph node involvement and metastasis are often present at the time of diagnosis. The head and neck contain nearly 40 percent of the 800 lymph nodes present throughout the body making invasive disease a serious clinical concern [3].
Review
Local invasion and metastasis are associated with Epithelial to Mesenchymal transition (EMT) and hold negative prognostic value. Median 5-year overall survival (OS) rates in HNC have held steady at 50% but decline to 10% when local metastasis is present at diagnosis [4].
While differing slightly by anatomic site, local invasion in the ipsilateral field is present in ~50% of HNC at diagnosis and contralateral and bilateral invasion approach ~35% [
3
]. Figure
1
shows the stage at presentation of HNC by anatomic site: at all sites, HNC presents at either stage III or IV in at least 60% of the cases, and tumors of the nasopharynx, oropharynx/tonsil and glottis present at stage III or IV in over 98% of the cases. Therefore, these tumors carry a higher overall metastasis risk. Local invasion and extracapsular spread require extensive and complex resection and chemoradiotherapy [
3
],[
5
].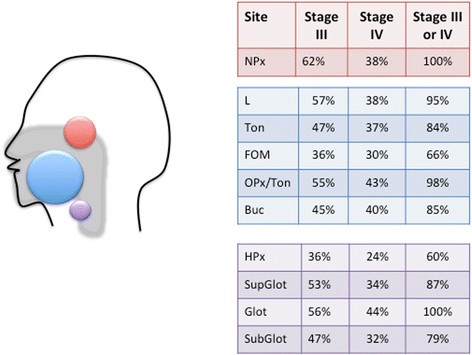 Genomic studies over the past decade have begun to dissect the complex underlying biology in HNC, which is often associated with tobacco and alcohol use. Furthermore, involvement of high-risk papillomavirus (HPV) as an etiologic factor in some tumors of the head and neck, first posited by Syrjänen and colleagues in 1983, has now been positively demonstrated [4],[6]-[8]. The addition of HPV-surveillance by p16 staining and molecular testing has become commonplace in the work-up of these tumors, and cases of HPV-mediated disease are on the rise [9]. Despite ample evidence for the role of HPV in cancer development at genital and skin sites in humans, it has taken several decades to connect HPV with HNC [10]. Seminal studies of canine oral papillomatosis suggested a role for EMT in tumors of the oropharynx [11],[12]. Like early observations in animals, models of papillomavirus-mediated transformation in human cells demonstrated hallmarks of EMT including induction of spindle morphology [13]. In HNC, the molecular findings of basic science studies of EMT have culminated in an ongoing effort to translate this entity into targeted therapeutics. Perhaps the greatest leaps forward have occurred in the molecular characterization of different types of HNC owing mainly to genomic, epigenomic, and transcriptomic sequencing studies [14]-[19]. In spite of this progress, EMT and the molecular underpinnings have not yet yielded robust clinical targets.
In this review, we discuss the translational relevance of EMT mechanisms in HNC and integrate these findings with the novel molecular picture emerging for this heterogeneous disease. We focus on the respective roles of viral infection and EMT in tumors of the head and neck; mechanisms of induction of EMT; the clinicopathologic outcomes associated with increased invasion; and how emerging therapies may take advantage of EMT determinants and markers.
Conclusions
EMT in Head and Neck cancers continues to attract significant translational attention. The need to synergize preclinical science with relevant pathologic staging and prognosis remains a challenge. As the basic science and molecular pathways continue to evolve, the potential promise of novel therapeutic targets and improved patient outcomes stand to be realized.
Abbreviations
EMT:

Epithelial-mesenchymal transition
HNC:

Head and Neck Squamous Cell Carcinoma
OS:

Overall survival
HPV:

Human Papilloma Virus
HKc:

Human foreskin keratinocytes (HKc/HPV16 – HPV16 transformed
HKc/DR:

Differentiation resistant)
RTKI:

Receptor tyrosine kinase inhibitors
MET:

Mesenchymal-epithelial transition
Declarations
Acknowledgements
This work was supported by NIMHD # 1P20MD001770 and VA Research Funds.
Authors' Affiliations
(1)
Department of Pathology, Microbiology & Immunology, University of South Carolina School of Medicine, Columbia, USA
(2)
Department of Head and Neck Surgery, Wm. Jennings Dorn VA Medical Center, Columbia, USA
Copyright
© Graves et al.; licensee Springer. 2014
This article is published under license to BioMed Central Ltd. This is an Open Access article distributed under the terms of the Creative Commons Attribution License (http://creativecommons.org/licenses/by/4.0), which permits unrestricted use, distribution, and reproduction in any medium, provided the original work is properly credited.