Targeting met mediated epithelial-mesenchymal transition in the treatment of breast cancer
Clinical and Translational Medicine
2014
3:30
Received: 16 July 2014
Accepted: 19 August 2014
Published: 26 September 2014
Abstract
Mesenchymal epithelial transition factor receptor (Met) is a receptor tyrosine kinase that plays a critical role in promoting cancer cell malignant progression. Met is activated by its ligand hepatocyte growth factor (HGF). HGF-dependent Met activation plays an important role in stimulating epithelial-mesenchymal transition (EMT) in tumor cells, resulting in increased tumor cell proliferation, survival, motility, angiogenesis, invasion, and metastasis. The HGF/Met axis has thus attracted great interest as a potential target in the development of novel cancer therapies. In an effort to suppress tumor cell malignant progression, efforts have been made to develop agents capable of inhibiting inhibit Met-induced EMT, including specific Met tyrosine kinase inhibitors, HGF antagonists that interfere with HGF binding to Met, and antibodies that prevent Met activation and/or dimerization. Tocotrienols, a subgroup within the vitamin E family of compounds, display potent anticancer activity that results, at least in part, from inhibition of HGF-dependent Met activation and signaling. The present review will provide a brief summary of the increasing importance of the HGF/Met axis as an attractive target for cancer chemotherapy and the role of tocotrienols in suppressing Met activation, signaling and HGF-induced EMT in breast cancer cells. Evidence provided suggests that γ-tocotrienol therapy may afford significant benefit in the treatment of breast cancers characterized by Met dysregulation.
Keywords
MetHGFEpithelial mesenchymal transitionTargeted therapy, cancer, tocotrienols
Introduction
Traditional cancer chemotherapeutic agents typically exhibit non-selective activity and often produce low response rates and severe toxic side effects in patients [1]. Thus, there is currently great interest in developing novel therapeutic agents that target signaling molecules involved in the growth, survival and progression of malignant cells with high specificity. The advantage of such targeted therapies is enhanced efficacy and a reduction in adverse side effects. A promising intracellular target is the receptor tyrosine kinase, mesenchymal epithelial transition factor (Met). Expressed in cells of epithelial origin, Met is activated by its ligand hepatocyte growth factor (HGF; scatter factor), which is produced by mesenchymal cells [2],[3]. HGF/Met signaling is critical for epithelial-mesenchymal interactions underlying normal functions including cell migration, morphology, cell division during tissue remodeling and repair, and organogenesis during embryonic development [3],[4]. However, Met is also implicated in malignant progression. Excessive or unregulated tumor cell Met activity is associated with poor patient prognosis owing to aggressive malignant phenotype typified by enhanced angiogenesis, invasion and metastasis [5]-[8].
HGF-dependent activation of Met leads to receptor dimerization, tyrosine autophosphorylation, and initiation of down-stream signaling, including activation of MAPK, PI3K/Akt, and STAT pathways, all of which play an important role in cancer cell proliferation and survival [7],[9],[10]. However, oncogenic mutations can result in Met overexpression and/or aberrant signaling that can lead to epithelial-to-mesenchymal transition (EMT) [8],[11],[12]. Epithelial cells that undergo EMT lose epithelial cell characteristics and acquire a mesenchymal phenotype characterized by migratory and invasive characteristics [9],[12],[13]. Epithelial and mesenchymal cells differ regarding function, morphology and expression of phenotype-specific protein cell markers. Epithelial cells express high levels of cytokeratin, E-cadherin, and β-catenin proteins, whereas N-cadherin, fibronectin and vimentin proteins occur at high levels in mesenchymal cells [6],[8],[11]-[18]. Moreover, cells undergoing EMT display cancer stem cell-like properties that are associated with enhanced malignant potential and progression [19].
Tumors exhibiting rapid growth often face insufficient blood flow to meet their high oxygen demands, but are able to adapt to hypoxic conditions by altering metabolism and phenotypic functions [20]. A typical compensatory response to hypoxia is increased production of hypoxia-inducible factor-1 (HIF-1), which reportedly increases HGF-dependent MET expression and signaling [21],[22]. Since cancer cell invasion and metastasis are primary causes of cancer patient death, therapeutic strategies that target and suppress malignant progression may significantly improve patient survival. Thus, HGF-dependent Met activation has emerged as an attractive target for therapeutic intervention because of its role in promoting tumor cell EMT, angiogenesis, proliferation and survival [23].
Various approaches have been used to inhibit Met activation and signaling, including agents that inhibit tyrosine kinase activity (K252a, SUii274, PHA-665752, and PF2341066), neutralizing antibodies (anti-HGF antibodies) and competitive antagonists (NK4 and uncleavable HGF) that interfere with HGF binding and activation of Met, and agents that block HGF binding to Met and/or Met receptor dimerization (anti-Met antibodies) [4]. Recent investigations also show that certain natural products display potent inhibitory effects against Met activation and signaling. Tocotrienol, a rare natural form of vitamin E, is one such natural product that potently inhibits Met activation and signaling and displays potent anticancer activity at treatment doses that have minimal or no effect on normal cell function or viability [24],[25]. The present review will present a brief summary of evidence supporting the HGF/Met axis as a plausible target for cancer chemotherapy, and the role of tocotrienols in suppressing Met activation, signaling and HGF-induced EMT.
Review
Met activation and signaling
Met is expressed exclusively in epithelial cells, whereas its natural ligand HGF is produced solely by mesenchymal cells [3],[4],[26]-[29]. Mediated by paracrine mechanisms [30], HGF activation of Met is intimately involved in epithelial cell phenotypic morphology and behavior, including cell proliferation, motility, invasion, angiogenesis, and branching tubulogenesis [9],[10],[31]-[33]. All these events occur during normal events such as embryogenesis, and tissue remodeling, regeneration, and repair in adults [13],[26],[34].
Different biological effects of Met signaling are directly associated with activation of specific intracellular pathways. HGF-induced cell proliferation is mediated by activation of the MAPK cascade [35], whereas activation of the PI3K/Akt pathway promotes cell survival and prevents caspase-dependent apoptosis [9],[10],[36]. The ability of HGF to induce epithelial cell morphological changes and motility requires disruption of cell-to-cell adhesion and dissociation of the basal lamina from the extracellular matrix [13],[37]. HGF-induced cell scattering and invasion is achieved by activation of several different signaling molecules and pathways, including PI3K, Rac and Rho [13],[37]. Additionally, Met activation can stimulate vascular endothelial growth factor (VEGF) production to enhance angiogenesis [10],[26]. Met forms heterodimers with other receptor tyrosine kinases including members of the epidermal growth factor (EGF) receptor family; this crosstalk between Met and other growth factor receptors permits integration of signals during the process of phenotypic change [38].
Met mutations, overexpression and/or dysregulation commonly occur in a wide variety of cancers, characteristics that are associated with promotion of cancer progression, including tumor cell proliferation, survival, motility, EMT, angiogenesis, invasion and metastasis [9],[10],[39]. The majority of mutations that result in constitutive activation of Met occur in the receptor's cytoplasmic tyrosine kinase domain [31], while mutations in the autoregulatory domain of the receptor allow for persistent and unattenuated responsiveness to HGF stimulation [13],[35]. Overexpression of HGF can also induce oncogenic effects through over-stimulation of the non-mutated Met receptor, which can lead to enhanced tumor cell progression and malignant phenotype [10],[40],[41]. Enhanced HGF expression is specifically implicated as a promoter and risk factor in breast cancer [42]. Previous studies show that elevated circulating HGF levels correlate with lower survival rates and increased risk of metastasis in breast cancer patients [43],[44]. Occurrence of high levels of HGF in breast cancer biopsies is associated with an aggressive malignant phenotype [5]. Studies show that Met is overexpressed in nearly 30% of all breast cancers and is a strong independent predictor of poor patient prognosis and survival [30],[43]. Microarray analysis of tissue obtained from breast cancer patients shows that elevations in Met expression occur in a significant percentage of EGFR/HER2 negative tumors [30].
Inhibitors of HGF-induced Met activation and signaling
Since Met plays an important role in malignant progression, it has emerged as a practical target in cancer chemotherapy, with various strategies currently under development to inhibit Met activation and signaling. Agents that decrease receptor tyrosine kinase activity include low molecular weight molecules that block ATP binding to Met's catalytic, thereby inhibiting receptor autophosphorylation and recruitment of molecules associated with downstream signaling [
4
]. Several Met tyrosine kinase inhibitors, including K252a, SU11274, and PHA-665752, have been developed and studied extensively [
4
]. While these agents are reported to be very effective in suppressing kinase activity, their clinical usefulness is somewhat limited because they do not inhibit Met transcription and translation [
45
]. Subsequently, a second generation of agents developed in recent years are currently being tested in clinical trials. The use of Met tyrosine kinase inhibitors and other Met inhibitors in the treatment of human cancers has been recently reviewed in detail [
46
]. The inhibitory actions of these agents are summarized in Figure
1
.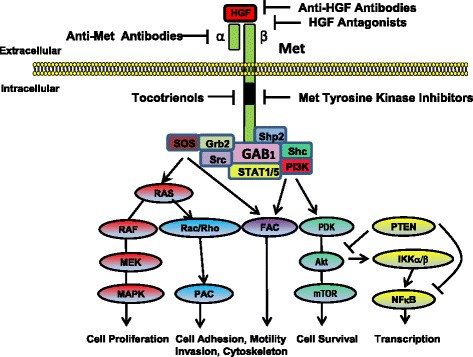 Agents that inhibit HGF include NK4, anti-HGF neutralizing antibodies, and an uncleavable HGF agonist. NK4 is a HGF-like ligand that binds to Met without activating the receptor [47], whereas the neutralizing anti-HGF antibodies act on various regions of the HGF molecule to prevent HGF binding to and activation of Met [48]. The uncleavable form of HGF is not biologically active, but interacts with the ligand binding site on Met to block receptor activation [49],[50]. However, HGF inhibitors have also been found to have somewhat limited use because they only suppress HGF-dependent Met activation and are not effective against mutated Met receptors that are constitutively active (4).
Tocotrienol inhibition of HGF-induced Met activation and epithelial-mesenchymal transition
Studies using + SA mammary tumor cells maintained in serum-free defined media containing HGF as a mitogen show that HGF induces a dose-responsive increase in growth and corresponding increase in Met autophosphorylation, whereas combined treatment with γ-tocotrienol blocks these effects [24]. In addition, γ-tocotrienol treatment is reported to significantly reduce total Met levels in these cells. In contrast, similar treatment with growth-inhibiting doses of the Met tyrosine kinase inhibitor SU11274 inhibits HGF-dependent Met autophosphorylation, but has no effect on cellular levels of Met [24]. Similarly, tumor cells transfection with Met specific siRNA significantly inhibits HGF-dependent growth [24].
Subsequent studies confirm and extend these findings in human breast cancer cell lines [25]. Results show that treatment with either γ-tocotrienol or the Met tyrosine kinase inhibitor SU11274 alone induces dose-dependent inhibition in estrogen receptor- positive MCF-7 and estrogen receptor negative MDA-MB 231 human breast cancer cells. However, combined treatment with subeffective doses (non-growth inhibiting) of γ-tocotrienol and SU11274 results in synergistic inhibition of MCF-7 and MDA-MB-231 cancer cells, while these same treatments have no effect on growth or viability of immortalized normal MCF10A human mammary epithelial cells [25]. These finding demonstrate that tocotrienol treatment alone or in combination with Met inhibitors selectively inhibits growth of breast cancer cells without affecting normal cell growth or viability. In addition, combination treatment significantly reduces Met autophosphorylation and phosphorylation (activation) of receptor substrates involved in downstream signal transduction, including STAT1, STAT5, Akt, and NFκB (26), and significantly inhibits breast cancer cell motility and migration as determined by wound healing assay [25].
Conclusion
It has become increasingly evident during the past decade that HGF-dependent Met activation and signaling plays a major role in malignant progression and metastasis. As a result, substantial interest has focused on developing therapeutic strategies that target the HGF/Met axis. A variety of emerging approaches are directed toward one or more of the components within this signaling pathway. Although the majority of research conducted in this area has focused on preclinical studies using cell culture and animal experimental models, a great number of therapeutic agents (onartuzumab, rilotumumab, tivantinib, and cabozantinib) developed and refined in preclinical experiments are increasingly the subject of clinical trials. Therapies that disrupt cancer cell proliferation, survival, motility, angiogenesis, invasion and metastasis will provide great benefits in the treatment and cure of cancers that display aberrant Met activity. Recent evidence suggest that γ-tocotrienol may also provide some benefit in the treatment of breast cancers that displays Met dysregulation.
Author contribution
The corresponding author was responsible for organizing, writing and preparing the illustrations presented in this article.
Author information
Dr. Paul W. Sylvester is the Pfizer, Inc. - B. J. Robison Endowed Professor in Pharmacy in the School of Pharmacy at the University of Louisiana at Monroe, Monroe, LA. Dr. Sylvester received his B.S. degree in Biology from Western Michigan University, Kalamazoo, and his Ph.D. in Physiology from Michigan State University in East Lansing, and completed his postdoctoral training in Experimental Therapeutics at Roswell Park Cancer Institute in Buffalo, NY. Dr. Sylvester's research interests include examining the relationship of nutrition and cancer, with particular emphasis on understanding the intracellular mechanisms mediating the anticancer effects of tocotrienols. Dr. Sylvester is a member of the American Association for Cancer Research since 1986.
Abbreviations
Akt:

Protein kinase B
EGF:

Epidermal growth factor
EGFR/ErbB:

Epidermal growth factor receptor
EMT:

Epithelial-mesenchymal transition
HER:

Human epidermal growth factor receptor
HGF:

Hepatocyte growth factor
HIF-1:

Hypoxia-inducible factor-1
MAPK:

Mitogen-activated protein kinase
Met:

Mesenchymal epithelial transition factor receptor
mTOR:

Mammalian target of rapamycin
NFκB:

Nuclear factor kappa-light chain-enhancer of activated B cells
PI3K:

Phosphoinositide 3-kinase
siRNA:

Small interfering RNA or silencing RNA
STAT:

Signal transducer and activator of transcription
VEGF:

Vascular endothelial growth factor
γT3:

γ-tocotrienol
δT3:

δ-tocotrienol
Declarations
Acknowledgements
Some of the work presented in this review was performed at the School of Pharmacy, University of Louisiana at Monroe, Monroe, LA USA and supported in part by grants from First Tech International, Ltd. (Hong Kong), the Louisiana Cancer Foundation, and the Louisiana Campuses Research Initiative (LACRI).
Authors' Affiliations
(1)
School of Pharmacy, University of Louisiana at Monroe, Monroe, USA
Copyright
© Sylvester; licensee Springer. 2014
This article is published under license to BioMed Central Ltd. This is an Open Access article distributed under the terms of the Creative Commons Attribution License (http://creativecommons.org/licenses/by/4.0), which permits unrestricted use, distribution, and reproduction in any medium, provided the original work is properly credited.