Mechanisms of chemoresistance in cancer stem cells
Clinical and Translational Medicine
2013
2:3
Received: 1 October 2012
Accepted: 11 January 2013
Published: 17 January 2013
Abstract
Chemotherapy is one of the standard methods of treatment in many cancers. While chemotherapy is often capable of inducing cell death in tumors and reducing the tumor bulk, many cancer patients experience recurrence and ultimately death because of treatment failure. In recent years, cancer stem cells (CSCs) have gained intense interest as key tumor-initiating cells that may also play an integral role in recurrence following chemotherapy. As such, a number of mechanisms of chemoresistance have been identified in CSCs. In this review, we describe a number of these mechanisms of chemoresistance including ABC transporter expression, aldehyde dehydrogenase (ALDH) activity, B-cell lymphoma-2 (BCL2) related chemoresistance, enhanced DNA damage response and activation of key signaling pathways. Furthermore, we evaluate studies that demonstrate potential methods for overcoming chemoresistance and treating chemoresistant cancers that are driven by CSCs. By understanding how tumor-initiating cells such as CSCs escape chemotherapy, more informed approaches to treating cancer will develop and may improve clinical outcomes for cancer patients.
Keywords
Chemoresistance
Cancer
Cancer stem cells
Review
Our understanding of cancer has changed over the years, owing to rapid advances in oncology research. The disease itself is not only characterized as a mass of excessive, uncontrolled growth of abnormal cells but is also defined by the dynamic alterations in the genome that cause cancer [1]. Left unchecked, cancer progression leads to disruption of normal biological processes via cellular invasion into local adjacent tissues and distal organs through metastasis. In addition to conventional cancer treatments such as surgery, radiation and cytotoxic chemotherapy, more selective treatments based on increased understanding of tumor biology and specific tumor subtypes have also become available [2]. Even with these advances in cancer therapy, chemotherapy remains an important component of cancer treatment. Currently, the complete elimination of cancer continues to elude oncologists as 90% of drug failures in metastatic cancers are attributed to chemoresistance [3]. Understanding the mechanisms by which chemoresistance can occur is important to developing novel therapeutic approaches to treating cancer.
In some cases, intrinsic chemoresistance may result in the survival of a population of tumor cells that subsequently leads to recurrence following treatment. This may be particularly true for tumors that are composed of a heterogeneous population of cells. For heterogenous tumors, the tumor initiating potential and drug sensitivity of different tumor cells within the same tumor bulk has yielded two models of cancer initiation: the stochastic model and the hierarchical model [4]. The stochastic model proposes that there is no variation in tumor initiating potential among different tumor subpopulations and that tumor cell growth is dependent on immune response, microenvironment and intrinsic gene regulatory signals. In contrast, the hierarchical concept suggests that different subpopulations of cells within a tumor have varying levels or absence of tumor initiating potential. Those fractions of cells that have enhanced tumor initiating potential are referred to as cancer stem cells (CSC). While CSC are not necessarily derived from normal stem cells, defining characteristics of CSCs include the ability to self-renew as well as differentiate into other tumor cell subtypes.
The hierarchical model of CSCs has been proposed for many decades and suggested as a mechanism for tumor initiation in both hematological malignancies as well as solid tumors such as breast cancer [5]. While it is now clear that not all heterogenous cancers follow the hierarchical model [6], there is growing evidence for a role of CSCs in a number of cancers. Early evidence for CSCs was first seen in hematological malignancies. In 1994, Lapidot et al. identified a subpopulation of tumor-initiating cells in acute myelogenous leukemia (AML) [7]. The identification of these leukemic initiating cells was based on differential expression of cell surface markers CD34 and CD38 where only CD34+/CD38- AML cells could give rise to leukemic growth in severe combined immodeficiency (SCID) mice even though they represented a small fraction in the total leukemic population. Additionally, these cells demonstrated self-renewal and differentiation through recapitulating the entire hierarchy of human leukemia in a mouse. Thus, this work described important properties that are utilized now to identify CSCs, namely tumor-initiation, self-renewal and differentiation. This work led to one of the earliest descriptions of leukemic stem cells (LSCs) based on specific surface marker expressions and provided strong evidence for the existence of CSCs in cancer. While hematological malignancies provide the greatest evidence for the existence of CSCs, a number of studies have identified tumor-initiating CSCs in solid tumors as well. These CSCs were also identified based on phenotypic markers including surface protein expression and biological properties similar to those seen in normal stem and progenitor cells. This was demonstrated by Al-Hajj et al. when describing tumor-initiating breast CSCs [8]. In this study, primary human breast tumor cells were evaluated for tumor-initiating properties through orthotopic injection of these cells into mammary fat pads of NOD/SCID mice. This work identified ESA+CD44+CD24-/low breast tumor cells as having greater tumorigenicity than cells lacking these markers. Furthermore, similar to studies with AML, secondary tumors from CSC xenografts contained heterogenous populations of tumor-initiating CSCs and non-tumorigenic daughter cells that lack these markers. Thus, these breast CSCs were capable of self-renewal and differentiation, hallmarks of both normal and cancer stem cells. Following this study, a number of reports have identified CSCs in solid tumors based on other surface markers such as CD133, EpCAM and CD90 as well as phenotypic markers such as side population (SP) or aldehyde dehydrogenase (ALDH) activity [9–13]. This includes the identification of solid tumor CSCs in a variety of organs including liver, brain, colon, pancreas, lung, ovaries and prostate [9–11, 14–17].
The ability to identify and isolate CSCs in various tumor models has now led to the emergence of studies that are beginning to understand the mechanisms by which CSCs can contribute to tumor initiation as well as continued tumor progression. In some cases, CSCs appear capable of driving tumor population expansion and relapse following treatment through chemoresistance. While the mechanisms by which CSCs can escape chemotherapy treatment appear to be diverse, our studies suggest that these mechanisms may be influenced by specific oncogenes that are integral to a tumor's initiation and subsequent growth [18]. In this review, we will discuss some of the mechanisms by which CSCs can escape chemotherapy as well as the clinical implications of these studies. Understanding the mechanisms by which CSCs can contribute to chemotherapy and tumor relapse is important as it provides important clues to better addressing cancer therapy and more specifically, cancer therapy that accounts for the unique biology of CSCs.
Conclusion
CSCs can escape the toxic effects of chemotherapy through a variety of mechanism, including some not discussed in this review. Some of these mechanisms can be exploited as methods to diagnosis and identify CSCs while others have been previously identified as key mechanisms in overall tumor cell survival (Figure
1
). Studies with specific oncogene models of cancer and studies of specific signaling pathways reveal that different signaling pathways and oncogenic factors can determine the mechanism by which CSCs mediate chemoresistance. Many of the studies highlighted in this review provide evidence that CSCs can be targeted and treated to improve overall therapy. As cancer treatment moves towards a more personalized medical approach, proper diagnosis paired with targeted and informed approaches to treating specific types of CSCs may prove to be a useful method for overcoming drug treatment failures that ultimately lead to recurrence and death.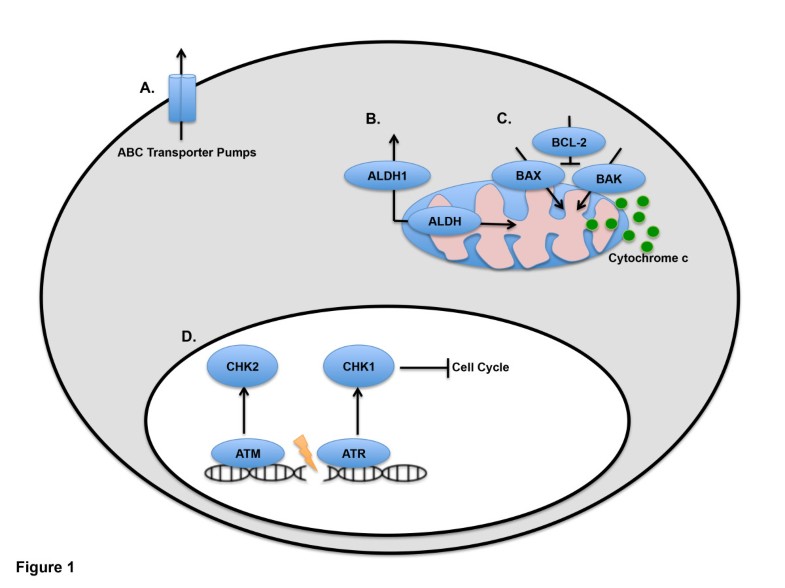 Abbreviations
CSC:

Cancer stem cell
AML:

Acute myelogenous leukemia
SCID:

Severe combined immunodeficiency
LSCs:

Leukemic stem cells
SP:

Side population
ALDH:

Aldehyde dehydrogenase
ABC:

ATP-binding cassette
MDR1:

P-glycoprotein
ABCG2:

Breast cancer resistance protein
BCL-2:

B-cell lymphoma-2
BAX:

BCL2-associated-X-protein
BAK:

BCL-2 homologous antagonist killer
BCL-XL:

B-cell lymphoma extra large
BCL-W:

BCL-2-like-2
A1A:

BCL-2-related protein A1A
MCL1:

Myeloid cell leukemia sequence-1
IL-4:

Interleukin-4
5-FU:

5-fluorouracil
Dox:

Doxorubicin
GIS:

γ-secretase inhibitor
SHH:

Sonic hedgehog
ATM:

Ataxia telangiectasia mutated
ATR:

ATM and Rad-3-related
CHK2:

Checkpoint kinase 2
CHK1:

Checkpoint kinase 1
CDC25B:

Cell division cycle 25 homolog B
CDC25A:

Cell division cycle 25 homolog A
CDKs:

Cyclin dependent kinases
ICL:

Interstrands crosslinking.
Declarations
Acknowledgments
EKC and LNA are funded by the NUS CSI RCE Main Grant.
Authors' Affiliations
(1)
Cancer Science Institute of Singapore, National University of Singapore, Singapore, Singapore
(2)
Department of Pharmacology, Yong Loo Lin School of Medicine, National University of Singapore, Singapore, Singapore
Copyright
© Abdullah and Chow; licensee Springer. 2013
This article is published under license to BioMed Central Ltd. This is an Open Access article distributed under the terms of the Creative Commons Attribution License (http://creativecommons.org/licenses/by/2.0), which permits unrestricted use, distribution, and reproduction in any medium, provided the original work is properly cited.