Haemophilus influenzae and the lung (Haemophilus and the lung)
Clinical and Translational Medicine
2012
1:10
Received: 19 March 2012
Accepted: 14 June 2012
Published: 14 June 2012
Abstract
Haemophilus influenzae is present as a commensal organism in the nasopharynx of most healthy adults from where it can spread to cause both systemic and respiratory tract infection. This bacterium is divided into typeable forms (such as type b) or nontypeable forms based on the presence or absence of a tough polysaccharide capsule. Respiratory disease is predominantly caused by the nontypeable forms (NTHi). Haemophilus influenzae has evolved a number of strategies to evade the host defense including the ability to invade into local tissue. Pathogenic properties of this bacterium as well as defects in host defense may result in the spread of this bacterium from the upper airway to the bronchi of the lung. This can result in airway inflammation and colonization particularly in chronic obstructive pulmonary disease. Treatment of respiratory tract infection with Haemophilus influenzae is often only partially successful with ongoing infection and inflammation. Improvement in patient outcome will be dependent on a better understanding of the pathogenesis and host immune response to this bacterium.
Keywords
Chronic Obstructive Pulmonary DiseaseInfluenzaCystic FibrosisCystic Fibrosis Transmembrane Conductance RegulatorBronchiectasis
Review
Haemophilus influenzae was first identified by Pfeiffer in 1892, who (incorrectly) believed it was the cause of influenza [1]. It is an exclusively human pathogen and was the first bacterium to have its genome completely sequenced. This served as a precursor to the sequencing of the human genome.
H. influenzae is a component of the normal upper respiratory tract flora and is well recognized to be an important cause of systemic infection. It is also a major cause of a variety of respiratory conditions and has had a relatively low profile in this respect in comparison to some other pathogens; such as Mycobacterium tuberculosis and Streptococcus pneumoniae.
Recently there has been increasing recognition that this bacterium has a role in chronic lower respiratory tract inflammation. However the interaction between H. influenzae and the lung is still not well defined. A combination of bacterial pathogenic features and deficiency of host defense may permit this bacterium to establish infection in the lower respiratory tract resulting in inflammation and clinical disease. This review will discuss the role of H. influenzae in the lower respiratory tract in particular its role in bronchitis.
Microbiology
Haemophilus influenzae
is a gram-negative coccobacillus with a variable shape (pleomorphic). It grows both aerobically and anaerobically. Aerobic growth requires the presence of X (hemin) and V (nicotinamide adenine dinucleotide (NAD)) factors. In the laboratory it is classically grown on chocolate agar (Figure 
1
).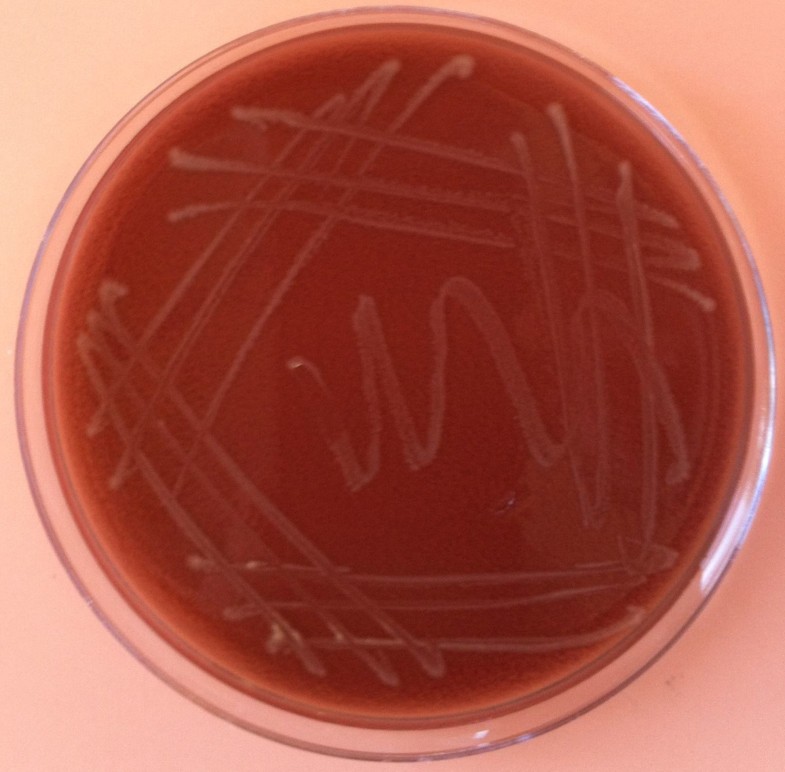 Haemophilus influenzae is divided into typeable and nontypeable strains on the presence or absence of a polysaccharide capsule. The typeable strains which have this capsule are classified into six serotypes (designated a to f) based on their ability to react with antisera against recognized polysaccharide capsules [2, 3]. The type b form of H. influenzae (designated as Hib) is the most prominent typeable form and its capsule is composed of a linear ribosyl and ribotol phosphage polymer.
Nonencapulated forms are designated as nontypeable Haemophilus influenzae (NTHi). The NTHi strains are heterogeneous with a large number of different subtypes [4] that can be demonstrated on electrophoresis of outer membrane proteins or by enzymatic analysis. The NTHi strains are the main cause of Haemophilus respiratory infections. NTHi is classified into biotypes using indole, urease and ornithine decarboxylase.
Epidemiology
Colonization of the upper respiratory tract with H. influenzae begins in infancy. Approximately 20 % of infants are colonized in the first year of life and this rises progressively over time [5]. By the age of 5–6 years more than 50 % of children will be colonized with this bacterium and most healthy adults (at least 75 %) will be [1]. This is a dynamic process with turnover of different strains. Children will have a strain for weeks to months, which will then be cleared and the acquisition of a new strain occurs [6]. Children will typically carry multiple strains simultaneously whilst adults will be colonized with only one strain [7].
This bacterium is spread by airborne droplets and contact with secretions [8]. Children in day centers have a particularly high incidence of infection and colonization with H. influenzae. The acquisition of new strains may be associated with acute exacerbations of airways disease [9]. The number of times a child is colonized with different isolates of NTHi is correlated with middle ear infection. The density of colonization is also a risk factor for the development of middle ear infection; this has been associated with lower levels of other commensal bacteria such as Streptococcus viridans[10].
The recent widespread use of the H. influenzae type B vaccine has caused a marked reduction in the prevalence of clinical disease arising from type b H. influenza e infection (from very common to rare). This has been associated with a proportionate decrease in the rate of nasopharyngeal colonization.
Most healthy adults will have upper airway colonization with H. influenzae. This process is dynamic and the predominant strains are nontypeable. The nasopharynx serves as a potential reservoir of infection from which this bacterium may spread to the lower respiratory tract.
Pathogenesis
Haemophilus influenzae strains are divided into those with a capsule (e.g. the type b form) or the non-encapsulated strains (NTHi). The encapsulated strains primarily have a role in systemic infection in conditions such as meningitis. A principal defense against systemic H. influenzae infection is antibody-mediated complement killing. Normal serum is bactericidal for most strains of NTHi, but naturally-occurring bactericidal activity for encapsulated bacteria is much less common, particularly in children. In contrast NTHi strains rarely cause disease outside the respiratory tract and can be considered to be primary mucosal pathogens. The vast majority of respiratory disease arises from the NTHi strains. Important pathogenic mechanisms by which H. influenzae establishes respiratory tract infection will now be discussed in more detail.
Immune response
NTHi is present in the nasopharynx of most healthy adults but only causes clinical disease in a minority of subjects it infects. Therefore the nature of the respiratory tract immune/inflammatory response may be very important in the pathogenesis of this bacterium. NTHi causes strong stimulation of both innate and adaptive immunity.
Clinical features
Infection of the lower respiratory is predominantly by the nontypeable strains of Haemophilus influenzae (NTHi). The dominant manifestation is bronchitis, which may be acute or chronic and has been well described in the context of COPD, bronchiectasis and cystic fibrosis. Exacerbations are an important feature of these forms of bronchitis and are characterized by episodes of acute clinical deterioration usually in association with increased airway inflammation. Additionally this bacterium is also a major cause of pneumonia.
Treatment
Treatment of Haemophilus influenzae infection should be straightforward as this bacterium is usually sensitive to most standard antibiotics. In practice though treatment is often only partially successful with recurrent/non-clearing infection. Particularly in the context of chronic bronchitis (e.g. as in COPD and bronchiectasis) NTHi often appears to have established a niche in the airway, which makes it relatively resistant to chemotherapy.
Use of antibiotics
Oral antibiotics such as β-lactams are appropriate first-line therapy for most patients. A proportion of H. influenzae isolates produce β-lactamase (this varies markedly between different locations) and in this circumstance, extended spectrum cephalosporins, amoxicillin-clavulinic acid, trimethoprim-sulfamethoxazole, tetracyclines, quinolones and macrolide antibiotics are appropriate therapeutic choices. In Spain and Japan, β-lactamase negative, ampicillin-resistant (BLNAR) strains are prevalent. These BLNAR strains are associated with a high incidence of pneumonia [68, 69]. For hospitalized patients particularly if there is associated respiratory failure the parenteral route of administration may be preferred.
For patients who have repeated isolation of H. influenzae despite the use of appropriate antibiotics consideration should be given to the use of longer-term antibiotics or those with good intracellular penetration. As discussed previously NTHi has the ability to live intracellularly and thus be protected from a number antibiotics particularly the β-lactams [70]. Agents with good intracellular penetration include macrolides, tetracyclines and quinolones. In the author's experience, longer courses of antibiotics with good intracellular penetration may be helpful (although this has potential issues of resistance).
Vaccination
The vaccine to type B encapsulated H. influenzae induces humoral immunity to the capsule and has been highly effective in reducing the incidence of disease from this pathogen. This vaccine is now standard for children in industrialized countries. Vaccination is usually given at 2 months, 6 months and 12–15 months.
In contrast to Hib vaccination for NTHi strains is not well established. NTHi infection occurs from a wide variety of different and very heterogeneous strains and the protective immune response has not been clearly defined. There have been a number of published studies measuring the effect of vaccination in animal models. A major problem with the use of animal models is that NTHi is an exclusively human pathogen, which generally does infect animals well.
An oral vaccine consisting of multiple strains of killed NTHi has been used with some reduction in exacerbations [71]. More recently 2 trials of a new form of oral NTHi vaccine have demonstrated a reduction in exacerbations [72, 73]. Subjects were given 3 doses of inactivated NTHi on a monthly basis with changes in the expression of T cell responses and specific immunoglobulin production.
Conclusions
H
.
influenzae
is present in the nasopharynx of most healthy adults. Defects in host defense and pathogenic mechanisms of the bacteria may result in migration into the lower respiratory tract. This results in bronchitis, which may be acute or chronic. Invasion into respiratory tract cells, the bronchial wall and parenchyma of the lung may then occur. This process is summarized in Figure 
5
.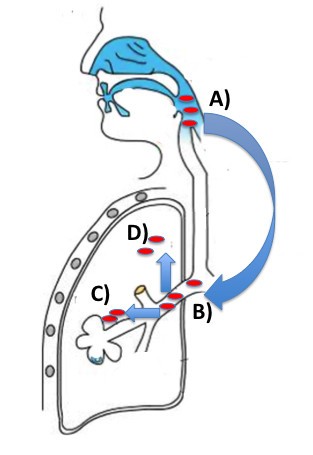 This bacterium is increasingly being recognized as a major cause of chronic infection/inflammation in the context of COPD. In the author's opinion the establishment of H. influenzae infection in the airway may lead to a self-perpetuating inflammatory process that has a major role in the development of airway obstruction. Better understanding of the pathogenesis of Haemophilus influenzae in the respiratory tract is likely to lead to more effective treatment; in particular the use of vaccination.
Authors' Affiliations
(1)
Department of Respiratory and Sleep Medicine and Department of Medicine, Monash University, Monash Medical Centre, Melbourne, Australia
Copyright
© King; licensee Springer. 2012
This article is published under license to BioMed Central Ltd. This is an Open Access article distributed under the terms of the Creative Commons Attribution License (http://creativecommons.org/licenses/by/2.0), which permits unrestricted use, distribution, and reproduction in any medium, provided the original work is properly cited.