Single cell sequencing: a distinct new field
Clinical and Translational Medicine
2017
6:10
Received: 28 December 2016
Accepted: 11 February 2017
Published: 20 February 2017
Abstract
Single cell sequencing (SCS) has become a new approach to study biological heterogeneity. The advancement in technologies for single cell isolation, amplification of genome/transcriptome and next-generation sequencing enables SCS to reveal the inherent properties of a single cell from the large scale of the genome, transcriptome or epigenome at high resolution. Recently, SCS has been widely applied in various clinical and research fields, such as cancer biology and oncology, immunology, microbiology, neurobiology and prenatal diagnosis. In this review, we will discuss the development of SCS methods and focus on the latest clinical and research applications of SCS.
Keywords
Single CellWhole Genome SequencingWhole Genome AmplificationMultiple Displacement AmplificationReduce Representation Bisulfite Sequencing
Introduction
The majority of experimental and clinical results from cell culture or tissues are based on the assumption that all of the cells in a culture or tissue are homogeneous. The thriving omics fields of study (genomics, proteomics, transcriptomics, etc.) analyze and mine biomarkers mainly based on the bulk of cells or tissue samples. However, this averaging of messages always misses the critical information because the heterogeneity of the samples is ignored, while the nature of biology is diverse. Heterogeneity is generally explained at three different levels in the biological universe: first, there is heterogeneity in different organisms; second, there is heterogeneity in different organs or tissues from an organism; third, cellular heterogeneity exists in the same organ or tissue. In fact, the concept of cellular heterogeneity was proposed as early as 1957 [1]. Each cell was considered as a unique unit with molecular coding across the DNA, RNA, and protein conversions [2]. Thus, it is necessary to conduct studies, especially omics studies, at the single cell level.
A single cell is the smallest structural and functional unit of an organism. The estimated number of single cells in the human body is 3.72  ×  1013 [3]. The size or weight of a cell varies from different tissue backgrounds. The major components of a cell include water, inorganic ions, small organic molecules, proteins, RNA and DNA. However, the minute numbers of copies of a gene (10–12 M) in a single cell are more than enough for conventional genomic analysis [2, 4]. In 2009, the first single cell whole transcriptome sequencing (WTA) protocol was applied to analyze transcriptome complexity in individual cells [5]. Subsequently, single cell whole genome sequencing (WGS) was created in 2011 [6], single cell whole exome sequencing (WES) was developed in 2012 [7, 8], and single cell epigenomic sequencing was developed in 2013 [9]. Currently, single cell sequencing (SCS) has been applied in various research and clinical fields, and the top five areas of SCS studies in order are cancer, embryonic development, microbiology, neurobiology and immunology, according to the reported statistics [10]. The number of SCS publications in these five areas has been increasing every year. Thus, this article will enable us to have a deep and broad view of SCS methods and to focus on the latest application of SCS in basic and clinical research.
Single cell isolation methods
Isolating single cells from a tissue mass or from cell culture is the first key step prior to SCS. Currently, the alternative methods used to isolate single cells from abundant populations include serial dilution, mechanical micromanipulation, laser capture microdissection (LCM), fluorescence activated cell sorting (FACS), and microfluidics [
11
,
12
]. Although serial dilution is the simplest method to obtain a single cell in a single well via serial double dilution, it is a coarse and imprecise method that is rarely used in SCS (Fig.
1
a). Our team has tried to use this method to isolate a single cell from primary lung cancer cells in cell suspension and found that it was hard to control the quality and quantity [
13
].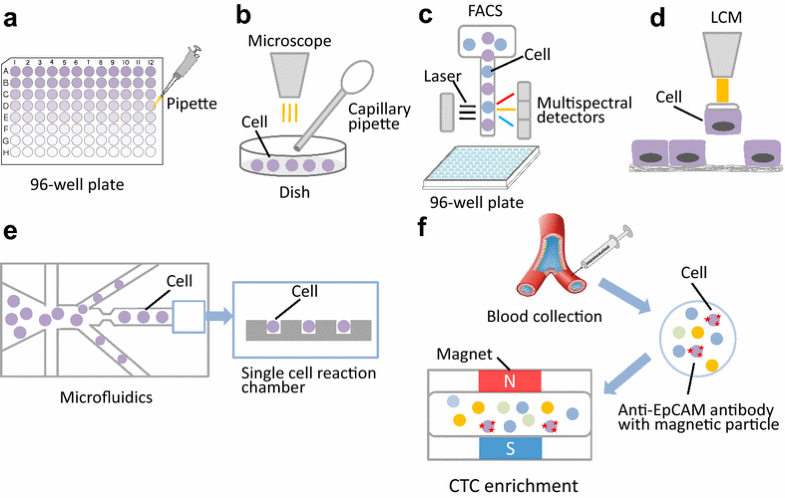 Mechanical micromanipulation is a classic method to isolate uncultivated microorganisms or early embryos, and it involves using a capillary pipette to suck up a single cell from a cell suspension with visual inspection of cellular morphology and coloring characteristics under a microscope [13, 14] (Fig. 1b). The drawback of mechanical micromanipulation is that it is low-throughput and time-consuming and can cause cellular injury from mechanical shearing during manipulation [15]. Additionally, it often leads to a failure for an unskilled manipulator or misidentification of the cellular morphology under the microscope.
FACS is the most efficient and economical method to isolate hundreds of thousands of individual cells per minute based on their size, granularity and fluorescence properties [4] (Fig. 1c). The high-throughput, time-saving and automatic properties are the main advantage of FACS. Additionally, it allows researchers to isolate specific individual cells from heterogeneous cell samples by labeling the targeted cells with specific fluorescent antibodies [16], and it allows researchers to sort a single viral particle from a mixed viral assemblage for single viral genome sequencing [17]. BD Aria II/III (BD Biosciences, San Jose, CA, USA) and Beckman Coulter MO-FLO XDP cell sorter (Beckman Coulter, Brea, CA, USA) are two widely used commercial instruments for flow cytometry [11]. Our team has used the BD Aria III to sort individual living cells from lung cancer tissue single cell suspensions that were stained with carboxyfluorescein diacetate succinimidyl ester (CFSE) and sorted into 96- well plates [18]. However, a bulk population of the cells (at least 5 × 105–1 × 106/ml) should be prepared as sorting material, which is greatly limited in accommodating low-abundance cell subpopulations. The high-speed fluid and fluorescent dye can damage the viability of cells.
Microfluidics is a newly developed and highly integrated system that sequentially processes or manipulates small volumes of fluids (10−9–10−18 l) in channels with dimensions of tens to hundreds of micrometers to achieve single cell culture and sequencing, that has been applied to single cell experiments [19, 20] (Fig. 1e). Recently, various microfluidics platforms have emerged for single cell whole-genome, whole-transcriptome or epigenomics sequencing [21–23]. The advancement of microfluidics research has extended to separate nanoparticles, such as DNA isolation [24]. The advantages for microfluidics are the ability to input nanoliter-to-picoliter volumes of samples and to output accurate results with high resolution and sensitivity [19]. Additionally, microfluidics can provide parallel and timely analyses to make studies more efficient.
The main limitation of the above-mentioned methods is that the sample must be prepared in suspension and thus have lost the spatial location of the cells in the tissue. LCM overcomes this limitation and directly isolates single cells from tissue sections based on the cellular morphology (Fig. 1d). The targeted single cell can be stained with fluorescent or chromogenic antibodies for LCM [11]. The main drawbacks include low-throughput, slicing the cells during the course of tissue sectioning, and UV damage to nuclei from the laser [12].
The increasing number of studies on rare single cells (<1%) poses a challenge on the current methods for single cell isolation. Now, several new technologies have been developed to cover the shortcomings of the above-mentioned methods in rare single cancer cell isolation, such as CellSearch (Johnson & Johnson), MagSweeper (Illumina Inc.), DEP-Array (Silicon Biosciences), CellCelector (Automated Lab Solutions), and nanofabricated filters (CellSieve) [25]. The FDA-cleared CellSearch system is the most-advanced commercially available technology using anti-EpCAM ferrofluid and has been applied to the monitoring of patients with metastatic prostate, breast, or colorectal cancer in hospitals [26, 27] (Fig. 1f). MagSweeper is an automated immunomagnetic separation technology for enrichment of rare cells in mixed populations with high purity [28]. DEP-Array uses a microfluidics chip with dielectrophoretic cages to isolate single cells by charge [12, 29]. The CellCelector uses a robotic arm carrying a module to retrieve single cells from microwells for micromanipulation [30]. The CellSieve system can capture a variety of circulating tumor cells based on size discrimination instead of specific cell surface markers [31].
Single cell sequencing methods
The advance in the next-generation sequencing (NGS) technologies has promoted the rapid development of SCS, including single cell whole-genome sequencing, single cell whole-exome sequencing, single cell whole-transcriptomic sequencing and single cell epigenomic sequencing [32–34].
Single cell whole-genome/whole-exome sequencing
The amount of DNA (approximately 6 pg) in a single cell is insufficient to meet the demand for next-generation sequencing, and thus whole genome amplification (WGA) was developed to amplify the DNA by the hundreds of thousands [
25
,
35
]. Recently, the alternative WGA technologies have polymerase chain reaction (PCR), multiple displacement amplification (MDA), or a combination of displacement pre-amplification and PCR amplification [
36
]. In PCR-based WGA methods, degenerate oligonucleotide-primed PCR (DOP-PCR) is the most widely used method to amplify the entire genome [
37
,
38
]. The principle of DOP-PCR is to perform a low annealing degenerate primer extension on the DNA template and then to amplify the tagged sequences at a high annealing temperature [
37
,
39
] (Fig.
2
a). The main shortcoming for DOP-PCR is the low physical coverage (approximately 10%) of a single cell genome, which is prone to miss single-nucleotide polymorphisms (SNPs), but DOP-PCR is the optimal method for copy-number variations (CNVs) or aneuploidy detection because of the uniformity of amplification during WGS [
12
,
40
,
41
]. The established MDA technologies are based on the discovery of two specific DNA polymerases: Phi29 DNA polymerase isolated from the
Bacillus subtilis
, and Bst DNA polymerase isolated from
Bacillus stearothermophilus
[
42
–
44
]. The mechanism of MDA is to yield continuous strand displacement DNA amplification using Phi29 or Bst DNA polymerase and random primers under isothermal conditions [
45
] (Fig.
2
b). Phi29 DNA polymerase has been considered the optimal choice for MDA because it shows higher efficiency, higher fidelity and a lower error rate compared with Bst DNA polymerase which has no proofreading activity [
10
,
46
]. The advantages of MDA are that it has high single cell genome or exome coverage (>90%), which can accurately measure mutations at base-pair resolution and that it yields adequate quantities of product (average length >10 kb) from single cell genomic DNA in a short time with high fidelity [
47
]. However, the main drawbacks of MDA are uneven genome coverage, chimeric sequences, and contamination issues [
15
]. Multiple annealing and looping based amplification cycles (MALBAC) is the newly applied WGS method that combines quasi-linear strand displacement pre-amplification by a polymerase and exponential amplification by PCR [
33
] (Fig.
2
c). Remarkably, MALBAC has low amplification bias and can achieve 93% genome coverage ≥1× and 25× mean sequencing depth in a single cell during WGS. Moreover, MALBAC shows higher efficiency to detect CNVs and SNPs for its improved uniformity and a lower allele dropout rate, compared with MDA [
36
]. The pitfall of MALBAC is the extremely high false positive rate for SNV detection because of the low fidelity of Bst DNA polymerase, and the loss of underamplified regions of the genome [
48
]. Another improved method, nuc-seq or single nucleus exome sequencing (SNES), has been developed to reduce the bias, this method combines flow-sorting of single G1/0 or G2/M nuclei, time-limited isothermal MDA, exome capture, and NGS [
49
,
50
]. The main advantage of this method is the high detection efficiencies for single-nucleotide variations (SNVs) and indels benefiting from the high physical coverage (96%) of the single cell genome and exome [
50
].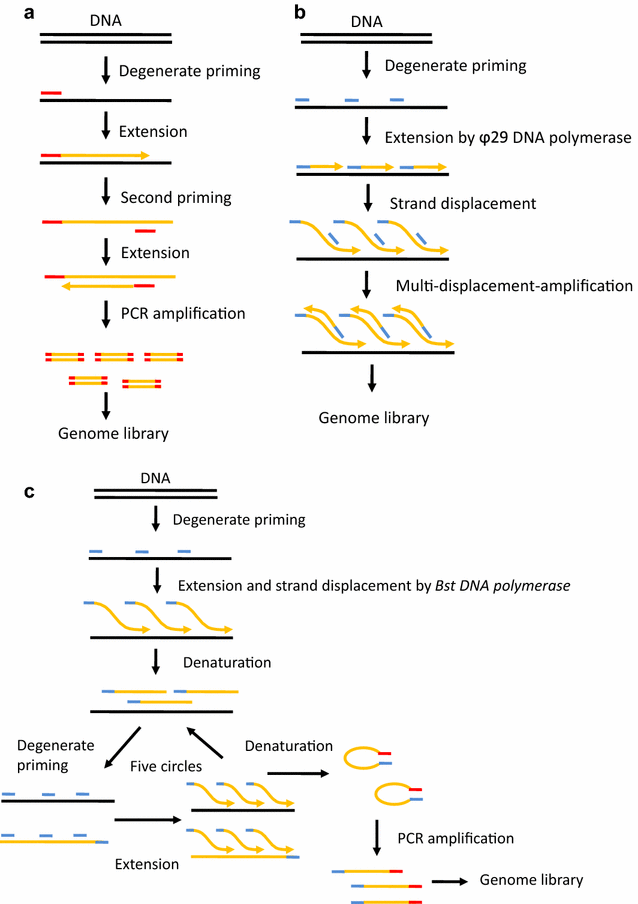 Single cell whole-transcriptomic sequencing
It is estimated that the amount of total RNA or mRNA is only approximately 10 pg or approximately 0.1 pg, respectively, in a single cell [
10
]. Thus, WTA is a necessary step to construct a cDNA library for single cell transcriptomic sequencing. WTA has been applied to amplify RNA from a single cell to obtain the gene expression profile in microarray prior to the advent of NGS [
51
,
52
]. Tang et al. [
5
] improved the single cell whole-transcriptome amplification method and used NGS instead of microarray to identify more genes and previously unknown splice junctions in single cells. The principle of this method is to use oligo dT primers conjugated to adapter sequences for reverse transcription and selective amplification of polyadenylated mRNA by PCR [
5
,
10
,
53
] (Fig.
3
a). However, this method generates 3′-end skew bias during reverse-transcription to miss proximal splicing events [
34
]. Another WTA method, called SMART-seq, was developed to use Moloney murine leukemia virus (MMLV) reverse transcriptase to construct full-length cDNA libraries [
54
]. The two key features, template-switching and terminal transferase activity, of the enzyme can lead to adding a few non-templated C nucleotides to the cDNA and switching templates to transcribe the other strand [
55
] (Fig.
3
b). The advantage of SMART-seq is to generate and amplify full-length cDNA from single cell RNA, leading to the detection of alternatively spliced exons [
56
]. The low sensitivity of SMART is the main shortcoming that was improved in a subsequently developed method, called SMART-seq2 [
57
]. Similarly, single cell tagged reverse-transcription (STRT) is based on the template-switching property of the reverse transcriptase to tag the 5′-end of cDNA [
58
]. This method enables researchers to compare gene expression profile differences without bias in multiple samples, but it yields a strong 5′-end bias. Cell expression by linear amplification and sequencing (Cel-seq) labels cDNA with a barcode and pools these cDNA from multiple single cells for in vitro transcription (IVT) to linearly amplify cDNA [
59
]. The CEL-Seq generates more reproducible, linear, and sensitive results in comparison with the PCR-based amplification method, but it yields a high 3′-end skew bias and loses the full spectrum of transcript variant detection [
60
]. Additionally, the unique molecular identifiers (UMIs) labeling technique is applied in single cell WTA to achieve quantitative single cell RNA sequencing [
61
] (Fig.
3
c). This method obviously increases the accuracy in single cell whole-transcriptome sequencing by eliminating amplification bias. Recently, two new droplet-based RNA-seq technologies, named as Drop-seq and inDrop (indexing droplets), has been exploited to sequence in parallel thousands of single cells from a tissue [
62
,
63
]. Each nanoliter-scale aqueous droplet is a tiny reaction chamber that contains a single cell, barcoded and UMI-labeled primers, and reaction buffer. STAMPs (Single-cell Transcriptomes Attached to Microparticles) is PCR amplified for sequencing in Drop-seq, while Cell-seq is used by inDrop for sequencing. The advantages of these methods are to differentiate the cell-of-origin of each mRNA which helps to develop single cell analysis in a complicated tissue, and the low technical noise that allows the analysis of thousands of different cells in parallel. The latest commercial platform—Chromium™ System from 10× Genomics—integrates the Gemcode platform, which separates long pieces of DNA into droplets to create barcoded sequencing libraries [
64
,
65
]. The high efficiency and flexible throughput of this method allows researchers to dynamically detect transcriptional profiles of single cells at scale [
66
].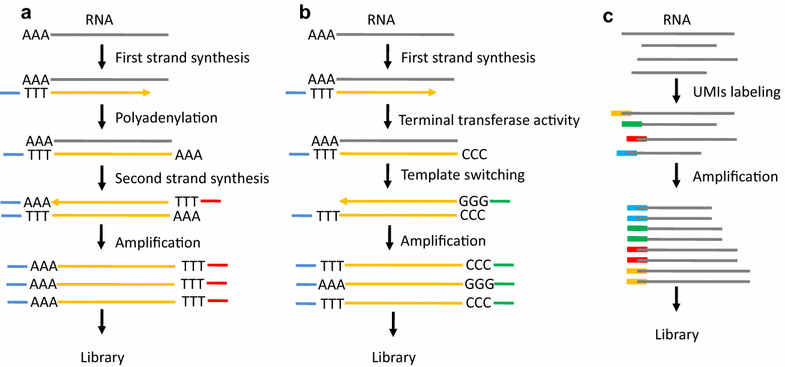 Single cell epigenomic sequencing
Epigenomics is defined as a phenomenon that changes the final outcome of a chromosome without changing the underlying DNA sequence, including DNA methylation, histone modifications, chromatin packaging, small RNA, etc. [67]. Recently, single cell epigenomic sequencing studies are on the rise with the application of new single cell epigenomic sequencing methods. Single cell reduced representation bisulfite sequencing (scRRBS) integrates all the experimental steps before PCR amplification into a single-tube reaction to avoid unnecessary DNA loss and enables the detection of approximately 40% of the CpG sites in comparison with standard RRBS using thousands of cells [68, 69]. Another method, single cell bisulfite sequencing (scBS-seq), modifies the Post-Bisulfite Adaptor Tagging (PBAT) to perform bisulfite conversion prior to successive primer extension with oligo1 and oligo2 tagged random primers to generate amplicons [70]. The drawbacks of these methods are DNA loss, purification, and disability to discriminate 5mC from 5hmC for bisulfite conversion [34]. Moreover, single cell chromatin immunoprecipitation followed by sequencing (scChIP-seq) combines microfluidics, DNA barcoding and sequencing to collect low coverage maps of the chromatin state at single cell resolution [71]. Additionally, other methods have been developed for single cell epigenomic sequencing, such as Hi-C methods that characterize chromatin interactions in the genome of single cells [9], and single chromatin molecule analysis at the nanoscale (SCAN) that extracts single chromatin with fluorescent antibodies through fluidic channels [72].
Application of single cell sequencing
Conclusions
Biological heterogeneity must be considered in clinical and basic studies. With the advancement of next-generation sequencing, SCS, including single cell genomic, transcriptomic and epigenomic sequencing, has been become the major tool to unlock the secrets of biological diversity [41]. Recently, the application of SCS has been widespread in various research fields, such as cancer, immunology, microbiology, neurobiology and embryogenesis, and many successful commercial kits have emerged in the market [34]. Most exciting is the transformation of the use of SCS from bench to bedside. For example, SCS has been applied to the assessment of human embryos prior to implantation, non-invasive prenatal diagnosis and cancer diagnosis and prognosis [32]. However, there are still several shortcomings of SCS [10, 25]. It is hard to comprehensively and simultaneously sequence the genome, transcriptome and epigenome in a single cell. The high cost of SCS impedes its clinical application, and thus it will be a great challenge for researchers and engineers to provide highly efficient and low-cost technologies in SCS. Furthermore, in situ, real-time and in vivo sequencing and analysis of the DNA and RNA from single cells will be a new field that obtains deep insight into the spatial and temporal measurement of the molecular profiles of single cells. Lastly, new analysis models for the enormous data obtained from SCS should be built to unbiasedly mine the inherent properties of a single cell. Although still evolving, new SCS technologies have become powerful approaches for us to unravel the complexities of nature.
Declarations
Authors' contributions
JW was involved in the conception, design and drafting of the manuscript. YLS was involved in the revision and final acceptance of the manuscript. Both authors read and approved the final manuscript.
Acknowledgements
This research was supported by the National Natural Science Foundation of China (81500026,81490533,81570028,81400018) and the Shanghai Science and Technology Committee (15DZ1930602). Dr. YL Song was supported by the State Key Basic Research Program (973) project (2015CB553404) and by the Doctoral Fund of the Ministry of Education of China (20130071110044).
Competing interests
The authors declare that they have no competing interests.
Open AccessThis article is distributed under the terms of the Creative Commons Attribution 4.0 International License (http://creativecommons.org/licenses/by/4.0/), which permits unrestricted use, distribution, and reproduction in any medium, provided you give appropriate credit to the original author(s) and the source, provide a link to the Creative Commons license, and indicate if changes were made.
Authors' Affiliations
(1)
Department of Pulmonary Medicine, Zhongshan Hospital, Fudan University, Shanghai, China