Choices have consequences: the nexus between DNA repair pathways and genomic instability in cancer
Clinical and Translational Medicine
2016
5:45
Received: 21 September 2016
Accepted: 22 November 2016
Published: 5 December 2016
Abstract
Background
The genome is under constant assault from a multitude of sources that can lead to the formation of DNA double-stand breaks (DSBs). DSBs are cytotoxic lesions, which if left unrepaired could lead to genomic instability, cancer and even cell death. However, erroneous repair of DSBs can lead to chromosomal rearrangements and loss of heterozygosity, which in turn can also cause cancer and cell death. Hence, although the repair of DSBs is crucial for the maintenance of genome integrity the process of repair need to be well regulated and closely monitored.
Main body
The two most commonly used pathways to repair DSBs in higher eukaryotes include non-homologous end joining (NHEJ) and homologous recombination (HR). NHEJ is considered to be error-prone, intrinsically mutagenic quick fix remedy to seal together the broken DNA ends and restart replication. In contrast, HR is a high-fidelity process that has been very well conserved from phage to humans. Here we review HR and its sub-pathways. We discuss what factors determine the sub pathway choice including etiology of the DSB, chromatin structure at the break site, processing of the DSBs and the mechanisms regulating the sub-pathway choice. We also elaborate on the potential of targeting HR genes for cancer therapy and anticancer strategies.
Conclusion
The DNA repair field is a vibrant one, and the stage is ripe for scrutinizing the potential treatment efficacy and future clinical applications of the pharmacological inhibitors of HR enzymes as mono- or combinatorial therapy regimes.
Keywords
DNA damageDNA repairGenome editingGenomic instabilityCancerChemotherapyDouble-strand break repairHomologous recombinationTargeted therapy
Background
DNA double strand breaks (DSBs) result as a consequence of the disassembly of the DNA double helix leading to the disruption of the stability of the genome. DSBs not only ensue from normal cellular metabolism, in the form of reactive oxygen species that can oxidize DNA bases [1, 2], but can also be generated during physiological processes like chromosome replication, meiotic recombination and DNA replication transcription collision [3–7]. Regardless of how DSBs are formed, faithful repair of these breaks are absolutely essential for maintenance of genome integrity. Failure to repair DSBs can lead to unwanted consequences, such as loss of genetic information, chromosomal rearrangements and even cell death. Cells have evolved with conserved recombination mediated genome editing pathways as a mean for repairing DSBs and restarting replication forks, thus allowing genome duplication to continue [8]. Recombination based mechanisms are crucial for both the repair and tolerance of DNA damage that vexes both strands of the double helix [9].
DNA double strand break repair (DSBR) pathways are generally classified based on whether sequence homology is used to join the broken DNA ends. Non-homologous end joining (NHEJ), which does not depend upon sequence homology, is the key repair pathway during the G0/G1 stages of the cell cycle [10]. During NHEJ, once a DSB is formed the broken ends are bound by Ku proteins (ku70 and ku80), which form a heterodimer and insulate the DNA ends from nucleolytic erosion [11, 12]. The Ku proteins foster direct ligation of the broken DNA ends by the specialized ligase complex Dnl4–Lif1 [12]. This complex can execute a blunt end ligation reaction on clean DNA ends, i.e. 3′-OH and 5′-phosphate groups. If the broken DNA ends are not clean, then further processing by nucleases and polymerases are necessary to ligate the loose ends [12]. However, in the midst of this process of genome editing, small deletions and insertions might be introduced at the junction site. This is why this pathway if often regarded to be an error-prone recovery mechanism [2, 13, 14].
In spite of the mutagenicity associated with NHEJ, its fast kinetics has a unique role in safeguarding genome integrity, particularly by suppressing chromosomal translocations [15]. A second NHEJ concomitant pathway often referred to as alternative-NHEJ (Alt-NHEJ), also known as Microhomology-mediated end joining (MMEJ), is another well-studied pathway for repairing DSBs in DNA [16]. The MMEJ repair pathway displays two diverging features from NHEJ; first is the use of 5–25 base pair (bp) microhomologous sequences during the alignment of the broken ends before religating them, and second is the slower kinetics of repair [15]. Much like NHEJ, MMEJ is frequently associated with chromosome anomalies such as deletions, translocations, inversions and other complex rearrangements. In contrast to NHEJ, there is an error-free DSBR pathway known as Homologous Recombination (HR) pathway where the cell employs a homologous DNA as template for the repair of the broken ends [17]. The homologous DNA may be a sister chromatid, a homologous chromosome or an ectopically located sequence. Further discussion on the detailed mechanisms of the repair systems mediated by NHEJ is beyond the scope of this review; instead we will focus on how DSBs are repaired error-free by HR, the various sub-types of HR and the molecular mechanisms regulating HR.
Overview of homologous recombination
HR is the process by which DNA molecules of identical or nearly identical nucleotide sequences interact and exchange information that may or may not result in rearrangement of genetic information [
18
]. HR is widely considered as the major repair pathway in the mid-S and mid-G2 cell cycle phases, where DNA replication is maximum and therefore the sister template is accessible [
18
]. HR has three major steps: presynapsis, synapsis, and postsynapsis (Fig.
1
). Mechanistically, in the presynaptic step, the DSB is resected enzymatically to generate ssDNA tails with 3′ ends [
19
,
20
]. The ssDNA is then coated with Replication Protein A (RPA) to protect it from nuclease attacks as well as mediate the subsequent recombination steps [
18
]. With assistance from mediator proteins like Rad52, Rad55-57 and others, Rad51 displaces RPA and binds the ssDNA to form the nucleoprotein filament [
18
,
21
,
22
]. The Rad51 coated nucleoprotein filament then catalyzes strand invasion on a homologous region of another duplex to form an intermediate structure referred to as the displacement loop (D-loop), following which the invading 3′ end primes DNA synthesis [
18
]. The formation of the junction intermediate is the synapsis stage. During post-synapsis, junction intermediates are processed to form mature recombinant products [
23
]. How the intermediates are processed largely depends on the nature of the break and the genomic environment [
23
]. There are six major pathways using HR, also referred to as HR sub-pathways [
18
]. The models for the general scheme of HR and its sub-pathways derive mainly from analyses of patterns of segregation of genetic markers in fungal crosses [
24
,
25
]. These sub-pathways include (1) The canonical DSBR pathway, (2) synthesis-dependent strand annealing (SDSA), (3) break-induced replication (BIR), (4) single-strand annealing (SSA), (5) alternative (microhomology-mediated) end joining (alt-EJ/MMEJ) and (6) RNA-templated DSBR.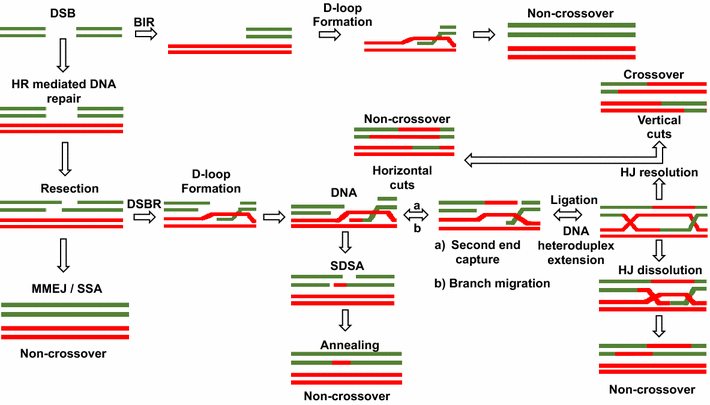 Major DNA repair pathways using homologous recombination
Future perspectives
The implication of understanding the molecular details of HR in determining vital targets for cancer therapies is the perfect marriage of basic research and translational science. The HR pathway is an appealing target for the development of inhibitors because cancer cells rely on HR proteins for repair of DSBs, which arise as a consequence of chemotherapy. The strategy of synthetic lethality has been validated by research and clinical trials. The recent success of PARP inhibitors in BRCA2-deficient breast and ovarian cancer has made the promise of inhibitors of DNA repair to transform the therapeutic landscape in cancer more apparent. Better characterization of DNA repair proteins will allow therapies that specifically target selected repair pathways for more effective repair inhibitors and to achieve cancer cure. Challenges in this field lie in the heterogeneity in the levels of HR proteins in different types of tumors, the lack of reliable biomarkers to validate resistance to the inhibitors, development of early molecular diagnostic tools and the evolution of resistance by cancer cells from acquiring additional mutations. Although more research is required to develop more targeted inhibitors of HR, there is no denying that further studies on the mechanistic roles of enzymes mediating DNA repair pathways have immense therapeutic potential.
Declarations
Authors' contributions
Both authors were involved in the conception, design and drafting of the manuscript. Both authors read and approved the final manuscript.
Acknowledgements
We apologize to those colleagues whose work has not been cited due to space limitation. We thank Arya Tousi for help with the figures for the manuscript. We thank reviewers for helpful comments.
Competing interests
The authors declare that they have no competing interests.
Open AccessThis article is distributed under the terms of the Creative Commons Attribution 4.0 International License (http://creativecommons.org/licenses/by/4.0/), which permits unrestricted use, distribution, and reproduction in any medium, provided you give appropriate credit to the original author(s) and the source, provide a link to the Creative Commons license, and indicate if changes were made.
Authors' Affiliations
(1)
Cold Spring Harbor Laboratory, Cold Spring Harbor, USA