Electrical stimulation towards melanoma therapy via liquid metal printed electronics on skin
Clinical and Translational Medicine
2016
5:21
Received: 19 February 2016
Accepted: 14 June 2016
Published: 23 June 2016
Abstract
Background
We proposed a method of using electrical stimulation for treatment of malignant melanoma through directly spray-printing liquid metal on skin as soft electrodes to deliver low intensity, intermediate frequency electric fields.
Methods
With patterned conductive liquid metal components on mice skin and under assistance of a signal generator, a sine wave electrical power with voltage of 5 V and 300 kHz could be administrated on treating malignant melanoma tumor.
Findings
The experiments demonstrated that tumor volume was significantly reduced compared with that of the control group. Under the designed parameters (signal: sine wave, signal amplitude Vpp: 5 V and Vpp: 4 V, frequency: 300 kHz) of Tumor treating fields (TTFields) with the sprayed liquid metal electrode, four mice tumor groups became diminishing after 1 week of treatment. The only device-related side effect as seen was a mild to moderate contact dermatitis underneath the field delivering electrodes. The SEM images and pathological analysis demonstrated the targeted treating behavior of the malignant melanoma tumor. Further, thermal infrared imaging experiments indicated that there occur no evident heating effects in the course of treatment. Besides, the liquid metal is easy to remove through medical alcohol.
Conclusions
Tumor treating fields through liquid metal electrode could offer a safe, straightforward and effective treatment modality which evidently slows down tumor growth in vivo. These promising results also raised the possibility of applying spray-printing TTFields as an easy going physical way for future cancer therapy.
Keywords
Melanoma therapyLiquid metal electrodeSkin soft electronicsTumor treating fieldsElectrical therapy
Background
As living cells consist of ions, polar or charged molecules, membranes and organelles, they are responsive to and often generate electric fields and currents. The electric activity of cells plays a key role in many essential biological processes. Low intensity, intermediate frequency, electric fields have been proved to inhibit cancerous cell growth in vitro by an anti-microtubule mechanism of action. However, the classical electrical treatment devices are generally rigid circuit microelectronics which may sometimes encounter troubles such as poor coupling performance and large contact comfortableness etc. Under the huge contact resistance thus induced between circuits and skin, the nearby tissues may easily subject to hurt due to extremely high electrical voltage. On the other hand, such electrodes may cause discomfort and even hurt to human body due to their mechanically rigid fixing property. Recently, the flexible electronics (electrical or composite inks) is increasingly investigated and gradually applied to bio-electronic measurement [1–5]. However, a tough issue lying behind such composite inks [6–8] is that they rely heavily on the high temperature annealing or other more complex process such as evaporation. Besides, these electronic inks' conductive performance is still not good enough for practical use. As an alternative, the recently emerging room temperature liquid metal is easy to manufacture electronics directly on flexible substrates even skin with unique convenience [9–14]. However, most of the currently available printing methods could not fabricate the electrical components on skin, whose geometry is generally irregular and not easy to deposit a circuit. Recently, we proposed an efficient approach of using the atomized spraying method to directly print the room temperature liquid metal to fabricate electronics on skin at room temperature which does not request a thermal annealing process [15]. Here, we extend this technology into a quick and direct manufacturing tool to pattern electrical components on skin to tackle tumor diseases for the first time.
Methods
Treatment method
According to Fig.
1
, the current therapy for treating malignant melanoma tumor depends on the soft liquid metal electrodes and electrical fields delivered into the target site. To test the effectiveness of our method in destroying tumor cells in vivo, an animal tumor model of C57BL/6 mice inoculated intradermally with malignant melanoma cells (B16F10) was particularly adopted. Tumor treating fields (TTField) was administrated by means of 15-mm-long insulated wire needle (outer diameter, 0.3 mm; insulation thickness, 0.1 mm; Tefzel) inserted intradermally on one side of the tumor, then liquid metals were sprayed on the surface of the tumor, leaving only 4 cm
2
normal skin on the other side of the tumor. Another identical wire needle was inserted intradermally into the 4 cm
2
normal skin left on the other side of the tumor. TTFields were generated between liquid metals plus inserted (intradermal) wholly insulated wire needle placed on one side of the tumor and inserted (intradermal) wholly insulated wire needle placed on the other side of the tumor. Mice with inserted electrodes were treated 90 min per day for 6 days beginning 1 week after cell inoculation. The animal study has been approved by the Ethics Committee of Tsinghua University, Beijing, China under contract [SYXK (Jing) 2009-0022].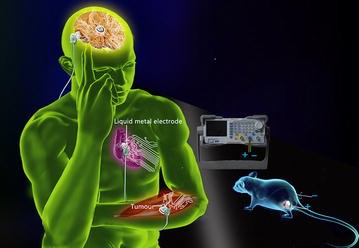 Experimental design
Eight healthy C57/BL mice (Purchased from Beijing Weitong Lihua experimental animal center) were tested, whose subcutaneous skin were inoculated with melanoma B16 tumor cell lines.
After 14 days, the mice were divided into two groups: six mice in the experimental group and two mice in the control group. The experimental group was divided into three experimental groups with different test conditions: (A) Electrical stimulation parameters of mice model (signal: sine wave, signal amplitude Vpp: 5 V, frequency: 300 kHz); (B) (signal: sine wave, signal amplitude Vpp: 5 V, frequency: 100 kHz) and (C) (signal: sine wave, signal amplitude Vpp: 4 V, frequency: 300 kHz) respectively. Each group has 2 mice. The mice in the control group were sprayed with liquid metal electrodes on the surface of the tumor, leaving only 4 cm2 normal skin on the other side of the tumor without TTFields. The sine wave signal of TTFields through the electrode was administrated by means of 15-mm-long insulated wire needle. Mice were treated with TTFields 90 min per day for 6 days.
In the control group, the mice were also sprayed with liquid metals electrodes, with the same time length and interval of treatment without TTFields. Percutaneous measurements were made on tumor volume in eight mice, in the treatment of the beginning of the first 1d, 2d, 6d and 7d. Tumor volume can be calculated via formula: V = (a × b 2)/2, where a is the longest diameter of the tumor and b is the longest perpendicular diameter length of a.
After 6 days of complete electrical stimulation treatment, in each group a mouse was sacrificed. The tumor tissues were removed and fixed with 10 % formalin for histopathological examination. Magnetic resonance imaging (MRI) examination was performed 24 h after the TTFields treatment with sprayed liquid metals electrodes removed by ethanol.
Results
The average volume of the three experimental groups and control group tumor are presented in the following Table
1
.
Table 1
Comparison of tumor volume between experimental group and control group after TTfields was applied (Mean value ± standard deviation)
Group

Days after the electric field applies (d) 1 2 6 7

(A)

305.92 ± 90.88

98.5 ± 37.12

_*

_*

(B)

1567.60 ± 595.60

10,518.40 ± 8331.8

21,445.31 ± 708.51

22,803.63 ± 894.53

(C)

5147.27 ± 2984.07

3515.92 ± 2100.8

_*

_*

(Control)

1714.78 ± 228.72

6530.90 ± 875.10

7916.85 ± 1145.65

11,512.3 ± 1541.3
Declarations
Authors' contributions
JL (first author) and CG contributed equally to this research in the process in performing the experiments, writing the article and analyzing the results. ZW, KG and XS performed part of the experiments. JL and CG conceived this project, analyzed the data and wrote the article together. All authors read and approved the final manuscript.
Acknowledgements
This work is supported by the NSFC Grant 51376102 and Beijing Municipal Science and Technology Project under Grant Z141100000514005.
Competing interests
The authors declare that they have no competing interests.
Open AccessThis article is distributed under the terms of the Creative Commons Attribution 4.0 International License (http://creativecommons.org/licenses/by/4.0/), which permits unrestricted use, distribution, and reproduction in any medium, provided you give appropriate credit to the original author(s) and the source, provide a link to the Creative Commons license, and indicate if changes were made.
Authors' Affiliations
(1)
Department of Dermatology, Peking Union Medical College Hospital, Chinese Academy of Medical Sciences and Peking Union Medical College, Beijing, People's Republic of China
(2)
Department of Biomedical Engineering, School of Medicine, Tsinghua University, Beijing, People's Republic of China
(3)
Institute of Laboratory Animal Sciences, Chinese Academy of Medical Sciences and Peking Union Medical College, Beijing, People's Republic of China