Human Chromosome Y and Haplogroups; introducing YDHS Database
Clinical and Translational Medicine
2015
4:20
Received: 22 January 2015
Accepted: 1 June 2015
Published: 10 June 2015
Abstract
Background
As the high throughput sequencing efforts generate more biological information, scientists from different disciplines are interpreting the polymorphisms that make us unique. In addition, there is an increasing trend in general public to research their own genealogy, find distant relatives and to know more about their biological background. Commercial vendors are providing analyses of mitochondrial and Y-chromosomal markers for such purposes. Clearly, an easy-to-use free interface to the existing data on the identified variants would be in the interest of general public and professionals less familiar with the field. Here we introduce a novel metadatabase YDHS that aims to provide such an interface for Y-chromosomal DNA (Y-DNA) haplogroups and sequence variants.
Methods
The database uses ISOGG Y-DNA tree as the source of mutations and haplogroups and by using genomic positions of the mutations the database links them to genes and other biological entities. YDHS contains analysis tools for deeper Y-SNP analysis.
Results
YDHS addresses the shortage of Y-DNA related databases. We have tested our database using a set of different cases from literature ranging from infertility to autism. The database is at http://www.semanticgen.net/ydhs
Conclusions
Y-chromosomal DNA (Y-DNA) haplogroups and sequence variants have not been in the scientific limelight, excluding certain specialized fields like forensics, mainly because there is not much freely available information or it is scattered in different sources. However, as we have demonstrated Y-SNPs do play a role in various cases on the haplogroup level and it is possible to create a free Y-DNA dedicated bioinformatics resource.
Keywords
Y chromosomeY-DNADatabaseSNPMutationHaplogroup
Background
The human Y chromosome has unique characteristics which make it the subject of intense research. Indeed, it has been 10 years now since the Y chromosome was initially sequenced in 2003. Unlike the 22 autosomal pairs of human chromosomes, the Y chromosome does not exist as a homologous pair. Therefore, the majority of the Y chromosome does not undergo recombination and is transmitted to male offspring in a virtually unchanged form, resulting in vertical transmission of haplotypes. Some genetic polymorphisms of the Y chromosome are associated with observed Y-linked phenotypic differences. The uniparental inheritance of mutations results in different "at risk" haplotypes among different paternal lineages [
1
], which are frequently dependent on ethnicity and the extent of admixture among populations. The field of medical genetics has utilized this pattern of heritability to study the relationship of specific mutations in Y chromosome genes and haplotypes which influence susceptibility to a number of of physical and mental disorders. The human Y chromosome consists of 86 genes coding 23 proteins (506 genes if pseudogenes are included) according to Ensembl e72 build. The genes in the Y chromosome are organized to specific chromosomal regions as illustrated in Fig.
1
.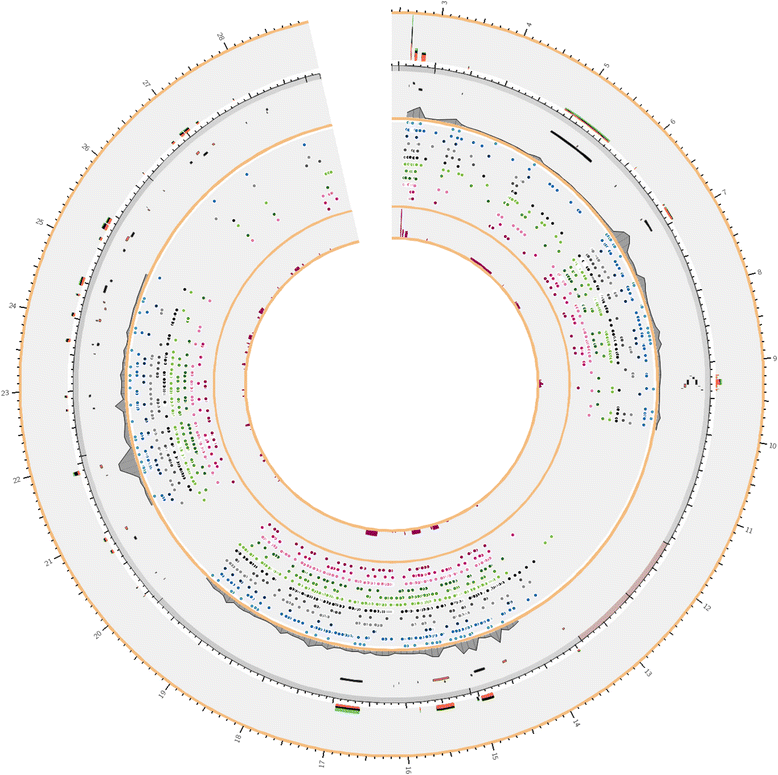 Methods
We have developed a novel database YDHS (
http://semanticgen.net/ydhs
) to integrate haplogroup, genetic and genomic information regarding human chromosome Y. The database contains mutation and haplogroup data from the International Society of Genetic Genealogy (ISOGG;
http://www.isogg.org/
) consortium compiled in June 2013 (Fig.
1
). The specific coverage of mutations per genes in haplogroups and the general distribution of mutations per haplogroup are illustrated in Fig.
2
and Fig.
3
, respectively. We have developed an automated parser that transforms the Y-DNA haplotree and corresponding mutations with their positions in Grc37 build version to a MySQL database format for easy querying. Citations of the articles where SNPs were first introduced are also included in the database, and the citations are searchable via the web user interface, and a direct link is included if provided by ISOGG. Genomic information from Ensembl (GRch37) was integrated to our database using SNP positions to find out which SNPs are located inside genes and which involve amino acid sequences of the proteins. The genomic location can be visualized by clicking the mutation position, which opens up the location in the UCSC Genome Browser (
http://genome.ucsc.edu/
), or if there is a reference SNP available one can use the provided link to dbSNP (
http://www.ncbi.nlm.nih.gov/SNP/
). Gene Ontology (
http://www.geneontology.org/
), InterPro (
http://www.ebi.ac.uk/interpro/
) and UniProt (
http://www.uniprot.org
) data were added to the database using gene identifiers as unique keys, allowing the user to browse the functional information of genes and proteins by family based classification, domain and function prediction alongside the manually annotated entries to see what the gene/protein does in the human body. Relevant data about the potential diseases associated with the gene of interest were also added to the database. Hyperlinks to entries in the OMIM database (
http://www.ncbi.nlm.nih.gov/omim
) and OrphaNet (
http://www.orpha.net
) were associated with the respective genes. Egenetics (
http://www.sanbi.ac.za/resources/software-downloads/evoc/
) was used as the source of expression data separated by cell type, anatomical system and pathology. If the protein had a structure stored in Protein Data Bank PDB (
http://www.rcsb.org
) it was also hyperlinked in YDHS under the "Extra" tab.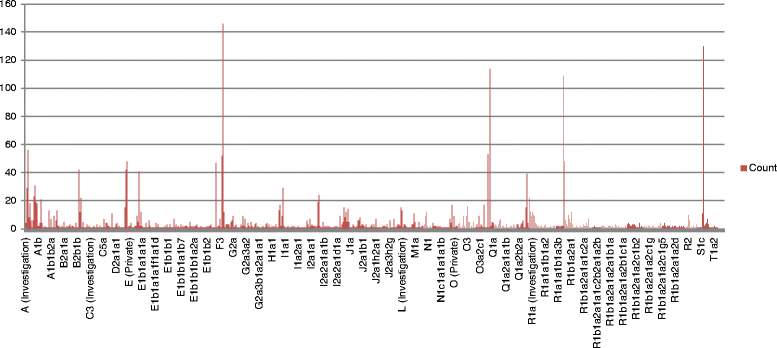 The majority of the polymorphisms are located outside of coding regions of genes, and not all coding-region variants are pathogenic. The functional consequences of polymorphisms were assessed by using Variant Effect Predictor (VEP). Every polymorphism derived from the ISOGG database was subjected to VEP by Representitational State Transfer (REST) interface (http://rest.ensembl.org/) provided by EBI, the European Bioinformatics Institute. VEP consists of two predictor programs, SIFT (http://sift.jcvi.org/) and PolyPhen (http://genetics.bwh.harvard.edu/pph2/). VEP is good for predicting mutations affecting protein function, but additional tools to increase the prediction accuracy for rare polymorphisms were considered important. PROVEAN (http://provean.jcvi.org/) and Variation Reporter (http://www.ncbi.nlm.nih.gov/variation/tools/reporter) from NCBIs ClinVar toolkit were added to increase the prediction capabilities of YDHS. These tools used in sync can provide valuable information when the deleterious potential of a mutation is otherwise difficult to assess.
We also provide information whether the gene of interest is under positive selection using the Selectome database (http://selectome.unil.ch/). In addition, we provide information regarding repeats for the gene of interest via UCSC genome tracks. The location and population of the highest frequency of the haplogroup of interest is browseable by clicking the haplogroup (where) link provided that the information is available. The haplogroup location and population lists were compiled from Wikipedia (https://en.wikipedia.org/wiki/Human_Y-chromosome_DNA_haplogroup) on June 2013.
The proteomics part of YDHS consist of protein-protein interaction information via PSICQUIC (Proteomics Standard Initiative Common QUery InterfaCe) service as proposed by the HUPO Proteomics Standard Initiative. We have used EBIs PSICQUIC View to give us access to 28 different proteomics databases (http://www.ebi.ac.uk/Tools/webservices/psicquic/view/main.xhtml). The user can also visualize the protein-protein interaction graphs from STRING database in YDHS with one click from the menu. If the user would like to view the orthologs of the gene of interest, it can be done via the Gene IDs tab in the database. Ortholog entries come from InParanoid7 database (http://inparanoid.sbc.su.se).
The YDHS database is built on top of MySQL database and outputs the information as JavaScript Object Notation (JSON) which is parsed via HTML5 if the user's browser is capable of handling it; otherwise standard AJAX calls are used. Ease of use was considered to be of importance and thus the user interface is simple and stripped from extraneous functionality commonly found on various core databases for biological information. YDHS provides a data export option in JSON format for computational parsing and for input to external analysis programs. The integration of different databases is done by dedicated PHP and Perl scripts. YDHS was used for the exploratory analysis of haplogroups and traits covered in this article. The Fig. 1 was drawn using Circos software (http://circos.ca/) and YDHS data.
Results and discussion
Since there are altogether 3896 SNPs in the ISOGG Y-DNA tree (December 2013) and many more unsubstantiated ones, we decided to show the use of YDHS database using case examples. We chose four traits that have a linkage to Y chromosome according to the literature. Using these cases we tested how well YDHS can concur with already published results and whether the use of our integrative approach could yield additional information about the traits.
Conclusions
During its journey chromosome Y has had its ups and downs – from being called a boring "dud" [48] or genomic wasteland to the recent years' rollercoaster ride of whether it is going to vanish from the face of the earth or restructure itself [49]. However despite the interest and efforts there has been very little research in embedding haplogroup information and variations to the genomic data regarding various diseases and conditions. At the time of writing this article there was no service or database for integrating Y chromosome haplogroups and genomic data from public resources. Integrating this data without a dedicated database would have required substantial manual work and bioinformatics expertise.
Now in YDHS, we have combined multiple tools under one resource that enables the user to e.g. browse through haplogroups and focus on certain SNPs distinct to that haplogroup and reveal where they are located and whether they have a link to a disease or condition and view the related genes and interactions. In addition, the user can run a set of predictor programs to see if the SNP is pathogenic or not and narrow down the geographic location of the haplogroup. We also provide text search to find articles where the SNP of interest was first introduced. The YDHS database provides an easy and convenient one-stop-shop to do translational research with chromosome Y without the need to browse around multiple databases or tackle with different data formats. As shown with the cases described here, haplogroups may provide an interesting insight to a number of genetic conditions.
Declarations
Acknowledgements
We like to thank Finnish Cultural Foundation fund for the financial support.
Authors' Affiliations
(1)
Department of Clinical Genetics, Oulu University Hospital, PEDEGO Research Unit, University of Oulu, and Medical Research Center Oulu, Oulu University Hospital and University of Oulu, Oulu, Finland
Copyright
© Tiirikka and Moilanen. 2015
This is an Open Access article distributed under the terms of the Creative Commons Attribution License (http://creativecommons.org/licenses/by/4.0), which permits unrestricted use, distribution, and reproduction in any medium, provided the original work is properly credited.