Clinical significance of monocyte heterogeneity
Clinical and Translational Medicine
2015
4:5
Received: 5 September 2014
Accepted: 29 October 2014
Published: 14 February 2015
Abstract
Monocytes are primitive hematopoietic cells that primarily arise from the bone marrow, circulate in the peripheral blood and give rise to differentiated macrophages. Over the past two decades, considerable attention to monocyte diversity and macrophage polarization has provided contextual clues into the role of myelomonocytic derivatives in human disease. Until recently, human monocytes were subdivided based on expression of the surface marker CD16. "Classical" monocytes express surface markers denoted as CD14++CD16− and account for greater than 70% of total monocyte count, while "non-classical" monocytes express the CD16 antigen with low CD14 expression (CD14+CD16++). However, recognition of an intermediate population identified as CD14++CD16+ supports the new paradigm that monocytes are a true heterogeneous population and careful identification of specific subpopulations is necessary for understanding monocyte function in human disease. Comparative studies of monocytes in mice have yielded more dichotomous results based on expression of the Ly6C antigen. In this review, we will discuss the use of monocyte subpopulations as biomarkers of human disease and summarize correlative studies in mice that may yield significant insight into the contribution of each subset to disease pathogenesis.
Keywords
Monocyte
CD14
CD16
Ly6C
Macrophage
Cardiovascular
Atherosclerosis
Autoimmune Disease
Human
Mouse
Introduction
Until the late 1980s, monocytes were considered to represent a single population of circulating hematopoietic cells derived from the common myeloid progenitor cell in the bone marrow. The seminal work of Passlik et al. demonstrated that distinct monocyte subsets could be identified based on the expression of the surface antigen CD16 [
1
]. "Classical" monocytes do not express the CD16 antigen (CD14
++
CD16
−
), while "non-classical" monocytes are smaller in size and express CD16 on the cell surface (CD14
+
CD16
++
) [
1
]. The expression pattern of the two surface markers lends some insight into their function. CD14 acts as a co-receptor for toll-like receptor 4 and mediates lipopolysaccharide (LPS) signaling, while the CD16 antigen is identified as FcγRIIIa and participates in innate immunity [
2
,
3
]. The subsequent two decades have yielded considerable insight into the role of each cell population in human disease; however, the recent emergence of an intermediate monocyte population denoted as CD14
++
CD16
+
has shifted focus away from this simple classification system [
4
-
8
] (Figure
1
). As of 2010, three distinct monocyte populations outlined by Ziegler-Heitbrock et al. are officially recognized: CD14
++
CD16
−
(classical), CD14
++
CD16
+
(intermediate), and CD14
+
CD16
++
(non-classical) [
4
]. We will adhere to the official nomenclature for this review article.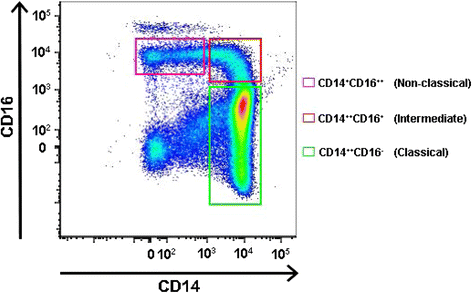 Classical monocytes represent the largest population of monocytes and are important scavenger cells [4]. Non-classical monocytes were often referred to as pro-inflammatory, secondary to their mobilization in disease and secretion of important inflammatory cytokines [7,9-11] (i.e. TNF-α). The new tripartite view of monocyte subpopulations has shifted attention from the inflammatory characteristics of non-classical monocytes and supports a more significant role for intermediate monocytes in inflammation. Further, unique functions in angiogenesis, production of reactive oxygen species, and patrolling behavior have been attributed to CD16+ monocytes [12-18]. In the present review, we will summarize the contribution of monocyte heterogeneity in human disease and draw across multiple common pathologies to characterize each monocyte subtype for clinical relevance. We will focus on the impact of monocytes in cardiovascular disease, including myocardial infarction, atherosclerosis, and stroke, chronic kidney disease, and autoimmune disease. Finally, we will identify distinct murine monocyte populations and link their function in preclinical animal models to human monocyte function.
Conclusions
Recognition of three monocyte populations with diversified and heterogeneous responses in health and disease has increased mechanistic insight into the pathogenesis of inflammation as it relates to both chronic and acute illness. The more dichotomous murine monocyte populations, denoted as Ly6Chigh and Ly6Clow, hinder the ability to directly translate animal findings to humans. Careful mechanistic and lineage tracing studies in mice and humans will enhance our understanding of monocyte function in health and disease. At present, the intermediate monocyte population appears to represent an inflammatory monocyte population and therefore harnessing the inflammatory capacity of intermediate monocytes may promote a healthy response to injury or inflammation. Selective depletion of intermediate monocytes requires a highly specific surface marker regimen. Therefore, uniform adoption of the recommended gating strategies and nomenclature for proper identification of each monocyte subpopulation is necessary to provide a clear picture of their role in human disease [4,5,24].
Abbreviations
ABCA1:

ATP-binding cassette transporter-1
ACE:

Angiotensin-converting enzyme
AMI:

Acute myocardial infarction
Apo-1:

Apolipoprotein-1
ApoE:

Apolipoprotein-E
CAD:

Coronary artery disease
CCR2:

C-C motif receptor-2
CCR5:

C-C motif receptor-5
CD:

Crohn's disease
CD14:

Cluster of differentiation 14
CD16:

Cluster of differentiation 16
CD62L/SELL:

Cluster of differentiation 62 L
CD86:

Cluster of differentiation 86
CKD:

Chronic kidney disease
CX3CR1:

Fractalkine receptor
HDL:

High density lipoprotein
HFD:

High fat diet
HLADR:

Human leukocyte antigen-DR
IL-1β:

Interleukin-1β
LDL:

Low density lipoprotein receptor
LPS:

Lipopolysaccharide
Ly6C:

Lymphocyte antigen 6C
MCP-1/CCL2:

Monocyte chemotactic protein-1/ chemokine (C-C Motif) ligand-2
M-CSF:

Macrophage-colony stimulating factor
PVAT:

Perivascular adipose tissue
RA:

Rheumatoid arthritis
TNF-α:

Tumor necrosis factor-α
Declarations
Acknowledgements
The authors would like to thank Julie A. Mund for insightful comments and editing of Figure 1. This work was supported by NIH P50 NS052606 and GRU S00104.
Authors' Affiliations
(1)
Department of Pediatrics and Neonatal-Perinatal Medicine, Georgia Regents University, Augusta, Georgia
(2)
Vascular Biology Center, Georgia Regents University, Augusta, Georgia
(3)
Herman B. Wells Center for Pediatric Research, Georgia Regents University, Augusta, Georgia
(4)
Department of Pediatrics and Neonatal-Perinatal Medicine, Indiana University School of Medicine, Indianapolis, USA
(5)
Department of Biochemistry and Molecular Biology, Indiana University School of Medicine, Indianapolis, USA
(6)
Medical College of Georgia at Georgia Regents University, Augusta, USA
Copyright
© Stansfield and Ingram; licensee Springer. 2015
This is an Open Access article distributed under the terms of the Creative Commons Attribution License (http://creativecommons.org/licenses/by/4.0), which permits unrestricted use, distribution, and reproduction in any medium, provided the original work is properly credited.