Micro-patterned surfaces reduce bacterial colonization and biofilm formation in vitro: Potential for enhancing endotracheal tube designs
Clinical and Translational Medicine
2014
3:8
Received: 19 December 2013
Accepted: 10 March 2014
Published: 16 April 2014
Abstract
Background
Ventilator-associated pneumonia (VAP) is a leading hospital acquired infection in intensive care units despite improved patient care practices and advancements in endotracheal tube (ETT) designs. The ETT provides a conduit for bacterial access to the lower respiratory tract and a substratum for biofilm formation, both of which lead to VAP. A novel microscopic ordered surface topography, the Sharklet micro-pattern, has been shown to decrease surface attachment of numerous microorganisms, and may provide an alternative strategy for VAP prevention if included on the surface of an ETT. To evaluate the feasibility of this micro-pattern for this application, the microbial range of performance was investigated in addition to biofilm studies with and without a mucin-rich medium to simulate the tracheal environment in vitro.
Methods
The top five pathogens associated with ETT-related pneumonia, Methicillin-Resistant Staphylococcus aureus (MRSA), Pseudomonas aeruginosa, Klebsiella pneumonia, Acinetobacter baumannii, and Escherichia coli, were evaluated for attachment to micro-patterned and un-patterned silicone surfaces in a short-term colonization assay. Two key pathogens, MRSA and Pseudomonas aeruginosa, were evaluated for biofilm formation in a nutrient rich broth for four days and minimal media for 24 hours, respectively, on each surface type. P. aeruginosa was further evaluated for biofilm formation on each surface type in a mucin-modified medium mimicking tracheal mucosal secretions. Results are reported as percent reductions and significance is based on t-tests and ANOVA models of log reductions. All experiments were replicated at least three times.
Results
Micro-patterned surfaces demonstrated reductions in microbial colonization for a broad range of species, with up to 99.9% (p < 0.05) reduction compared to un-patterned controls. Biofilm formation was also reduced, with 67% (p = 0.12) and 52% (p = 0.05) reductions in MRSA and P. aeruginosa biofilm formation, respectively. Further, a 58% (p < 0.01) reduction was demonstrated on micro-patterned surfaces for P. aeruginosa biofilms under clinically-simulated conditions when compared to un-patterned controls.
Conclusions
This engineered micro-pattern reduces the colonization and biofilm formation of key VAP-associated pathogens in vitro. Future application of this micro-pattern on endotracheal tubes may prevent or prolong the onset of VAP without the need for antimicrobial agents.
Keywords
Micro-pattern
Sharklet
VAP
Endotracheal tube
Biofilm inhibition
Background
Pneumonia is the most common hospital-acquired infection (HAI) in Intensive Care Units (ICUs)—comprising some 27% of these infections and driving more than half of the antibiotics prescriptions in the ICU [1, 2]. Ventilator-associated pneumonia (VAP) is a leading HAI in ICUs, accounting for 86% of nosocomial pneumonia cases [2, 3]. The annual U.S. hospital cost of VAP-related treatment is about $1.5 billion and death rates are between 25-60% [4, 5]. Approximately 80% of all VAP cases are caused by the ESKAPE pathogens (Enterococcus faecium, Staphylococcus aureus, Klebsiella pneumoniae, Acinetobacter baumannii, Pseudomonas aeruginosa, and Enterobacter species), which are largely responsible for HAIs and are the primary organisms demonstrating antimicrobial resistance, thereby escaping the effects of antibacterial drugs [6, 7]. Current epidemiology shows that S. aureus, P. aeruginosa, K. pneumoniae, E. coli, and A. baumannii cause 28%, 22%, 10%, 7% and 7%, respectively, of first episode VAP and HAI-associated pneumonia infections world-wide making them the top five causative agents of these infections [7]. Methicillin-resistant S. aureus (MRSA) and P. aeruginosa comprise the top two causative organisms of VAP and are considered particularly devastating lung pathogens as they cause persistent pneumonia infections, are resistant to a number of antimicrobials, and are associated with a high attributable mortality of patients with VAP [7].
VAP is attributed to the endotracheal tube (ETT) used during ventilation [1, 2, 5, 8]. Intubation does not allow cough reflexes that clear organisms descending from the proximal oropharynx to the distal bronchi [5], therefore the tube provides bacteria access to the lower respiratory tract via contaminated secretions [9]. Also, the surfaces of an ETT provide bacteria with a substratum that promotes microbial colonization and biofilm formation [10–13]. Pathogens isolated from ETT biofilms have been shown to be the same causative organisms responsible for the patient's VAP, which associates the biofilm presence on the ETT with infection [14, 15]. It has been demonstrated that these biofilms can develop on the inner and outer surfaces of the ETT in less than 24 hours of patient intubation [16], and it has been determined that mature biofilm presence rather than duration of intubation is directly related to occurrence of VAP [17].
Treatments for VAP universally include the use of antimicrobials to clear the infection. Prescribing the appropriate antimicrobials at the onset of VAP is increasingly difficult but extremely important, as an inadequate initial antimicrobial therapy is associated with increased mortality [2, 18]. Numerous factors contribute to treatment decisions (e.g. clinical presentation, local drug resistance patterns, patient exposure) and this complexity prevents the standardization of a VAP antimicrobial treatment guideline [19, 20]. Broad-spectrum antimicrobials are often initially implemented to reduce the risk of patient mortality. Unfortunately, this path contributes to increased cost and complications for the patient as well as heightened risk for antimicrobial resistance [2, 21]. It is also well known that the presence of antibiotics induces robust biofilm formation of a range of pathogens, which may further contribute to the onset of VAP [22–24]. Common ICU and VAP pathogen drug resistance is steadily rising and outpacing new drug development, leaving healthcare professionals defenseless against these common infections.
To prevent the overuse of anti-microbial treatments, device modifications and improved patient care practices have been implemented to reduce microbial access to the lower respiratory tract. The addition of a subglottal secretion port as well as reducing the thickness of the ETT cuff prevents microaspiration of subglottal secretions into the lungs. These device modifications, in addition to elevation of the patient's head, daily sedation interruptions, and oral antiseptic treatments, have shown some benefit [5], but the rate of VAP remains substantial. While there is some clinical evidence that silver-coated tubes reduce infection rates [25, 26], the cost remains prohibitively high for widespread adoption. A novel solution that would continue to limit bacterial presence in the lower respiratory tract, thereby improving patient outcomes, without promoting antimicrobial resistance is warranted.
Engineered surface topographies, particularly geometries of ordered features designed with unique roughness properties, elicit specific, predictable biological responses and have been shown to control bio-adhesion [
27
–
29
]. Studies have shown that the Sharklet micro-pattern (Figure
1
) is the most effective among ordered topographies (pillars, channels, other geometries) for inhibiting bio-adhesion [
30
]. This shark skin-inspired micro-topography may provide an alternative strategy for VAP prevention as it has been shown to inhibit
E. coli
and
S. aureus
biofilm formation
in vitro
without the use of antimicrobial agents [
31
,
32
]. The aim of the present study was to determine the effectiveness of this ordered micro-pattern, compared to un-patterned control surfaces, in combating the top five VAP causative pathogens by assessing microbial colonization and biofilm formation on both surface types in simplified and clinically simulated
in vitro
conditions.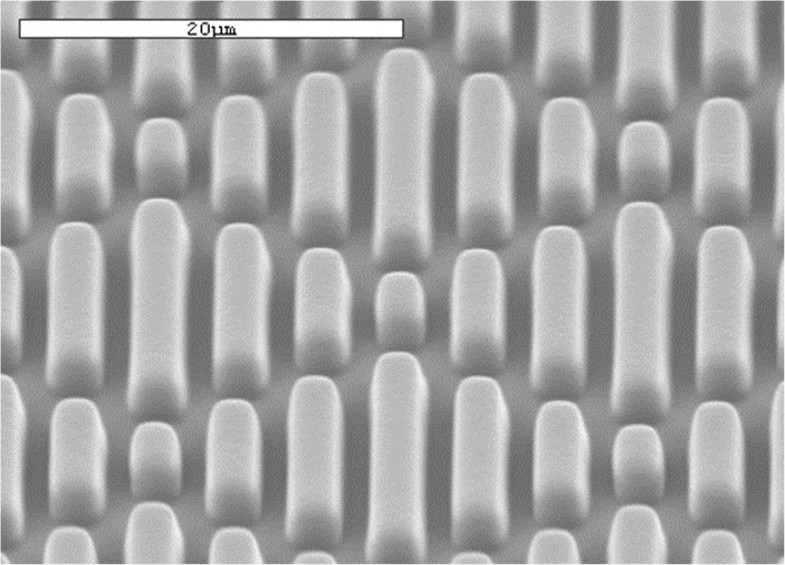 Results
Colonization assay for the top five VAP-associated pathogens
Bacterial colonization on micro-patterned and un-patterned surfaces were evaluated for the top five respiratory pathogens associated with VAP, including clinically isolated strains of MRSA,
P. aeruginosa
,
K. pneumoniae
,
A. baumannii
and
E. coli
. Two additional strains of
P. aeruginosa
were also evaluated to confirm the validity of the results across multiple strains within a species: a second clinical isolate and a laboratory, hyper-biofilm forming strain. The micro-patterned surface significantly reduced the colonization of all species and strains compared to un-patterned controls, with median reductions in CFU counts ranging from 95.6% to 99.9%,
p
 < 0.05 when evaluated across multiple experiments (Figure
2
). To confirm the consistency of the methods used to obtain these results, the repeatability SD of the log
10
(CFU/control sample) was calculated across experiments for each organism (Table
1
). Except for
P. aeruginosa
ATCC10197 and
K. pneumoniae
, all un-patterned repeatability SDs were close to or below 0.50 log, a historical benchmark that indicates highly reproducible colonization on controls across multiple experiments [
40
]. Even with the increased variability observed for
P. aeruginosa
ATCC10197 and
K. pneumoniae,
the micro-patterned surfaces maintained strong statistically significant performance in this assay thereby indicating good repeatability of the log reductions for all of the organisms tested (Figure
2
).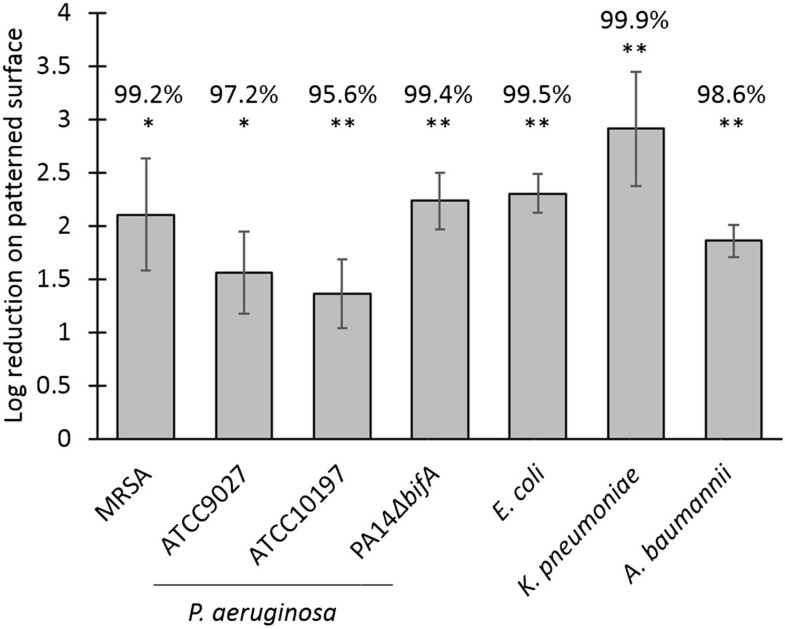 Biofilm formation of MRSA and P. aeruginosa on the micro-pattern
Biofilms were grown on micro-patterned and un-patterned surfaces for MRSA and two strains of
P. aeruginosa
followed by confocal imaging and ImageJ analysis to quantify the bacterial area coverage for each image in the z-stacks. The micro-patterned surface showed a 67% (p = 0.123) median reduction of MRSA biofilm volumes grown over a four day duration in a TSB media when compared to un-patterned control surfaces (Figure
3
). Similar observations were seen for the hyper-biofilm forming strain
P. aeruginosa
PA14Δ
bifA
, where a significant 52% median reduction in volume (p = 0.05) was observed (Figure
3
). Importantly, mature biofilms [
17
] were obtained on the un-patterned control surfaces for both the MRSA and
P. aeruginosa
PA14
ΔbifA
strains, whereas bacterial colonization on the micro-patterned surfaces was more dispersed (Figure
3
). When quantifying the resemblance of the biofilm volume measurements on un-patterned controls, the repeatability SDs of the log-transformed biofilm coverage data was 0.081 for the PA14Δ
bifA
experiments and 0.681 for the MRSA experiments. While the level of acceptable variability of image analysis data has not been established, the small SDs for PA14Δ
bifA
indicates high consistency in biofilm formation on the un-patterned controls. The
P. aeruginosa
ATCC 9027 strain did not form a sufficient quantity of biofilm under these non-clinical conditions to accurately quantify biofilm volume coverage, as most image coordinates had no depth from which to obtain image stacks (Figure
3
).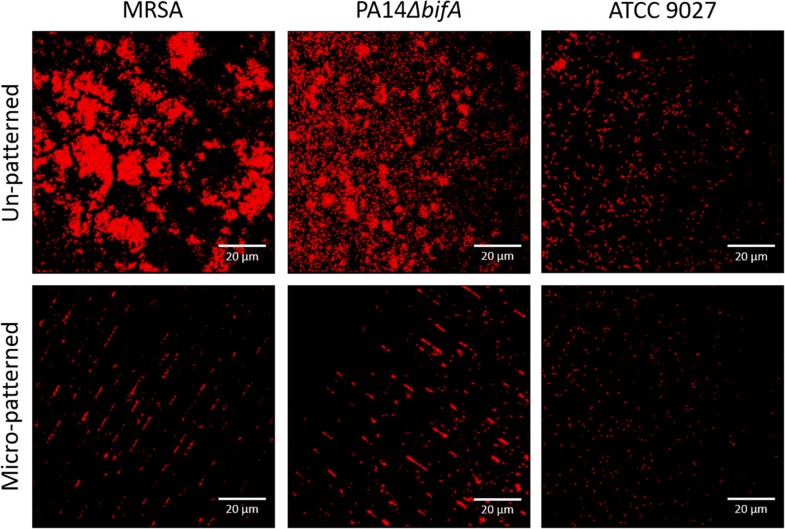 Biofilm reduction of P. aeruginosa in a mucin-modified medium
The
P. aeruginosa
clinical isolate ATCC 9027 did not form biofilms in the simplified minimal medium (Figure
3
), so additional studies on this strain were conducted in a medium that would both encourage biofilm formation and simulate the clinical environment of the lungs. Thus, a mucin-rich minimal medium supplemented with oxacillin was used to promote biofilm and provide the mucin glycoproteins that make up the main component of the mucus present in the lungs [
22
–
24
,
35
,
36
]. This medium change resulted in enhanced biofilm formation of this clinical isolate on the un-patterned control surfaces, whereas the micro-patterned surfaces maintained an inhibitory effect, with a 58% reduction compared to controls (p = 0.009) (Figure
4
). The repeatability SD for biofilms on controls across three experiments was low at 0.11, suggesting that the methodology used in these assays obtains repeatable biofilm growth and coverage.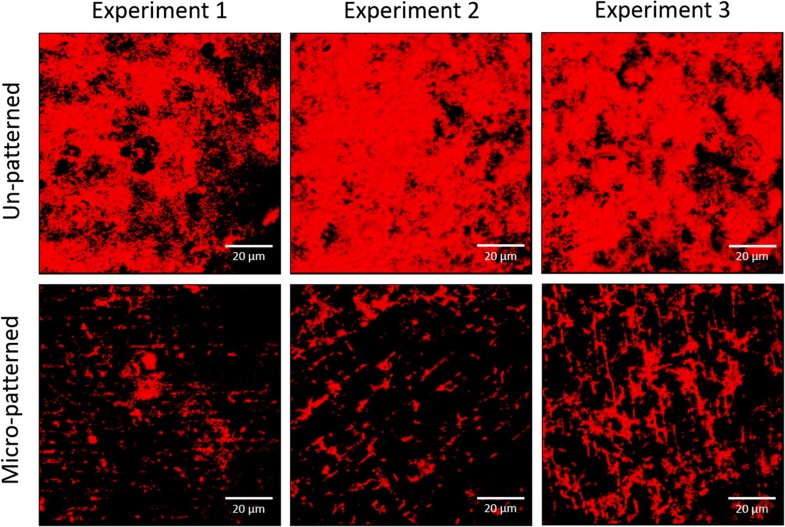 Discussion
Innovative solutions for VAP-prevention via ETT device modifications will be critical for improved patient care, as VAP accounts for 86% of hospital-acquired pneumonia cases in ICUs [2, 3]. Recent studies have shown that biofilm development on the surfaces of an ETT is a strong predictor of VAP, with biofilms forming in as little as 24 hours. Current device modifications have had some success in reducing infection rates, particularly cuff modifications that limit microbial access to the lower respiratory tract. However, further limiting microbial access to the lower respiratory tract is crucial for reducing VAP rates in patients. The goal of this study was to determine the feasibility of using a novel micro-patterned surface to decrease microbial colonization for the top five VAP pathogens, and biofilm formation for the top two, under simulated ETT environments.
It is known that surface characteristics modulate microbial interactions – however this is the first study that has shown performance of a specific, ordered micro-pattern against the colonization of the top five organisms that are associated with VAP and other HAIs. Current literature shows that this micro-pattern reduces S. aureus and E. coli biofilms [31, 32], however P. aeruginosa, another common biofilm former, had not been tested. This study evaluated the top two causative agents of VAP in biofilm growth assays and showed a reduction of both MRSA and P. aeruginosa mature biofilm volume coverage on micro-patterned surfaces when compared to un-patterned controls. Before this study, it was unknown whether biologically relevant proteins, like MucA/B that make up the mucus found in the lungs [36], would coat the micro-pattern and interfere with its capability to reduce microbial colonization. Therefore, P. aeruginosa was further challenged in a lung secretion-like mucin medium supplemented with antibiotics, and the micro-pattern demonstrated statistically significant biofilm reduction even under these more challenging conditions. Together, these data contribute to our understanding of the range of bacterial inhibition exhibited by this novel micro-pattern against several clinically relevant pathogens and conditions.
As investigated elsewhere, the theoretical basis for the topography's function is its ability to create a stable non-wetting state where air pockets at key points in the microscopic features are maintained, thereby inhibiting interaction of microbes with the surface [41]. Specifically, potential attachment sites that would generally induce stable interactions of micro-organisms to the surface are made inaccessible to the organisms due to the non-wetting nature of the topography. This non-wetting property is enhanced by the use of specific nanoforce gradients that occur based on the sizes of the microscopic features, which create an energetically unstable surface to which the micro-organisms are unable to formulate stable attachment modes [42].
A specific growth media formulation and antibiotics were used in this study to achieve clinically simulated biofilm growth in vitro. Robust and accelerated P. aeruginosa biofilm growth was obtained by using an arginine minimal media to encourage microbial respiration in this biofilm model [43], and to induce a sessile lifestyle that promotes biofilm formation [44]. The nutrient rich mucin protein complex, in addition to antibiotics, have been shown to enhance biofilm formation [22, 35, 36] and both were included in the medium to induce robust biofilm formation and provide a simulated clinical environment [19]. The combined result was accelerated biofilm formation on control surfaces within 24 hours for P. aeruginosa – a goal commonly met by other biofilm reactor systems [45, 46].
The biofilms present on un-patterned control surfaces in this study were three-dimensional and made up of large cellular aggregates, which were in contrast to the single cell or small aggregates observed on the micro-patterned surface. Given this observation, implementation of the micro-pattern onto the surface of an ETT could provide a synergistic effect together with the human immune system and antibiotic treatments to clear potentially harmful bacteria before they form a biofilm and cause an infection. Should such a result be demonstrated in a clinical trial, it would ultimately lead to decreased use of antimicrobial treatments and silver-coated ETTs, that may contribute to the rise in antimicrobial resistance observed in the ESKAPE pathogens.
Future work will include demonstrating the efficacy of this micro-pattern in advanced multi-species in vitro biofilm models with air-flow and animal VAP models [47–49] utilizing ETT prototypes with the micro-pattern on the inner and outer tube surfaces. These complex models would further our understanding of tissue compatibility and performance of the pattern in clinically relevant environments, before conducting clinical trials that would evaluate patient driven outcomes. Since ventilator-associated complications (VAC) are equally important in prolonging patient recovery [50], future studies will assess the capability of the micro-pattern to reduce tube occlusion, an interesting hypothesis based on the general anti-wetting capability of the micro-patterned surface [51, 52]. As this technology has not yet been clinically evaluated, our current results do not indicate what outcomes we can expect for patients who use a micro-patterned ETT. Nonetheless, with future research we hope to develop a micro-patterned ETT that reduces microbial colonization and biofilm formation associated with VAP as well as tube occlusion that leads to VAC. Once demonstrated to be effective in clinical studies, this micro-patterned ETT, combined with state-of-the art device cuff designs and bundle practices, may supply clinicians with an arsenal to diminish VAP and VAC rates.
Conclusions
The micro-pattern surface modification inhibits the attachment of MRSA, P. aeruginosa, K. pneumoniae, E. coli, and A. baumannii, the top five VAP-associated pathogens, by up to 99.9% when compared to un-patterned controls. The micro-pattern also inhibits the formation of MRSA and P. aeruginosa biofilms, the latter of which was further investigated in a complex mucin-rich medium mimicking the tracheal environment. Demonstration of biofilm reduction by this micro-patterned surface in a range of conditions and with a range of pathogens suggest that the micro-pattern implemented onto ETT surfaces may reduce VAP rates without the use of antimicrobial agents.
Authors' information
RM, MH and MS are microbiology researchers and SR is the Director of Research for Sharklet Technologies, Inc. (STI); GO is a biofilm expert and professor at Dartmouth Medical School and an un-paid collaborator with STI; AP is a statistician and professor for the Center of Biofilm Engineering at Montana State University and a consultant for STI; AB is a materials engineer and professor at the University of Florida, Gainesville and is the inventor of the micro-pattern technology where he continues to consult on the technology for STI.
Abbreviations
HAI:

Hospital acquired infection
VAP:

Ventilator-associated pneumonia
ETT:

Endotracheal tube
ICU:

Intensive care unit
MRSA:

Methicillin-resistant Staphylococcus aureus
TSA:

Tryptic soy agar
TSB:

Tryptic soy broth
PBS:

Phosphate buffered saline
SD:

Standard deviation
VAC:

Ventilator-associated complications.
Declarations
Acknowledgements
This study was supported by NIH/NHLBI Phase I SBIR funding, grant number 1R43HL110444-01 to Sharklet Technologies, Inc., as well as NIH grant R01AI083256 to G.A.O. Imaging experiments were performed in the University of Colorado Anschutz Medical Campus Advance Light Microscopy Core supported in part by NIH/NCRR Colorado CTSI Grant Number UL1 RR025780. Contents are the authors' sole responsibility and do not necessarily represent official NIH views.
Authors' Affiliations
(1)
Sharklet Technologies, Inc., Aurora, Aurora, USA
(2)
Center for Biofilm Engineering, and the Department of Mathematical Sciences, Montana State University, Bozeman, USA
(3)
Geisel School of Medicine at Dartmouth, Hanover, USA
(4)
Department of Materials Science and Engineering, University of Florida, Gainesville, USA
Copyright
© May et al.; licensee Springer. 2014
This article is published under license to BioMed Central Ltd. This is an Open Access article distributed under the terms of the Creative Commons Attribution License (http://creativecommons.org/licenses/by/2.0), which permits unrestricted use, distribution, and reproduction in any medium, provided the original work is properly credited.