Rapid, responsive, relevant (R3) research: a call for a rapid learning health research enterprise
Clinical and Translational Medicine
2013
2:10
Received: 2 April 2013
Accepted: 30 April 2013
Published: 10 May 2013
Abstract
Our current health research enterprise is painstakingly slow and cumbersome, and its results seldom translate into practice. The slow pace of health research contributes to findings that are less relevant and potentially even obsolete. To produce more rapid, responsive, and relevant research, we propose approaches that increase relevance via greater stakeholder involvement, speed research via innovative designs, streamline review processes, and create and/or better leverage research infrastructure. Broad stakeholder input integrated throughout the research process can both increase relevance and facilitate study procedures. More flexible and rapid research designs should be considered before defaulting to the traditional two-arm randomized controlled trial (RCT), but even traditional RCTs can be designed for more rapid findings. Review processes for grant applications, IRB protocols, and manuscript submissions can be better streamlined to minimize delays. Research infrastructures such as rapid learning systems and other health information technologies can be leveraged to rapidly evaluate new and existing treatments, and alleviate the extensive recruitment delays common in traditional research. These and other approaches are feasible but require a culture shift among the research community to value not only methodological rigor, but also the pace and relevance of research.
Keywords
Research methodsRapid learningResearch reviewStakeholder engagementRapid researchResearch relevanceDissemination and implementation
Background
Despite increasing demands to produce timely and relevant research findings, our traditional research process remains painstakingly slow. Randomized efficacy trials take approximately 5.5 years from the initiation of enrollment to publication [
1
], and 7 years or longer after adding the time from grant application submission to enrollment initiation. Extensive follow-up periods for relevant outcomes such as morbidity/mortality as well as delays in participant recruitment and publication can extend this time period to a decade or longer. During this period, scientific and technological advances will occur that may make the eventual findings less relevant or even obsolete. For illustration, Figure
1
shows a few of the salient consumer technologies introduced during a typical seven year clinical trial. These recent advances in consumer technologies are most impactful for mobile and wireless health research, [
2
] but many less mainstream scientific and medical technological advances also occur while clinical trials are being conducted. For example, one explanation for the recently reported negative results of the SAMMPRIS trial was that stent technologies and surgery procedures had advanced substantially since study initiation [
3
,
4
].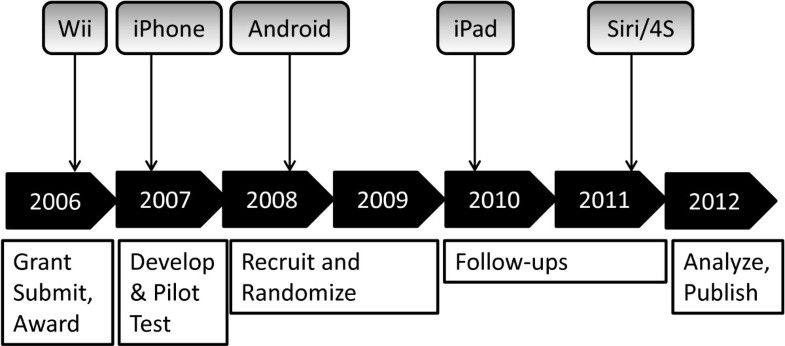 This protracted period from concept to publication is further exacerbated by the slow and limited uptake of research findings into practice. Balas and Boren have estimated that it takes approximately 17 years from concept to evidence implementation for the 14% of evidence that progresses to implementation [5]. A recent report from the President's Council of Advisors on Science and Technology (PCAST) estimated that 3,000 treatments are in development and concluded that major upgrades are needed in the research system to evaluate these treatments [6]. An Institute of Medicine report on clinical trials states that "recognition is growing that the clinical trials enterprise in the United States faces substantial challenges impeding the efficient and effective conduct of clinical research to support the development of new medicines and evaluate existing therapies [7]." Clearly, our current research enterprise is too slow, inefficient, and cumbersome to meet the rapidly evolving demand.
What are needed are "rapid-learning research systems" that integrate researchers, funders, health systems, practitioners, and community partners asking clinically relevant questions, using efficient and innovative research designs, and leveraging rich, longitudinal data sets from millions of patients. To begin progress toward such a system, we considered and have described approaches to make research more rapid, responsive and relevant (R3), organized into four sections for the purpose of this paper: 1) stakeholder engagement, 2) design, 3) review, and 4) infrastructure (see Table
1
). These suggested approaches are viewed as a starting point for a dialogue among the health research community to challenge our current cumbersome research enterprise and to consider these or other approaches to maintain scientific rigor while speeding the process by which more responsive and relevant research findings are produced.
Table 1
Issues in promoting rapid research by stage of research
Concept through trial preparation

Recruitment through follow-up

Analysis through publication

Stakeholder Relevance

• Engage stakeholders via evaluability assessment to assist with design of practical trials

• Consider outcomes and measures important and relevant to stakeholders who will need to act on results

• Establish stakeholder "citizen-scientist" feedback panels; leverage networking technologies.

• Ongoing engagement with stakeholders on methods to improve recruitment and follow-up retention

• Submit preliminary findings to stakeholders for review and direction-setting

• Submit initial results to stakeholders for assistance with interpretation, relevance, dissemination and forming next study questions

• Share presentations with stakeholders at policy and practice venues

Design Issues

• Replace the traditional pilot with iterative N-of-1 and optimization designs

• Consider within-subject and MINC to typical comparison conditions

• Leverage technology to automate RCTs when possible

• Consider alternatives to the two-arm RCT including factorial, within subject, pragmatic, quasi-experimental, and rapid learning designs

• Report proximal outcomes while follow-up data collection continues

Review Issues

• Streamlined grant review process

• Encourage reviewers to consider innovative designs that speed research

• Streamline IRB approval process, especially for low risk studies

• Rapid modification approvals from IRBs

• Encourage online and open access publication

• Incentives to speed manuscript reviews

Infrastructure Issues

• Use of data standards and common data elements to improve research efficiency and facilitate data sharing

• Create rapid learning systems that can generate data to test multiple competing hypotheses and develop predictive models

• Create national biobank/bio-samples systems

• Use practice network registries to speed recruitment, provide enriched histories & follow-ons

• Leverage existing EHR and other rapid learning data systems to rapidly test hypotheses

• Robust policies and procedures for data sharing and merging

• Improved systems for disseminating findings to appropriate stakeholders
Conclusions
We have outlined a number of actions to enhance relevance, streamline design, speed review, and use new research infrastructures to make research more rapid, relevant, and responsive to the 21st century demands on health research. This transformation to a rapid research learning system will require a concerted effort by research funders, academic institutions, healthcare systems, researchers, and a variety of practice, community, and policy stakeholders to produce a culture change among the health research community. Will we continue to use limited funds to support the currently slow and cumbersome research enterprise that produces costly results that may not be relevant or easily translated into practice, or are we willing to pursue alternative approaches that in other research disciplines have produced rapid and relevant improvements?
The rationale and opportunities for such a culture change have never been greater or rapid answers more needed. Our recommendations to speed research are undoubtedly incomplete, and we invite the research community to contribute additional recommendations to increase the speed and relevance of the research enterprise. This call to streamline and speed the research process is also likely to be met with skepticism, especially among those who fear that methodological rigor might be compromised in a quest for greater efficiency. We believe that the recommendations outlined in this paper can be achieved without compromising scientific rigor, and any efforts to streamline research should be judged based on methodological soundness. We are convinced, however, that the currently dominant health research paradigm is too slow and inefficient to address today's challenges, and that we must produce a more rapid, responsive, and relevant research enterprise.
Authors' Affiliations
(1)
National Cancer Institute, Bethesda, USA
(2)
George Washington University, Washington, USA
(3)
Duke University School of Medicine, Durham, USA
Copyright
© Riley et al.; licensee Springer. 2013
This article is published under license to BioMed Central Ltd. This is an Open Access article distributed under the terms of the Creative Commons Attribution License (http://creativecommons.org/licenses/by/2.0), which permits unrestricted use, distribution, and reproduction in any medium, provided the original work is properly cited.